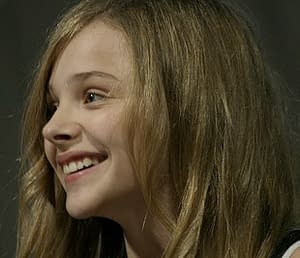 Hot off of her kick-ass turn Hit Girl, Chloe Moretz has been swamped with movie offers. Two recent ones were for pictures with father-daughter storylines, but father-daughter storylines that couldn't be more different.
For David Or. Russell's Old St. Louis, she's lined up to play a traveling salesman's estranged daughter – think Paper Moon or Matchstick Men without the con tricks – and Vince Vaughn will play her dad. Deadline had the scoop on Vaughn's deal.
For Karyn Kusama's The Rut, Moretz will be playing the daughter of a hunting aficionado, and his best student. Her role will see her taking up arms and defending herself after her dad goes missing. News of this film ran at The LA Times.
Ms. Moretz has revealed, first hand, that she's signed on for both in interviews to promote the Kick-Ass home ent. release. Speaking to Rama's Screen she confirmed:
I'm completely signed on to do The Rut with Karyn Kusama, she's a really amazing director and I'm very excited. We don't know yet [when shooting will begin] but we're hoping the end of this year.
There was more confirmation at IGN:
I also have a film with Karen Kusama, who did Jennifer's Body, and she's doing this film called The Rut, which is this really amazing, amazing role.
Elsewhere in the same interview:
I do have a couple films that I am about to work on. I'm doing Old St. Louis, which we're working out dates on, with David O. Russell directing and Vince Vaughn, he's in it. And this is Vince Vaughn's kind of labor of love. He's been working on it about eight years now and he's really been working at it… And I also have a film with Derick Martini called Hick, which is based off the novel Hick [by Andrea Portes].
At least as a novel, Hick features guns, rape, Vegas… I don't want to spoil the story too much now, but it's safe to say that The Daily Mail will be most ticked-off again. Or maybe they won't care at all, seeing as there's no Jonathan Ross link this time.
And that little list of pictures should see Moretz through her tween-characters phase pretty conclusively. We'll have to wait and see what sort of teen roles she ends up with, but I doubt the smart-mouthed killers won't be completely behind her.
Enjoyed this article? Share it!