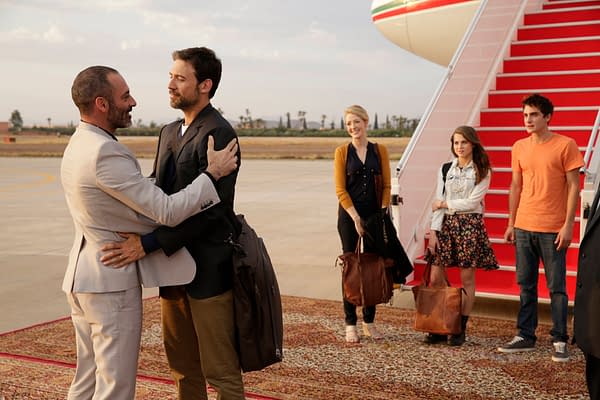 FX's summer 2014 schedule is really shaping up. They've already got Guillermo del Toro's The Strain set to premiere, and has now given a series order to Howard Gordon and Gedeon Raff's drama Tyrant, according to THR.
The Homeland duo's new series will also tackle the hot button issue of American foreign policy in the Middle East, from a more personal storytelling perspective. After a self-imposed 20 year exile, Bassam "Barry" Al Fayeed (Adam Rayner) brings his American family – wife Molly (Jennifer Finnigan) and kids Emma (Anne Winters) and Sam (Noah Silver) – back to his unnamed, fictional wart-torn country for his nephew's wedding.
The photo above is their arrival, and obviously early on in the pilot because soon things take a turn for the worse as cultures clash and Barry is thrown back into the familial and political clashes that set him running off to America in the first place when he was younger.
Enjoyed this article? Share it!