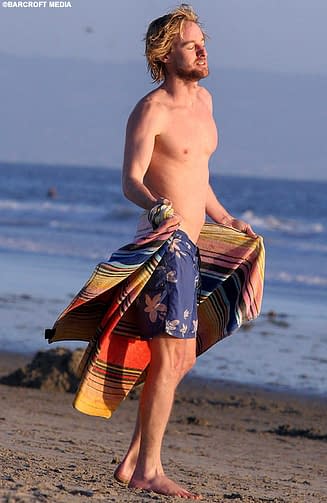 Greetings, Little Bleeders. You may have noticed that the film area of the site has been a little quiet for the past few days. Our fearless leader Brendon Connelly is, shall we say, "incapacitated", which means that as his second-in-command I am now in charge*. This means that there are going to be some changes around here. I'm planning lots of pictures of shirtless men posing in flowery shorts, starting with our old friend Owen Wilson over there (more on him later), but for old times' sake I'm going to do a rushes post to get caught up on some of the wild goings-on in the world of film and television.
David Cronenberg has confirmed that he's written a follow-up to his 1986 body-swap hijinks comedy The Fly, and that it's not a remake but a sequel of sorts. Getting it made is another matter, though, and the decision is in the hands of Twentieth Century Fox. [STYD]
If you live in the USA you can now watch The Walking Dead's online miniseries Torn Apart over at the AMC website, to get you ready for season 2. The series will show the backstory of one of the more memorable walkers – "Bicycle Girl" – the nearly-immobile half-zombie that Rick tearfully puts out of her misery in the first episode. And her real name is … Hannah? Figures. If you're not American then the site will snidely tell you so and refuse to show you anything, you dirty foreign scum.
Leonard Nimoy has raised a Vulcan salute to his fans and finally bid the Star Trek convention circuit a fond farewell as he made his last ever guest appearance at a 45th anniversary celebration in suburban Chicago. If you want to see him in person you can still do what I do and hide in the tree outside his house with a flask of soup and a set of binoculars. [Associated Press]
Undeniable proof that horse riding is a ridiculously dangerous hobby, even for ex-Nazis: Christoph Waltz has taken a tumble during horse riding prep for Quentin Tarantino's Django Unchained and been left with a dislocated pelvis bone. The injury means that he'll miss the premiere of Roman Polanski's Carnage this Friday night in New York, and with Django Unchained scheduled to start shooting next month we can only hope for a speedy recovery. Is it possible to fit horses with seatbelts? [The Hollywood Reporter]
While we're on the subject of Django Unchained, Kurt Russell is in talks to play the villainous sidekick Ace Woody. Apparently Costner has some "scheduling conflicts" and can no longer take the role. Mac is (possibly) back! Also Laura Cayouette from Kill Bill has been given a role as well, as Leo DiCaprio's widowed sister. [The Hollywood Reporter]
Seven new high-res stills from The Avengers have appeared online over at Super Hero Hype. This first one is prime material for a caption competition: just what are Captain America and Thor looking at that's leaving them so baffled (Cap) and constipated (Thor)?
I like to think they're looking at the sun, as it's something they've only just noticed.
Executives at Fox faced a nightmarish rush in post-production for Rise of the Planet of the Apes due in large part to changing their mind about whether or not James Franco's character would die. He was originally supposed to perish in a hail of bullets during the dreaded monkey uprising and in fact the alternative ending for his character that you see in the film was a last-minute reshoot that took about three hours to film. Don't worry though, if the idea of watching Franco die horribly really tickles your biscuit then you'll still be able to see it … for a price. Fox exec Ted Gagliano was quoted as saying:
"The other thing we really want to institutionalize at Fox for these after markets, is the importance of alternative scenes and supplemental material. For example, we thought James Franco's character should die, so we are going to sell (the alternative clip) down the road." [The Hollywood Reporter via Cinema Blend]
JJ Abrams is up to something. [Deadline]
Hansel (he's so hot right now) might have to say goodbye to being really, really, really, ridiculously good-looking in Zoolander 2, as Owen Wilson has teased that the character has had a Vanilla Sky-esque accident since the end of the last movie. Apparently he's "fallen on hard times" thanks to "a disfiguring injury". My guess? Someone rebroke his nose so it doesn't have that adorable kink any more. [MTV Movies]
And finally, if for some reason you disliked the opening to Scream 4 you can now see if this alternative that was released today through Shock Till You Drop suits you any better.
[youtube]http://www.youtube.com/watch?v=gf5dQ2BTkE0[/youtube]
I'm off to build a pool full of sharks with lasers on their heads now. Continue to bow down before me, foolish mortals.
*Brendon has a trapped nerve that's causing him excruciating pain in his left arm and making it near impossible to type, let alone stop me on my maddened quest for world domination. He'll probably be fine again in a few days but might benefit from some "Get Well Soon" messages on Twitter.
Enjoyed this article? Share it!