If you don't notice a lot of digital effects in The Muppets, that's because the CG was on "Captain Dan duty" – ie. being used to take things away far more than it was to put things in.
Amongst the items needing deletion were rods, strings and puppeteers, all to create the illusion of self-supported autonomy on the part of the little fuzzy fellas.
At its most extreme, this would have led to scenarios like this: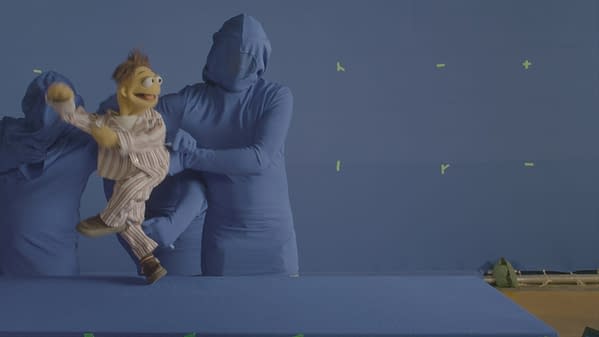 The film's chief effects house were Look Effects, and their supervisor Max Ivins has been speaking to PC World about their work. Here's some of my favourite little reveals:
It was pretty much just rod removal – the only times we ever retouched any of the Muppets was to take out a rod that was in front of them. We didn't add any limbs or arms. If we \did use something to repair where a rod had been or anything, we just took the actual photography of that limb or whatever, and cloned it over into the right place.

I'm sure there are rods that are visible, but you probably can't tell if they're rods or not.

I think two weeks before we were done, we were still finding puppeteers' heads in shots. "Wait a minute, what's that thing over here? That's somebody's head!" [laughs] "Oh no, not another one."

There aren't that many principal characters that had any blue on them at all. Gonzo has some blue feathers on his head, which was a nightmare, but other than that, blue isn't in the Muppet palette very much… but Kermit on green screen is a disaster!

There's also a dream sequence in what the old television style looked like. They have scan lines on the puppets when they come flying out of the TV.

I think James Bobin, the director, wasn't thinking, "I have puppets, so I have to shoot a certain way." Instead, he could think, "I'm shooting a movie here, and my actors happen to be a frog, a pig, and whatever that thing is." I think that freedom is what modern visual effects added to the puppeteering and the movie.
There's an awful lot more in the full piece, including things I haven't even hinted at. Kudos to PC World's Tim Moynihan for one of the best interviews I've read in a long time.
The Muppets is playing in US cinemas now. It will finally reach me, here in the UK, on February 10th next year.
Enjoyed this article? Share it!