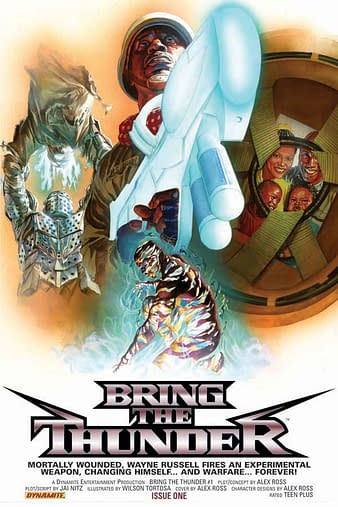 The second lowest ordered book of all time from Dynamite is coming out this week. Bring The Thunder #1, created and co-written by Alex Ross, written by Jai Nitz and illustrated by Wilson Tortosa.
Of late Dynamite has made the news by pushing Green Hornet and The Boys to the top of the non-Premier Diamond Comics charts. But Dynamite do a good line in licensed titles too, as well as Garth Ennis' war books and Alex Ross' Project Superpowers empire.
Alex Ross creates a number of covers for the publisher and, while it's fair to say that Ross may not be as prominent as he was in the days of Marvels and Kingdom Come, his covers always lift sales for books, and it's arguable that the first issue of a new superhero comic created by the man should sell better than, well, Queen Sonja #37. Or Deepak Chopra's Buddha #3. Or Pat Lee's Widow Warriors #4.
So there is uncomfortable reality that this book does feature a lead African American character, and promoted as such. And that such reduced preorders may be as a result that some believe that such books automatically sell lower.
But this low?
And here is where it gets interesting. Because this is just the kind of book that can prick up the ears of a speculator. A first issue of a book created by a well known creator that has seemingly been underordered? Especially if it gets a small burst of controversial publicity shortly before publication? Instant sell out, people unable to find copies, conspiracy theorists giving it large, going on eBay for $10 on day of release, $20 by the weekend?
It does kind of fit the pattern… and on this basis I'm going to break my own rule and actually speculate on this myself. Come Thursday I'll be going round shops buying every copy I can.
Of course being a good book also helps. I've read an advance of Bring The Thunder, and it's a literate, violent book that starts by juxtaposing a personal history of popular music with a fist fight between two armoured characters. It looks at both the mundane and the heavy adrenaline of modern warfare, and it presents some interesting philosophical points while kicking seven shades of shit out of each other. Basically, it's a good modern superhero comic that's been ordered worse than an average issue of Jungle Girl.
So what actually is the worst selling Dynamite book of all time? It's coming out in the same week, the first issue of Raise The Dead 2. Now the first series did well, but the premiere of the second series has seen it dropp off the map. Despite being plotted by the original writers Leah Moore and John Reppion, with Marvel MAX writer Mike Raicht , and still being clever and witty as it flips between the different realities of the zombie battleground – just as Walking Dead is bringing attention to this kind of book.
Dynamite are baffled. My only explanation is that both books mention David Bowie within the first couple of pages, and this is some kind of Curse of Ziggy Stardust being inflicted upon their titles.
But speculators are getting that itching feeling behind their ears. Any comic stores that did order these two books, be prepared to sell out sharpish.
Enjoyed this article? Share it!