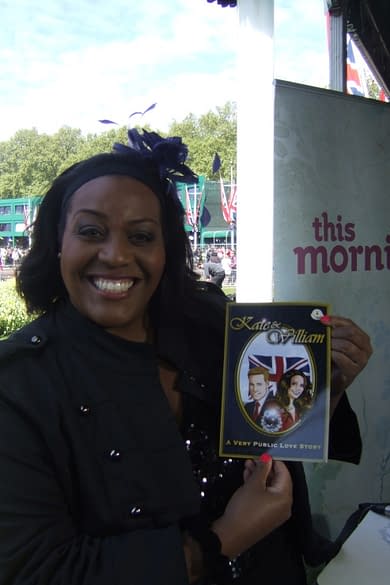 Allison Hammond off of ITV's This Morning, holding a comic book with what appears to be a generous smile, there.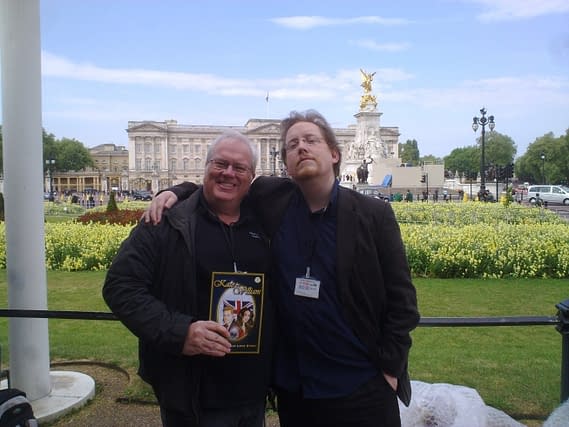 And me and Mike Collins, in front of Buckingham Palace in London, part of the media circus that has grown up around the royal residence in preparation for the wedding of Kate and William this Friday. It's mad now, what it will be like in two days time, I can't quite imagine.
We were filming for This Morning, the popular ITV mid-morning magazine show on British network television, and they wanted to talk about our royal wedding comic book, A Very Public Love Story, sandwiched between Legoland Windsor's Kate and William lego heads and a selection of Royal knitted characters. That was our level and one we were happy to dance like monkeys upon for the assembled cameras. Brits can see the show segment here, international viewers can see the filmed-off-the-laptop Youtube vid below.
[youtube]http://www.youtube.com/watch?v=4-gLdfkKHGs[/youtube]
As you can see the media village is rather large for this kind of thing, with television companies stacked three high on the Mall. There were unfamiliar-to-Brits logos everywhere, Fox News, CBS, ABC, even MSNBC who have a massive building erected in Trafalgar Square, with lots of baffled locals passing by.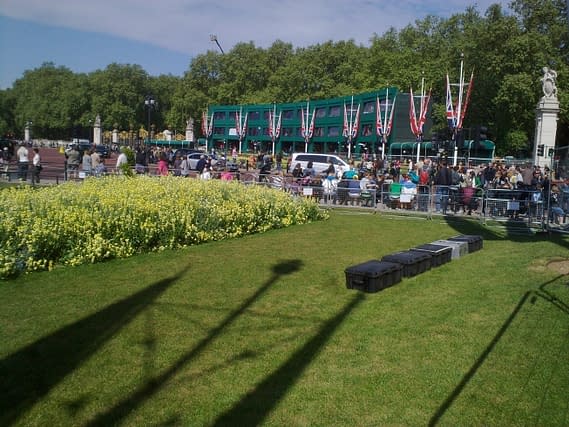 So as the time ticked closer, we queued up behind the Lego man, ready to be grilled by Allison, Big Brother star-turned-celebrity presenter. She seemed to be having fun. Just wait twenty years until the world weary cynicism grips you!

Mike decided his jacket was superflous in the heat (rain is forecast for Friday) and anyway, it couldn't harm to get hisFreakhouse studio logo present on his shirt in shot.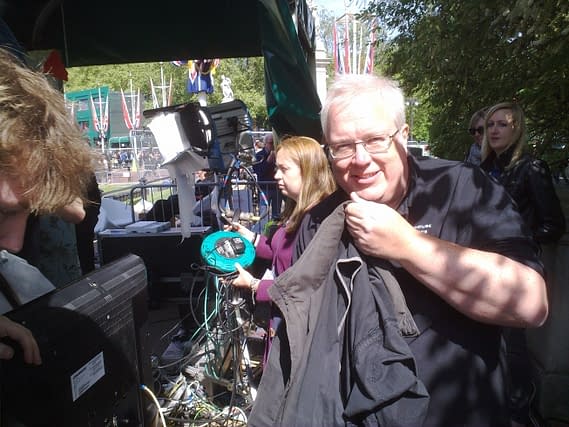 So we saw the animated version, with a couple of extra panels knocked by by Mike especially for This Morning. We talked briefly about the comic. I managed to mention Amazon, which caused the book to spike briefly on the online retailer. But as soon as it was started it was over, and on to the knitted Camilla Parker Bowles. Mike got a car to the train station to be whizzed back to Wales. He'll return on Friday where he'll be commenting on the Royal Wedding for Dutch television. While I peeked next door to get an early shot of Fox News setting up – the producer of which recognised me from a piece they ran on the royal wedding comic earlier this week.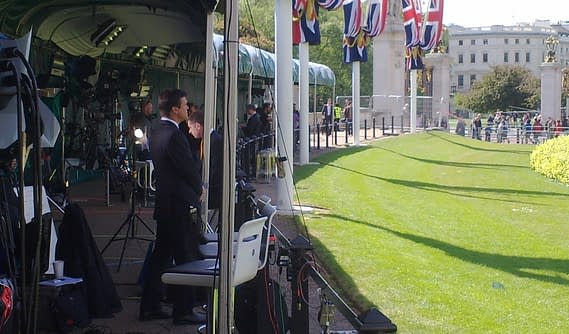 Then I headed home past Orbital Comics on Leicester Square to see this…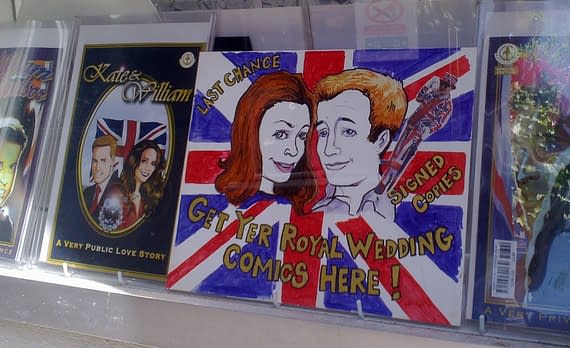 Nice one guys! Most appreciated…
Enjoyed this article? Share it!