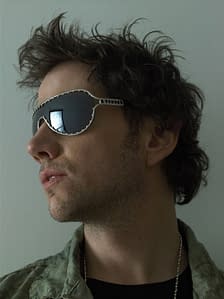 Kate Atherton writes for Bleeding Cool:
With a projected release date of 11 April 2011, one would imagine that Scream 4's production is done and dusted. However, since the summer, when filming began, there have been rumours about well-known faces turning up in murder cameos, especially in those moments before the opening credits. Anna Paquin and Kristin Bell have already signed on to be slaughtered* at some point during the proceedings, but judging by the cast list there are quite a few more candidates to make unpleasant if decorous ends: Marley Shelton, Hayden Panettiere and Rory Culkin, to name just three.
One name that has been repeatedly associated with Scream 4 is that of Jamie Kennedy and that is despite the fact his character was killed off in Scream 2. Since work on Scream 4 began, Kennedy has denied that he will have a cameo in the movie but in a new interview with Ask Men he appears to have nudged his foot inside the door, just enough to allow some doubt. When asked if he would return, Kennedy replied "I can't tell you that! You'll have to watch and find out!".
It is true that Scream 4 is one of those movies in which having been previously killed is not an immovable obstacle to a cameo and it is certain that director and producer Wes Craven and writer Kevin Williamson could work around it (although their control of the plot has been in doubt). It is also possible that Kennedy is simply trying to boost his profile at a time when he is best remembered for Scream. After the difficulties faced by the creators of Scream 4, it is arguable that there will be no 5. In which case, this may be Kennedy's last chance. As he says, we must watch and find out.
*Editor's note: Or they may survive. Maybe.
Enjoyed this article? Share it!