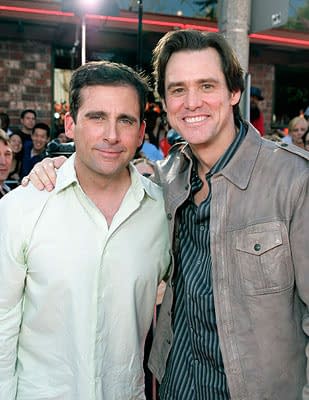 I don't know if you ever saw Magicians with David Mitchell and Robert Webb, and written by Peep Show creators Sam Bain and Jesse Armstrong? It was one of my preferred "illusionist" pictures from that recent wave which included The Prestige, The Illusionist and.. er… The Illusionist. The other one.
Some of what worked in Magicians was the sense of competition between illusionists, and the whole thing about rubbing a magician's real personality up against their stage persona. We'll get more of that, I expect, in the upcoming Burt Wonderstone.
One of the few Steve Carell projects in development that the actor actually appears to be sticking with, the film will be about a Las Vegas stage magician, presumably the Mr. Wonderstone of the title, who splits with his double act partner. He's then upstaged by an up-and-coming street magician.
According to Deadline, Carell has the lead role and Jim Carrey… has another role. They don't say which one. It's easiest to assume Carrey would be the second lead, and that would seem to be the street magician.
But… can you imagine Carell and Carrey as the double act? That sounds like a pretty tempting mix.
Of course, I have no idea what kind of role this double act partner has, nor what size of role Carrey will be taking. And I can see how pitting the two of them against one another in a magician-on-magician squabble would also have appeal.
I think Carell and Carrey are both extraordinarily good in their more "serious" and definitely their more "esoteric" roles. With the right script and the right director, I can see their teaming up working out superbly. Here's hoping Burt Wonderstone is that script and Don Scardino is that director.
Final footnote: each was once attached to play the lead role in The Beaver, at some point or another. How I wish that one of them had.
Enjoyed this article? Share it!