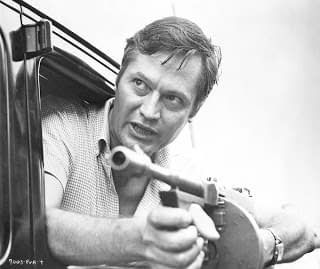 Joe Dante has long planned a biopic of his filmmaking benefactor and B-movie wizard, Roger Corman. According to Screen Daily, funding for The Man With the Kaleidoscope Eyes has finally come together thanks to Saïd Ben Saïd and his SBS Productions.
It almost happened back in 2010, when Dante was trying to get the film underway with Colin Firth in the lead role. That's definitely an intriguing piece of casting, and I do wonder if Dante will be able to beat it – not to say he won't, actually, literally match it and Firth will also want to be on board this time.
Corman himself is to have a cameo in the film. I expect Dick Miller will somehow also appear.
And I understand the script is by Charlie Largent and Tim Lucas of Video Watchdog and its accompanying blog. I'm very curious to see exactly what parts of Corman's life it will portray.
Meanwhile, SBS are also funding Brian De Palma's next, which is said to be a loose reworking of Emile Zola's Therese Raquin with Emily Mortimer and a lot of post modern shenanigans – ie. the characters are making a film of Therese Raquin as well as living its dramatic arcs.
It seems like SBS have a lot of heart for a certain generation of film director. I get it – I do too. Perhaps they can throw Wes Craven, Allan Arkush and John Landis a few bob while they're at it.
Enjoyed this article? Share it!