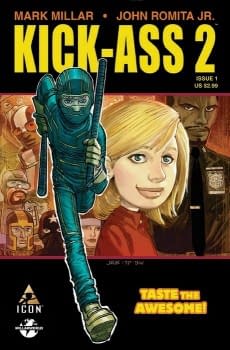 There's some talk of Kick Ass 2 coming our way, and for once, it's not Mark Millar doing the talking.
John Romita Jr., the illustrator of the comic books, has been attempting a World Record signing session in Vegas this morning, and it's being broadcast to the world via UStream – we're streaming it at the foot of this post. A Little Bleeder has not only been tuned in watching and listening, he got to ask Romita a question through Facebook.
And like the rest of the world, he wanted to know what's going on with the plans for the Kick Ass 2 movie.
Now, this is the big surprise: Romita said that the deals have just been done and production will press ahead this Summer on the shoot, ready for a release date next May.
Chloe Moretz will be busy shooting Carrie from the start of June, and is looking to fit The Devil and the Deep Blue Sea onto her calendar somewhere this year. This doesn't mean she won't, or can't be in Kick Ass 2 – if they back-end her stuff, for example, she could join them at some point in August, if not even later. It depends on the size of her role in the screen version of the story, amongst many other factors.
But perhaps she won't be in the film. Perhaps the new director and co-writer won't be the only fresh blood. Perhaps Chloe is now too old to play Hit Girl anyway?
We'll find out soon enough, I'm sure.
Romita also said that he'd like to take charge on an animated sequence for the film but the details of that are still up in the air. Here's hoping they get locked down soon enough.
Well, there you go. Thank you Little Bleeder! And stay tuned for imminent news on who is actually going to direct the thing now that Matthew Vaughn has stepped back to co-write and produce…
Enjoyed this article? Share it!