Johnny Depp's Barnabas Collins Revealed In Dark Shadow Set Photos
Tonight, we're able to bring you some very exciting set photos from the film industry capital of South Devon. Yes.
Here's Johnny Depp on a beach dressed as a vampire, promenading with Ms. Bella Heathcote.
I don't get to say any of that very often.
Depp is playing Barnabas Collins in Tim Burton's Dark Shadows, a big screen redo of the 1960s/70s soap opera of the same name. That show starred Jonathan Frid as the dark, tormented, and bitey protagonist.
Incidentally, here's what Frid looked like as Barnabas.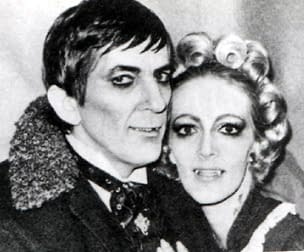 Seeing Depp in the role, I can't help but feel that his Ichabod Crane get-up from Sleepy Hollow made a more conventional vampire. This costume and make-up certainly recalls the campy quality of 60s soap operas, but if the filmmakers are looking for a more serious tone with the film then this will not be the way to go about it.
Tim Burton is in the directing seat, and he seems to like the look of Depp in ivory pan stick. Between this and the leathery look he sports in the Pirates movies, I've lately realised that I have absolutely no idea what his natural skin tone is.
Also, why is he on a beach, in daytime? Are there any vampires left who still don't like sunlight? If the next set photos show the make up department breaking out the body glitter, I'm jumping ship.
Thanks to Socialite Life for the pictures.