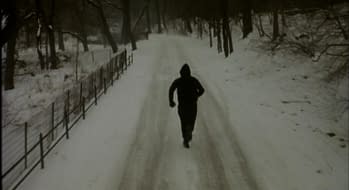 Cinematographer Harris Savides and director Jonathan Glazer had several prints of Birth printed with the bleach bypass process, reatining silver nitrate in the emulsion and keeping high contrast in the highlights. This process became very well known after Darius Khondji practised it for Se7en.
For their double bill of Savides pictures at London's ICA this Sunday, the guys of the Badlands Film Collective have not only secured Jonathan Glazer to come and present Birth personally, he'll be bringing his 35mm show print, little seen since the film's premiere.
The other half of the programme is The Game, one of Savides' earlier films. That too will screen on 35mm.
From their notes:
Harris Savides, who passed away last October at only 55 years old, was one of the key cinematographers of our time. His career in music videos and feature films featured distinctive collaborations with directors like David Fincher, Gus Van Sant, Jonathan Glazer and Mark Romanek, and in an age in which the industry transitioned from film to digital, Savides worked with both media seamlessly and evocatively.
A bittersweet occasion, then. Hard to pass up on the chance to see Birth projected on the big screen in any case, but with this particular print, this is sounding pretty much essential.
Enjoyed this article? Share it!