Gabriella Wilde Joining Julianne Moore And Chloe Moretz In The New Carrie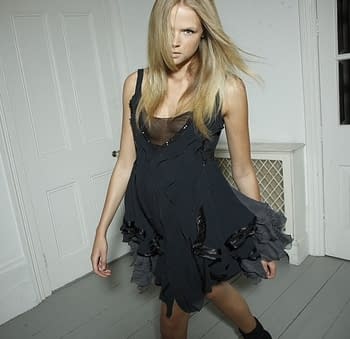 Abigail Raney writes for Bleeding Cool.
There's certainly an odd combination of talent falling into place around Kimberly Peirce's take on (or remake of, depending on your semantics) Carrie. I honestly don't know what to expect from screenwriter Roberto Aguirre-Sacasa, who is responsible for such varied works as Spiderman: Turn Off the Dark and episodes of Big Love, not to mention a whole slew of comics and plays. I'm not counting those Glee episodes, because I can't remember the last time a Glee episode had a coherent voice behind it.
Chloë Moretz, currently displaying another side of teen angst in Tim Burton's Dark Shadows, was already on board to play the role of Carrie, who (if you were unaware) is a troubled teen with an abusive mother and burgeoning telekinetic powers.
Now, according to Deadline, Julianne Moore has officially signed on to play Carrie's mother, Margaret, and Gabriella Wilde will play Sue Snell, the popular girl who takes pity on Carrie and convinces her own boyfriend to take Carrie to the prom.
I know very little of Gabriella Wilde, though I can agree that she certainly looks the part of a "popular girl". As played by Amy Irving, Sue was pretty clearly a traumatized victim, while the character in the novel had more of a sense of having played some part in the disaster Carrie creates. Stephen King has said he himself never quite trusted the character's motivations for sending Carrie to the prom in her place. As this remake is supposed to be "darker and more psychological" than the earlier version, I look forward to seeing what that means for the character of Sue.
As for Julianne Moore, I have nothing but excitement to see her take on this role. Piper Laurie's portrayal of Margaret White is well-loved by fans of De Palma's 1976 film, so Moore will be under pressure to deliver, but I have no doubt that she's capable. More than capable, in fact, as I suspect she'll make the character her own. It's rumored that found footage segments will be used to mimic the epistolary format of King's novel, so it will be interesting to see if Pierce intends to return to the book for other inspiration, including the final conversation between Carrie and her mother, which is noticeably absent from the 1976 version.