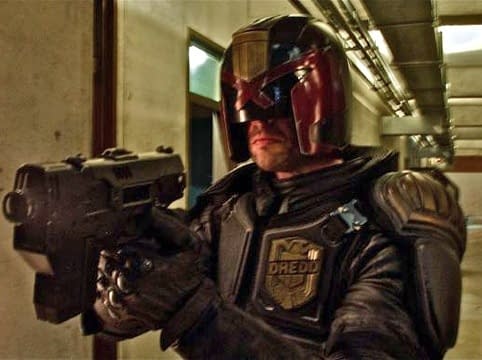 Karl Urban has a habit of lightly trolling fandom. Do you remember his "first footage from Star Trek Into Darkness" stunt? On numerous occasions he's also thrown out little glimmering fragments of hope for a Dredd sequel. In my mind, these things are not entirely disconnected.
Speaking at the Destination Star Trek con in Frankfurt, Urban slipped back into sowing optimism. What Culture (via Coming Soon) got the scoop, saying:
In what should be music to fans ears, he said ''conversations'' are taking place between the studio, the director and writer Alex Garland. He commented that the cinema release of Dredd was badly handled but the film had found its audience on DVD and it has been noticed by the studio.
The same conversations between Alex Garland and Lionsgate that Urban was referring to last time? New conversations? Conversations that actually happened and aren't made of candy floss and clouds? Your guess is as good as mine. For all we know, there may have been a conversation that went like this:
"Hi, Lionsgate."
"Hi, Alex."
"How about a Dredd sequel, eh?"
"No, Alex. No. These films cost money and we're a business. Don't overestimate the profit margins on a DVD or Blu-ray sale like pretty much all of Dredd fandom are seemingly determined to. Dredd lost us a crap load. Bye!"
Now, I'd like to see a sequel to Dredd. But I won't.
Best we can hope for, I'm thinking, is another, rebooted effort some years hence.
Enjoyed this article? Share it!