Mark Millar, who has been a Labour Party supporter in the past, has publicly come out in support of Alex Salmond and the Scottish National Party, at the launch of their manifesto this week, with a video message. The SNP currently form a minority government in Scotland, with elections being held on the 5th of May.
How did the media react? Well, Rupert Murdoch's The Scottish Sun photoshopped SNP leader Alex in a Kick Ass costume to celebrate.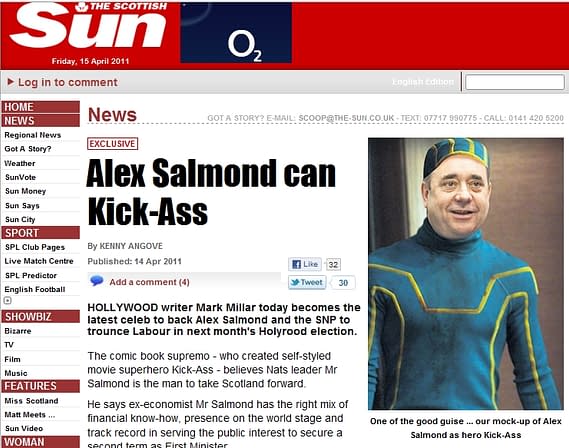 Millar is quoted as saying "He is the best in the country – and I am including Westminster. He is a guy you want in charge. You want a professional economist in charge of the country when things are this tough. The SNP Government has really risen to the occasion. You can define a society by how it treats its poor. They've looked after people with nothing – and been great for business too."
Enjoyed this article? Share it!