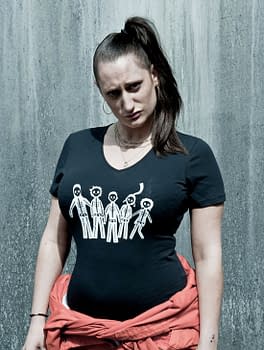 We already knew that some of the Misfits were leaving the show, not least by watching the last series and seeing with our own two eyes that they were being written out. Today, though, we can add another casualty to the list.
On Wednesday of this week, Lauren Socha, who played Kelly, pleaded guilty to the racially aggravated assault of a taxi driver. She had previously denied the charge but changed her plea at the beginning of the trial. She has been sentenced to four months of prison time suspended for twelve months, and, somewhat ironically, 80 hours of community service.
Now, a spokesperson for Clerkenwell Films have issued a statement to Digital Spy, confirming that Socha will not be part of Misfits series four:
A mutual decision was reached between Clerkenwell and Lauren earlier this year that she would not be returning for the fourth series. Misfits has been in production for a number of weeks now and Lauren is not part of the lineup…
Asked if Lauren's conviction was the cause of her departure, the spokesperson webt on:
No. Clerkenwell Films and Lauren Socha agreed some time ago that along with other cast members… she would not be returning for the fourth series of Misfits, which is currently in production. Channel 4 supports both parties' decisions.
So, the decision was made before the conviction, though not, necessarily, before the assault came to light.
A rather configured Misfits will return to E4 before the end of the year.
Enjoyed this article? Share it!