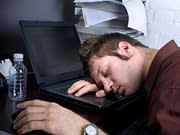 Okay folks, that's it, I'm out of here.
Thanks to William for everything, Dave and Amanda for the pillow talk, Pinguino, McCool and MacDonald, Tony and his lesbians, Natasha for the unforgettable images, Tennant for the geekout, Jonathan Ross for the accidental stalking, Radical for the big party, Dan DiDio for putting me on the DC panel,  Mike Carlin for not exploding, the boys at Reed, the girls at Zenescope, Jim McCann for not shouting at me, Layman for the shirts, CB for the shots, William Morris Endeavor, the aggressiveness of Elite Security, the convenion organisers as a whole and Sheryl for keepin us smiling specifically, all those of you who came up to talk about BleedingCool even the couple who started out wanting a fight and ended up buying me drinks…
Bye Homophobic Hyatt! See you all back in Blighty…
I wonder who I'll share my flight with this time. Carrot Top? A Jawa?
Josh Hoopes?
Rich Johnston, San Diego
Enjoyed this article? Share it!