Superman has had his Superman robots since the nineteen fifties. A product of the Silver Age, Superman duplicate robots were used as a substitute for Superman when he was away – serving him in the Fortress of Solitude or helping him preserve his secret identity from an inquisitive Lois Lane. Then, of course, Lois Lane had to have duplicate robots of her own, so did Supergirl, Linda Lee and others.
By the nineteen-seventies, comics had grown up (a little) and Earth pollution was an in-canon reason why the Superman robots no longer worked.
Then comics stopped pretending they were grown up and they began to return, first as non-human/Kryptonian robots, and then in the fashion of their earlier portrayal, admittedly with tongue-in-cheek. Until in last week's Batman Wedding Prelude, they're limousine drivers.
Lex Luthor, however, hasn't had as much luck. Lexbots have looked like this in the DC LEGO universe…
And there's also the household robots designed by Lex Luthor in the novel It's Superman by Tom DeHaven. Lexbots were sold on the open market as assistants, who could help out with daily chores, but were secretly deadly and programmed to kill.
And more recently in the comic books, I mean, they would tend to stand out in public…
But now? Today's Justice League suggests they've had an upgrade.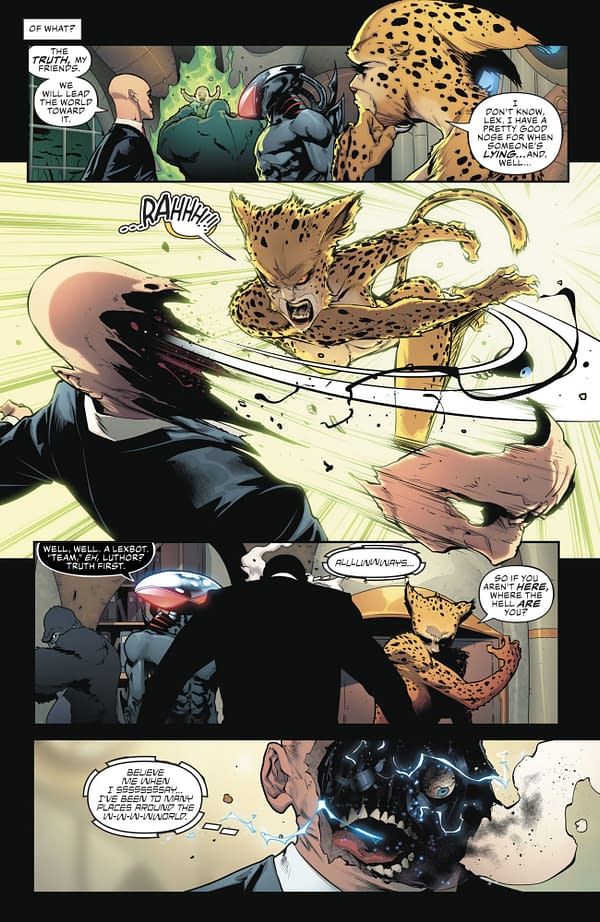 Fake Lex Luthors running around the place like Doombots, Iron Man suits or Life Model Decoys. New Model Lex Luthor Army soon anyone? Three Jokers… how about Three Hundred Lexes?
JUSTICE LEAGUE #2
(W) Scott Snyder (A/CA) Jorge Jimenez
"THE TOTALITY" part two! The League faced an impossible decision…and now they must face the consequences! While Martian Manhunter and Batman attempt to recruit an old ally back into the fold, The Flash and Hawkgirl are blindsided by new challenges that could rewrite their mythologies!In Shops: Jun 20, 2018
SRP: $3.99
Enjoyed this article? Share it!