Look! It Moves! by Adi Tantimedh #86: Internationale Noir You Have Missed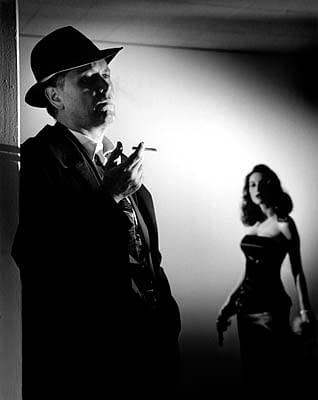 Noir is a subset of the crime genre that has a certain appeal for people who want something grittier than whodunnits. They usually deal with paranoia, darker, murkier morality where the protagonist crosses the line, usually by committing murder, and may not get to come back, and most of all, sexual (usually male) anxiety as he wonders if the femme fatale is going to betray him.
In old-school Hollywood, noir movies were rarely A-list productions. They were often B features made to hold a cinema's marquee in between A-list releases, though they happened to be made by the best writers, cinematographers and directors who weren't necessarily on the studio's A-list, and were free to explore more interesting and unheroic ideas. In fact, "film noir" was only finally identified and defined by French film critics in the 1950s, who noted that the malaise of men back from fighting the war informed many of the noir movies made in that period. You could argue that Noir as a subgenre was over by 1970 and every attempt after that was a self-conscious pastiche or homage by new filmmakers who fell in love with the genre.
Noir is never dead as long as the makers use it to explore ideas rather than just indulge in the pleasures of genre for it's own sake, whether it's in the story conventions or visual motifs or both.
LOW WINTER SUN (2006) is the only English-language entry here. Produced for television by Channel Four and BBC America, this is a slice of Scottish noir, so you know you're in for some bleakness here. Mark Strong gets a rare lead role from the usual brooding baddies he gets typecast as in movies, here playing a copper who starts the story by murdering a fellow cop and making it look like a drunken accident-suicide by putting the body behind the wheel of his car and driving it into the river. The plan is for him and his slippery partner to be assigned the investigation where they can complete the cover-up. However, when the car is hauled out of the drink, they find a new surprise: there's another body in the boot. This sends Strong into a spiral of paranoia and recrimination where he realises he had been set up to murder the cop and he has to find out who has really been pulling the strings while avoiding exposure by his own squad, which has already been reeling under accusations of corruption. The plot cleverly takes on a spiral structure to mirror Strong's sense of mental and emotional vertigo as he scrambles to find out the extent of the dead cop's corruption and we discover the core of loneliness and desperation for love that put Strong in the free-fall that led to him committing murder in the first place. The basic premise is an interesting one: when a murder detective commits murder, how compromised does he become? This has only been shown once in the UK and the US and is only available on UK DVD.
AB TAK CHHAPPAN (2004) is a rare piece of Bollywood noir. It's not three hours long, only two, has no musical numbers and is scripted and acted in a realistic manner, sometimes even uses street sounds instead of post-dubbing. Inspired by a real-life story, the main character is the head of an elite Mumbai police squad that casually and happily gathers evidence on the most dangerous gangsters and criminals… and then executes them without trial. Inspector Sadhu Agashe is so convinced of the righteousness and certainty of his job that he even has a running tally on which squad member can run up the highest number of hits. Sadhu's cool certainty takes a hit when a new police commissioner takes office who has serious objections to his methods, an escaped gangster comes back to town and evades his men, and his cat-and-mouse relationship with a powerful gangster he can't touch all start to chip away at his sense of security and belief that he can keep his professional life from spilling lethally into his personal life, and before long his fall from grace is a long, hard and dark one. This is one of the darkest, most merciless noirs of any decade, almost as if an even more nasty Michael Mann had gone to India. You can probably find the DVD from your local Indian movie shop.
SLEEPLESS TOWN (1998) is a movie I consider hugely underrated, since the critics seemed to poo-poo it without even noticing how complex or nuanced it was. Adapted from a popular Japanese crime novel set in the Chinese mafia enclave of Tokyo's Kabukicho, an underworld so deep and labyrinthine that the cops leave them alone to sort out their own messes. The main character is a Japanese-Chinese fixer flitting between the Shanghainese, Taiwanese, Fujianese and Bejing families that control the strip joints, gambling dens and drug trade in the area. Kenichi, played by Takeshi Kaneshiro, is an outcast with minimal protection from the Taiwanese family mainly because he's the illegitimate son of one of the family's deceased made men and a Japanese hooker, and his position in Kabukicho is shaky at best since he's not fully accepted by any of the families, but provides useful services like fenced good, procuring care packages from Hong Kong and China for the local working girls and taking orders for the Hong Kong lottery. When his former partner Fuchun, the loose cannon son of a Manchurian war orphan, is rumoured to have returned to Kabukicho a year after killing the No. 2 of the Shanghai family, Kenichi is told to find him and turn him over or they would take his head instead. Then Kenichi is approached by Natsumi, a femme fatale who claims to Fuchun's girlfriend. She offers to give him Fuchun as part of a game she herself is playing. Kenichi finds himself falling in love with her, even though he doesn't trust her one bit because he can see that she's too much like him: they're determined to survive at all costs, and she might be more ruthless than he is at manipulating everyone in order to play them off each other. Kenichi knows he's being used as a pawn to the game between the families to gain dominance in the Chinese enclave and even the Taiwanese godfather wouldn't weep if he got killed in the crossfire, so he and Natsumi have to hatch their own play, but he can't even trust her not to betray him because that's the only way she knows how to get by after a lifetime of abuse. The question is whether Kenichi is going to come out with his life and love intact, or if one has to be sacrificed for the other.
[youtube]http://www.youtube.com/watch?v=WZuvwi8YnvI[/youtube]
SLEEPLESS TOWN is a unique multicultural co-production: the director is from Hong Kong, the dialogue skips between the Chinese dialects of Mandarin, Hokkien and Japanese and most of the cast is Chinese. Takeshi Kaneshiro himself is half-Japanese, Half-Taiwanese and is fluent in English, Japanese and three Chinese dialects – Mandarin, Cantonese and Hokkien – and ended up representing the insider-outsider status of both the hero and the story itself. There are few noir movies in Asia that cover the chaotic mix of culture and language and the theme of family being a double-edged sword: Kenichi is an outsider without a real family of his own, and his yearning for one is tempered by the fact that every family, even the one he chooses, might be out to kill him when his back is turned. That's about as noir as you can get.
SLEEPLESS TOWN is out of print in the US, but you can still find the DVD secondhand. The UK DVD still seems to be around and someone has posted the whole movie on Youtube with English subtitles.
[youtube]http://www.youtube.com/watch?v=bCG4dYhUIaw[/youtube]
Bumping into shit in the dark at lookitmoves@gmail.com
I've begun the official LOOK! IT MOVES! twitter feed. Follow me at http://twitter.com/lookitmoves for thoughts and snark on media and pop culture, stuff for future columns and stuff I may never spend a whole column writing about.
Look! It Moves! © Adisakdi Tantimedh