The knights of badassdom behind The Knights of Badassdom this weekend promised that once the film's Facebook page made it to 1000 likes, they'd post the first promotional image from the film. I was hooked by this (they had me at "assdom") and even tried to campaign on their behalf, get the "likes" up and bring the picture into the world before it was time for my beddy byes.
Turns out they were going wait until Monday before releasing the image anyhow, and I stayed up for nothing. But let's not be bitter because, now, here it is: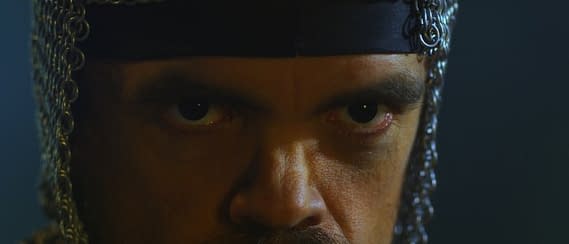 It's Peter Dinklage in chainmail. Ladies, start your engines.*
The film will be only Joe Lynch's second feature as director, after his achievement of Most Surprising Debut Of The 2000s withWrong Turn 2. Here's the official blurb for Knights:
Live Action Role Players must become the heroes they've been pretending to be when they accidentally summon a demonic force for real. Starring Steve Zahn, Ryan Kwanten, Summer Glau, Peter Dinklage, Margarita Levieva and Jimmi Simpson.
What's not to like?
*Dinklage shows up in A Little Bit of Heaven as a gigolo and, quite easily, is the best bit of the film. It also suggests what he might have excelled at had he not gotten into acting.
Enjoyed this article? Share it!