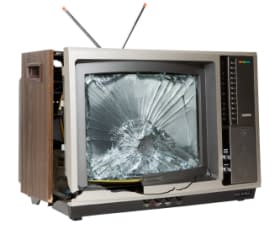 This Saturday afternoon at NYCC, Jeph Loeb was discussing Marvel TV's plans to team up with ABC for a number of live action series, and he was starting with a warning for the assembled zombies, nerds, casuals and -so that this report might take shape – Little Bleeders.
Could we all bear in mind, Loeb said, that the shows up for discussion were still "in development".
He was about to start talking about schemes and plans that, for any number of reasons, may never come to fruition. The implication, I think, was that we are to get excited – of course, hype is the point of the panel in the first place – but not to get too disappointed if things don't pan out.
None of the shows in development were new announcements, but there was fresh info available across the board.
Two of the programs currently in the works are intened ABC Family. There's Cloak and Dagger, which Loeb said would be set in a post-Katrina New Orleans and blend sci-fi with the supernatural; and then there's Mockingbird, which Loeb called "Alias meets Felicity" but, cynically, some wags have already dubbed "Hannah Montana: Agent of SHIELD".
Both shows are about teenage characters – a pair of superpowered runaways in the case of Cloak and Dagger, and a college freshman version of Barbara Morse in Mockingbird – "by day a student," said Loeb, "and by night, a secret agent in training".
For adult protagonists, you'd have to channel hope to ABC proper. In the works at this apparently more "grown up" station are aka Jessica Jones, a retitled version of Brian Michael Bendis and Michael Gaydos' Alias. As in the original comic, the story is kick-started when a retired superheroine, Ms. Jessica Jones, opens up a private detective agency. Mystery-of-the-week hijinks ensue.
Loeb revealed that Carol Danvers, the sometime Ms. Marvel would have a role in the series. Luke Cage was in too, and though it wasn't clarified, he'd like be Jones' husband, just as in the comics. This settles a couple of ongoing queries as to how faithfully the comic would be translated and which supporting characters would make the switch intact.
Then there was much beating around the bush as Loeb, while never referring to him by name, reiterated that Guillermo Del Toro was helping David Eick develop the new Hulk series.
The premise here is to focus on the Bruce Banner and Betty Ross relationship, with enough of the requisite moody-mode. In order to get the Hulk looking good, they're planning to tap into designs and technology being used to render the big fella for The Avengers. As a result, Jeph hopes, they should be able to deliver a movie-calibre rendition of the character on a TV budget.
And, finally, Loeb stressed that just because these four shows were ongoing concerns and distinct possibilities for broadcast, it didn't mean other, as-yet secret shows weren't also coming up through the development process.
Or, to translate: I know that I've not been able to announce any new shows today and you're probably feeling a bit cheated – as future-fixated, gossip hungry as you are – but please keep coming to my panels because, one day, there will be something all new, I promise.
Enjoyed this article? Share it!