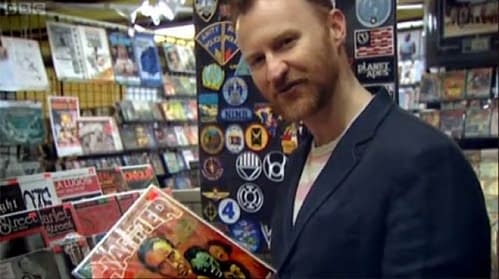 In order to promote their appearance in a new production of George Farquhar's The Recruiting Officer, Mark Gatiss and Mackenzie Crook were guests on Graham Norton's radio show this morning, taking questions from the listeners. Very little of the talk addressed their stage project at all.
But what they did talk about is perhaps of more direct interest to many Little Bleeders.
As well as Crook explaining why he wouldn't want a role in Doctor Who or Sherlock, and Gatiss discussing the interest and excitement surrounding the mystery of how Holmes cheated his death, there was some less open, cagier talk about work that can't quite be discussed in public yet.
For on thing, Gatiss was pressed to admit that he's at work on more in the History of Horror series, this time focusing on films made in Europe. I rated the last run very highly – indeed, I think it's the best "Written By Mark Gatiss" that we've had to date.
But he seems to have another TV project (or book, or radio play, just not a film) in the works. The back and forth went like this, between Norton and Gatiss:
Is it true – this is for Alan – are you writing a film about the creation of the original Doctor Who TV show circa 1973?
Am I writing a film about it? No I'm not writing a film about it.

Are you writing a book about it? Are you writing a radio play about it?

[Says something that sounds a bit like "Wait"]
Are you writing a television program about it? You're writing something about it.

I'm writing on the back of my hand, now, what a good idea that would be.

I'll bet you good money that it's a BBC drama, likely for BBC4.
You can check out all of Norton's show on the iPlayer. Gatiss and Crook come along 1 hour and 32 minutes in. The Recruiting Officer is running now at The Donmar Warehouse until April 14. However, if you don't have tickets yet, you're likely out of luck.
Enjoyed this article? Share it!