Mark Millar And Nacho Vigalondo Have Shot A Viral Teaser For Supercrooks, And We Have Photos To Prove It
Since our earlier story on Mark Millar I've learned that the guy has made a bit of a habit of exaggerating the truth. Which is why it's a relief to have one Millar tweet that we can confirm with photographic evidence. Director Nacho Vigalondo is currently in Glasgow for the premiere of his latest sci-fi love story Extraterrestrial, and since he and Millar have long been working on a screenplay for a film adaptation of Supercrooks, it seems like they took the opportunity to put together some marketing material.
Been up since 7am shooting the Supercrooks movie teaser with @vigalondo and a scene with 21 tiny school-kids. Now: Curry and booze.

— Mark Millar (@mrmarkmillar) February 19, 2012
In addition to this, Millar also posted a notice on his message board announcing an impending onslaught of PR for the release of the comic book.
In the month leading up to the release of Supercrooks you will see me pimp like no man has pimped before. This is all out war with the Millarworld books this year as we not only hit you with the biggest artists in comics – Quitely, McNiven, Gibbons, Romita Jr and Yu – but a PR campaign like you've never seen in your life

Monday night launches a big, global Supercrooks competition and lights the fuse for several months of promotion running through all the Millarworld launches this year. Nacho is here in a few hours as we begin shooting the viral videos. Like I said, you ain't seen nuthin yet. MONDAY NIGHT'S COMPETITION ISTHE MOST AUDACIOUS EVER ATTEMPTED BY A COMIC-BOOK CREATOR!!
And you know when someone breaks out the all-caps, they mean business.
Of course at this juncture we can't say whether or not the Supercrooks movie will actually go ahead, but Nacho Vigalondo gave the announcement of the viral video a retweet so we can assume that's his word behind it too. Finally, if you need more evidence, comedian Billy Kirkwood has posted a couple of photos from the set of the shoot.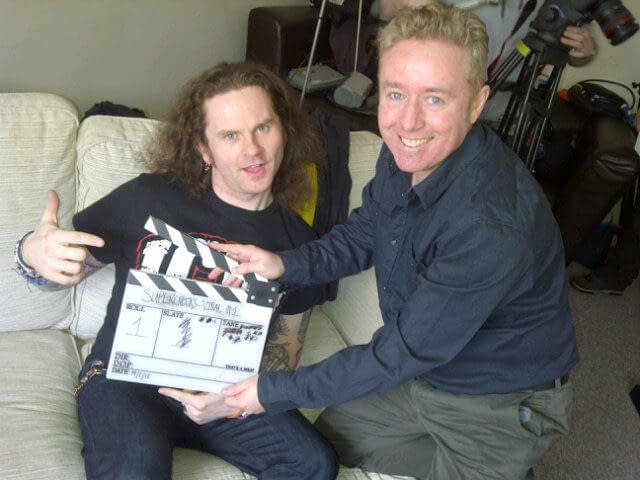 Who knows when we'll actually get to see the teaser. If it's intended to promote the comic then it'll likely be released sometime before the first issue is released in CLiNT magazine next month.
One thing to note is the DSLR camera in the background of the first photo, so it seems the teaser may have been shot on one of the popular choices for DSLR cinematography like the Canon 5D, 7D or 550D. Another thing to note is the very sexy face Nacho is making in the second photo. I think Scotland is enjoying a bit of Spanish charm