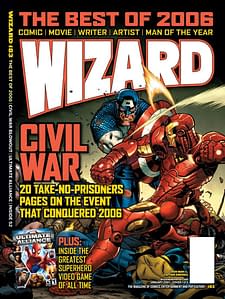 The July issue of Wizard Magazine, published at the end of June, will not only be a rellaunch for the magazine but will be edited by Mark Millar. He's quoted as saying "This issue will be nothing less than spectacular. Your brainwill explode when you see what I have in store."
I'd best not buy it then. I hope they have a health warning on the cover. Here's a run down of the things you might expect.
Page 1: Mark Millar interviews Matthew Vaughn to discover why he's a better director than Stanley Kubrick, Orson Welles and David Lynch all put together, but only when he's working on one of Mark's comics.

Page 5: Mark Millar's lays out his plan to buy the rights to the Superman character and publish him through Icon. It is happening, it definitely is happening and how dare you suggest otherwise?

Page 8: Mark Millar's Modest Proposal – Why all foxes should be slaughtered en-masse.

Page 10: Why all twelve-year old girls should say the word "cunt" every day.

Page 12: Mark Millar shows how to fix Superman.

Page 15: Mark Millar on being offered Avatar 2 by James Cameron, and how James believes he's the only one who can truly take the vision of Pandora to the next level – but how Mark said no because he had some late night shopping to do that night.

Page 20: We all know that Nemesis is "what if Batman was a cunt?", now Millar applies that logic to a whole new publishing line, "what if Hulk was a cunt?", "what if Spider-Man was a cunt?", "what if Aquaman was a cunt?" and, quite literally in his case, "what if Plastic Man was a cunt?"

Page 25: Mark Millar shows how to fix the internet.

Page 30: Mark Millar's plan for his new comic with Leinil Francis Yu to be broadcast on the moon from a special satellite. No, he's totally serious this time and to prove it he has a few diagrams drawn on the back of a beer mat.

Page 35: Mark Millar announces that he will show how to fix the global economy, poverty, disease and even death itself. But he won't say how yet, he wants to wait until the premiere night of Nemesis for maximum impact.

Page 40: Mark Millar's announcement that Kick Ass 3 will actually be filmed on the planet Mars. And the shoot will be funded by Mark Millar's back issue collection.

Page 50: Price Guide: All of Mark Millar's comics are now worth $10,000 each.
You know, odds are at least one of those will make it in…
Enjoyed this article? Share it!