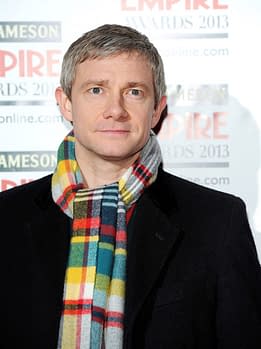 Produced but not written by Joel and Ethan Coen, the new Fargo TV series will tell another blackly comic crime story in the same snowy climes. We don't know much of what that exact story will entail, but we have at least now found out who both of the key players are and how they'll loosely be related.
Already cast was Billy Bob Thornton and now, as per Deadline, Martin Freeman is joining as the co-lead:
It centers on Lester Nygaard (Freeman), a small town insurance salesman henpecked by his wife, whose life is changed when a mysterious stranger, Lorne Malvo (Thornton), comes to town.
It does seem like another kidnapping gone wrong story, though perhaps I'll be surprised. Or maybe it will be another kidnapping gone wrong story and I'll still be surprised.
Freeman's career is proving fairly varied but he has shown some specialty with these everyman roles. Getting him nervous is always good value too. He's a true artist of anxiety.
The new show will run to ten episodes on FX, telling a self contained story. It's been written by Noah Hawley and Adam Bernstein is the only director yet named, being in charge of the first episode. I guess it's reasonable to assume that production will start in the snowy part of the year.
Enjoyed this article? Share it!