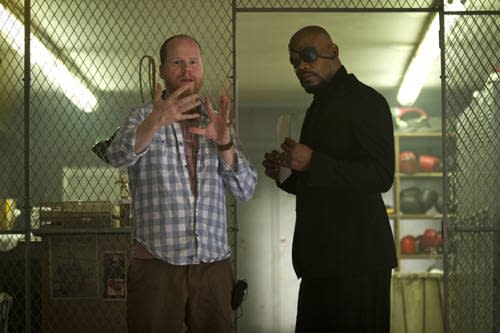 After dropping a bombshell during yesterday's conference call, Disney have released a statement clarifying just what they've recruited Joss Whedon to do for them.
Here's the key statement:
Joss Whedon has signed an exclusive deal with Marvel Studios for film and television through the end of June 2015. As part of that deal, Whedon will write and direct Marvel's The Avengers 2 as well as help develop a new live-action series for Marvel Television at ABC. He will also contribute creatively to the next phase of Marvel's cinematic universe.
The 'exclusive' part of this deal would seem to stop Whedon from writing or directing any more of his off-the-grid Bellflower projects for the next few years, and it could even put the kibosh on Dr. Horribles Second Singalong Blog. It's not really an ideal situation.
But it is very, very good news for the Marvel Movieverse.
Look at that last sentence:
He will also contribute creatively to the next phase of Marvel's cinematic universe.
Which means, I assume, that he's had a look over the Thor and Captain America sequel scripts, is helping out with the development of Guardians of the Galaxy and very possibly Ant Man too. This should lead to a better integration of the different strands, as Whedon gets to hand out the threads he'll be wanting to weave into his second Avengers film.
Whedon is a master of the fake-out set-up, as well as any other techniques of story structure. I'm sure he'll be helping the next wave of Marvel movies look like they're leading exactly where they aren't.
This news is freshly announced, but it's not clear how long Whedon has actually held this position with Marvel. For all we know he was up close and personal with Shane Black and Drew Pearce as the Iron Man 3 script was coming together.
It's also worth noting that the expiration date of the contact suggests a schedule for the second Avengers which brings it quite nicely into the near future. That alone is worth getting excited about. More Avengers now please.
Enjoyed this article? Share it!