Marvel Super Heroes 4D is a kind of annex at Madame Tussauds where the wax alter egos of The Hulk, Spider-Man and some of their chums stand around, and a theme park ride plants tourists in the middle of a CG escapade while blowing them with fans. Bleeding Cool reviewed it when it was fresh and said "It's fun… well worth a visit."
Those quotes are (sort of) legit. Some that aren't, so much, have just landed the Tussauds folk in hot water.
If you've traveled on the London underground this last year or so, there's a good chance you'll have seen the quotes because they're prominently featured on this poster: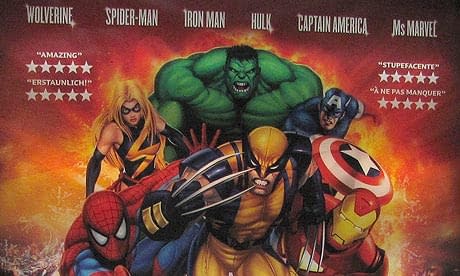 Thanks to The Big G for that image.
From the Advertising Standards Authority:
A poster seen on 6 August 2011 for an interactive movie experience at Madame Tussauds featured images of superheroes, with text around the image stating "AMAZING", "STUPEFACENTE", "ERSTAUNLICH" and "A NE PAS MANQUER". Under each word were five stars.

A complainant challenged whether the ad was misleading, because he believed the five stars under each word implied the experience had received positive reviews from critics.
The ASA have looked into this complain and while they don't agree that the poster implies a positive response from critics, they've actually considered that it suggests something slightly different:
The ASA noted that the poster was produced as an imitation of movie posters, with four comments and five stars under each comment. However, we noted that unlike movie posters, the comments were not attributed to any critic, and therefore considered that readers would be aware the comments did not relate to reviews, but to comments from visitors to the experience.
And, interestingly enough, they do. So, what's actually the problem?
Well, problem one is that the comments are not necessarily on the poster in the same language they were made. The comments on the poster in French, German and Italian were all actually translated from originals in English.
And problem two is that there are star ratings, whereas those who made the comments never actually supplied a star rating to go with them.
As a result, the ASA say:
We concluded the ad was misleading… The ad must not appear in its current form again.
Ouch.
So, despite this poster being easily interpreted, and actually representing genuine comments, if in translation, it's not a fair piece of advertising.
There are two morals to this story:
Nothing ever good comes of star ratings.
If somebody translates your words into another language, they're no longer your words, no matter how accurate the translation.
Harsh, ASA, harsh.
Enjoyed this article? Share it!