Masters of Cinema Monthly April 2012 – Lifeboat, Pasolini, Lubitsch and The Birth of a Nation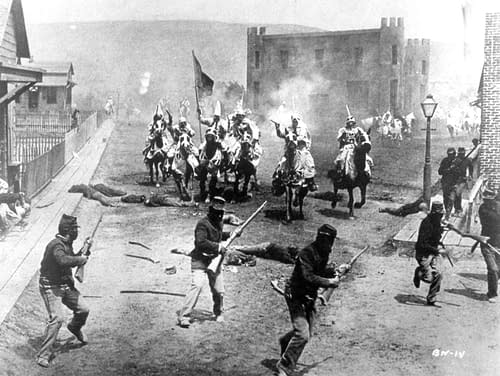 Welcome to Masters of Cinema Monthly.
First off let me apologise for the lateness of this month's column, which was originally intended to be up a couple of weeks ago. Although delayed, by my moving house, the column still has plenty of fresh news and three reviews of new Masters of Cinema releases.
My new home has a lot more wall space than the old one so I will almost certainly be taking this opportunity to pick up one or more of the MoC quad posters now available to buy. MoC did previously sell the poster for Metropolis but did not sell the subsequent posters created for the UK theatrical release of their films but you can now buy posters for Metropolis, Double Indemnity and Touch of Evil directly from Masters of Cinema. They're limited releases so it's probably best not to wait too long and I'm sure that if these sell well then MoC will expand the range of posters available. More posters can be seen on the Eureka Facebook page here. I'm particularly partial to the poster for Lost Weekend myself.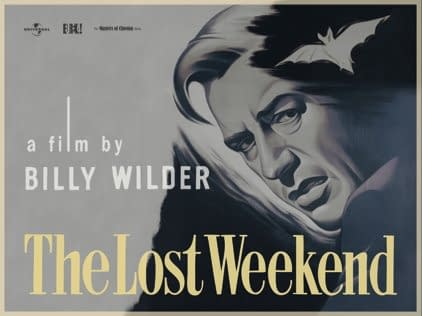 Probably the biggest news this month is that The Birth of a Nation is being released on Blu-ray by Masters of Cinema later this year. The film has recently had a Blu-ray release in the United States from Kino but this will be the film's début on the format in the UK. Watching The Birth of a Nation is a deeply troubling experience but the film is fascinating for a number of reasons and holds a significant place in film history. I look forward to digging into the release and discussing the film further when it's released later this year. Here's the press release from Eureka in full,
Eureka Entertainment are very pleased to announce the acquisition of rights to a sparkling new HD restoration of one of the great silent films – one of the most controversial films of all time – D. W. Griffith's THE BIRTH OF A NATION.

The film tells the story of the American Civil War and its aftermath, as seen through the eyes of two families. The 1915 film has shocked audiences with its attitudes towards race yet remains one of the defining films of the silent era.

THE BIRTH OF A NATION will join Eureka's Masters of Cinema Series, the home of classic silent movies, and will be released later in the year on Blu-ray for the first time in a dual format (DVD & Blu-ray) edition.
Just in case I wasn't convincing enough in encouraging you to pick up Masters of Cinema's recent release of Silent Running maybe this video of Edgar Wright discussing the film, posted by Trailers From Hell, will help.
Nick Wrigley posted the following updates on the long, long, long delayed release of Die Nibelungen in the Criterion Forums.
DIE NIBELUNGEN will be out before Xmas, and there is other activity taking place which is very exciting.

It will be spine #40.
The Masters of Cinema Twitter account also mentioned this month that the number of Lubitsch titles in the series will reach 7 by the end of the year. Their Lubitsch in Berlin box-set is still available from online retailers and from Masters of Cinema directly, despite what unscrupulous Ebay sellers may be saying.
Speaking of Lubitsch, Dangerous Minds recently pointed my browser to news of a new score for The Oyster Princess (a film included within the MoC box-set) composed and performed by Bee vs. Moth. You can watch a video of Bee vs. Moth performing a selection of the music and head over to their site for dates and locations to see them perform the score.
Originally slated for release last year Island of Lost Souls will now make its way into the Masters of Cinema Series in May. In addition to now being released on Dual Format, as opposed to the DVD only release scheduled for release in 2011, the film is also getting the steelbook treatment, a common trend now it would seem for MoC, and Eureka posted a packshot of the striking steelbook design.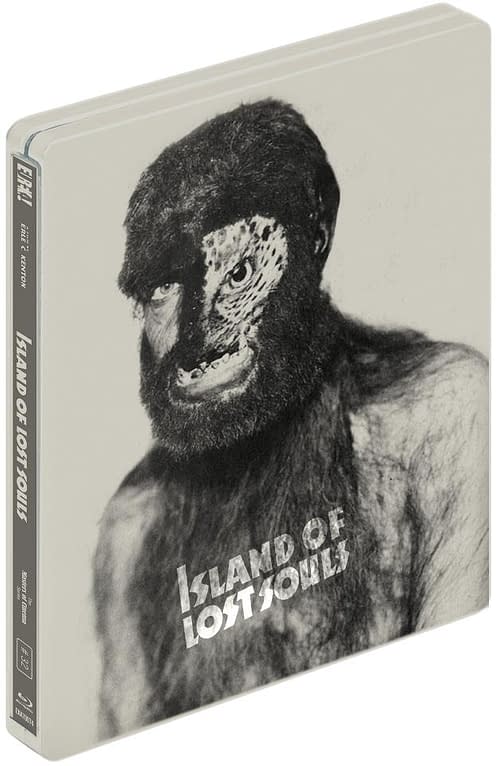 That's certainly going to stand out on the shelves amongst a host of uninspired Blu-ray covers. You can pre-order the steelbook now.
Island of Lost Souls was originally rejected by the BBFC (when the 'C' stood for Censorship not Classification – although I have still have my doubts about the renaming) in 1933 and after a further rejection in 1957 the film received a cut release in 1958. Receiving an uncut '12' certificate release in 1996 the film was finally available to see uncut in the UK but when resubmitted by MoC the film received a possibly surprising PG release. A recent article at the BBC goes into further detail about the reasons for this, including a number of quotes from BBFC director David Cooke. The article is well worth a read and also features details on an upcoming BBFC season at the BFI Southbank in November, which includes Island of Lost Souls.
Now onto the new Masters of Cinema releases.
Accattone is an appropriate opening to the impressive directorial career of Pier Paolo Pasolini, playing as it does as something of an open ended question and an unfinished thought. The film deals with a unlikeable protagonist named Accattone, which roughly translates as 'beggar' or 'bum', but rather than condemn or judge Accattone, Pasolini's film explores this character rather pragmatically, allowing us to wrestle with the moral and ethical implications of his actions and most importantly, his motivations.
It is a wonderful set up for the career of Pasolini, a filmmaker whose output was filled with morally complex and densely problematic subject matter, films which raise questions of the audience but provide few simple answers.
Accattone is a pimp and a thief living in the slums of Rome, spending his time hanging out with his close group of male friends and mistreating all the women that enter his life. The first woman to enter Accattone's life ends up wrongly imprisoned and the second, despite falling in love with him, fairs little better. The slums of Rome presented here are a pretty ugly place to spend 120 minutes but Pasolini infuses the film with a odd kind of revelatory beauty, filling the film with multi-faceted characters that deny simple definitions or stereotypical readings.
Despite using a cast of non-professional actors – resulting in a mixed bag of performances, of which Franco Citti as Accattone sits atop – Accattone is far from the so-called Neo-Realist wave that had consumed Italian cinema at the time of the film's release. Although many of those films are far from the un-mediated cinematic endeavours they are presented as by many critics Accattone is still very far removed, with a number of stylish flourishes, a particularly memorable 360 pan of the town that settles on the titular character being a notable example, and there is the definite sense that Pasolini is looking for a more experimental than raw look at an Italian underclass.
This experimentation is not always successful, the aforementioned mixed performances are an issue and some of the visual language that Pasolini toys with is not entirely on message, but it hits far more than it misses and what is left as the dust settles is a fascinating an engaging film.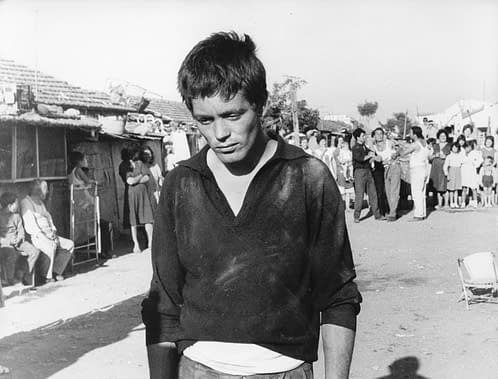 Benardo Bertolucci said of Accattone that, "Watching Pier Paolo Pasolini shoot Accattone I felt as if I were present at the invention of cinema." and whilst I can't speak to the experience of watching Pasolini shoot Accattone, watching the finished film with the benefit of foresight does feel as if one is present at the point at which Italian cinema shifted and saw the birth of one of its most exciting filmmakers.
This new Blu-ray from Masters of Cinema represents a significant upgrade in quality from the DVDs previously release by Tartan in the UK, as does Comizi D'Amore, which is included here as an extra. The latter was shot on 16mm and blown up to 35mm so does not look quite as impressive but is nonetheless a vast improvement in terms of picture quality and also in correcting the incorrect aspect ratio of the Tartan release. Comizi D'Amore is an utterly fascinating documentary that provides a insightful snapshot of attitutes to sex in Italy at the time of filming and acts as a very interesting primer to a viewing of Accattone.
The disc also comes with a commentary for Accattone by Tony Rayns which provides a reasonable amount of detail on the film and also on Pasolini's subsequent career. Rayns also makes reference to "a series of Pasolini releases" from Masters of Cinema at one point. It is of course possible that he was referring to these two releases but it in light of hints from MoC regarding more Pasolini it seems highly likely that more titles will be joining the series soon.
Accattone is available to buy now on Dual Format.
The Gospel According to Matthew
It does seem almost perverse that a non-believer, Pasolini, could make what is perhaps the definitive cinematic version of the story of Christ and one that was even endorsed somewhat by the Vatican, with its placement on a Vatican film list compiled in 1995.
But simply being a non-believer does not hamper Pasolini's ability to convey belief and most importantly, to tell a good story.
The journey of Christ in The Gospel According to Matthew is gripping and serene in equal measure and at the heart of the film and the character is a streak of rebelliousness and a revolutionary attitude that adds a thrilling dimension.
The choice to cast Enrique Irazoqui in the lead role only adds to this, with his stern features and almost wry facial expressions contributing to this fully realised portrait. Pasolini had at one time actually considered casting Jack Kerouac in the role, a concept that is almost unimaginable but one that leads to rather interesting musings on what could have been.
As an atheist watching the film I cannot speak to the 'spiritual' significance to the film but as someone who has made efforts to understand and appreciate the texts upon which Christianity was built I can appreciate the care that was taken by Pasolini to treat the figure of Christ with respect and without deviating too far from the words of the widely distributed version of the bible many have come to know so well.
In fact there are even times when Christ's words appear more like modern sound-bites, smart answers to tricky questions wrapped up almost too neatly in a quick response. The rebellious nature inherent in this portrayal really makes the dialogue work though and despite seeming like diametrically opposed concepts, Pasolini's Christ is one of angry grace. Pasolini also treats Christ's words and the reported miracles with deference but not excessive reverence, resulting in the tone almost lapsing into one of a matter-of-fact accounting of events.
This intelligent treatment of the tone, the rebellious, almost political nature of Pasolini's Christ (more Che Guevara than old-Hollywood sword and sandals) and the beautiful visual storytelling in his filmmaking choices make for a rich and compelling film.
The level of detail in this new HD transfer is very high. There is a light dusting of consistent grain throughout and there are very few signs of damage carried over from the original print. The uncompressed stereo audio track is clear and also without any evidence of damage, well representing both the dialogue and the many varied soundtrack choices.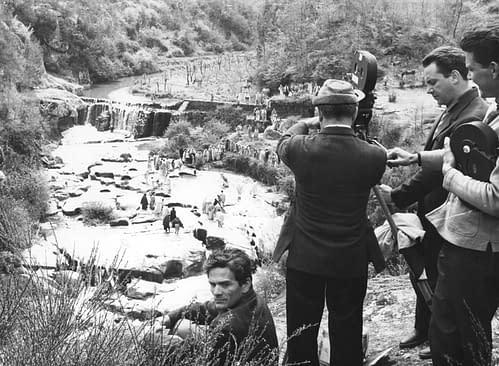 Accompanying the main feature on this disc is Sopralluoghi in Palestina, a film that documents Pasolini scouting for locations in Palestine. The film is not exactly a documentary, more a loose collection of footage with interviews and voiceover but is nonetheless very interesting and provides a great deal of context for the film, especially when one is considering Pasolini's intentions.
Regarding the title, The Gospel According to Matthew rather than The Gospel According to St. Matthew (as it was previously known in the UK), MoC have posted the following quote from Pasolini which clears up the choice.
Question: "Who controls things like changing the title of a film – because you presumably know Il vangelo secondo Matteo was changed in England…"

Answer: "That's something I wonder about myself, with considerable anguish I must say. I don't know what to do about this kind of thing. I'd like to know how you do find out, because I feel completely helpless."
The Gospel According to Matthew is available to buy now on Dual Format.
Based on a script by John Steinbeck Lifeboat at first appears on the surface (pun purely accidental) to be a piece of stunt filmmaking, an attempt to do something that may seem impossible. To set an entire feature film in a boat and, barring one establishing shot, and never move from the boat in question must have seemed like lunacy in 1944 and an act of directorial masochism.
As with many of Hitchcock's films though this conceptual conceit masks a greater depth (the puns are honestly very hard to avoid) and Lifeboat is ultimately a deeply intelligent and sharply observed film about important moral/ethical quandaries. There is also a line in political commentary that runs throughout the film and its position as a film made in 1944, five years into World War Two, makes the events depicted all the more intriguing for a viewer to wrestle with and dissect. Consider this exchange for instance,
"A guy can't help bein' a German if he's born a German, can he?"
"Neither can a snake help being a snake if he's born a rattlesnake! That don't make him a nightingale!"
It's easy to see that sort of sentiment as being simply WWII propaganda supporting the war effort but just because it is the second character's comment that ends the conversation this does not been that this is the simple point that Hitchcock and Steinbeck are trying to make. The subsequent scenes and the ultimate fate of the German in question do more to problematise this exchange than they do to affirm it. The fact that the film has been considered as British Jingoism by some and Nazi propaganda by others goes some way to illustrating that reading the film too simply may be a serious mistake.
Despite the depth of the thematic concerns in Lifeboat one cannot ignore the technical achievements also contained within. Crafting a film entirely set within this one, confined location is a magic trick from Hitchcock that is worthy of high commendation. The extras included on this release include a making of and a discussion of the film between Hitchcock and Francois Truffaut and despite both being interesting additions to the release I can't help but wish there was something more substantial and altogether 'nerdier' on the disc, highlighting the exact way in which Hitchcock achieved what seems almost unachievable.
One modern example of confined filmmaking, Rodrigo Cortes' Buried, led Bleeding Cool's own Brendon Connelly to put together a feature with Cortes explaining exactly how to achieve this feat and I can recommend giving it a read as it provides insights into the challenges Hitchcock faced too. Some magic tricks somehow seem even more impressive when one discovers how they are done.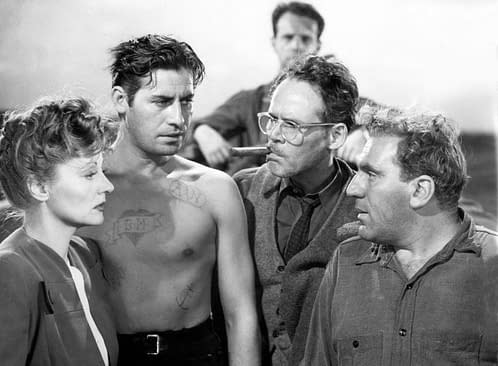 Also included with this release are two short films from Hitchcock, Bon Voyage and Aventure Malagache. The former is a wonderfully tricky little piece of storytelling that has a very enjoyable twist that I won't spoil here. The latter is not as entertaining as the first but is nonetheless certainly engaging and well worth a watch. The quality of these shorts is not great, with some serious damage at times, mostly vertical scratches, but it is not enough to ruin the experience.
The quality of the main feature is excellent and up to the standard we have come to expect from MoC's collaborations with Universal. The print clearly has issues but it has been sensitively handled here. The transfer must have been particularly troublesome due in large part to the foggy aesthetic, especially in the early scenes, but there are really no reasons to complain about anything here.
Lifeboat is available to pre-order now on standard Dual Format and Steelbook Dual Format.
As an extra bonus I have embedded the radio play of Lifeboat below. NBC broadcast this in 1950 with Hitchcock returning to direct and Tallulah Bankhead reprising her role from the film.
Extra extra bonus: For those unaware of how Hitchcock managed to slip a cameo into Lifeboat, spoiler, you can find it in the picture below.
Next month in Masters of Cinema Monthly: A Mizoguchi doublebill.