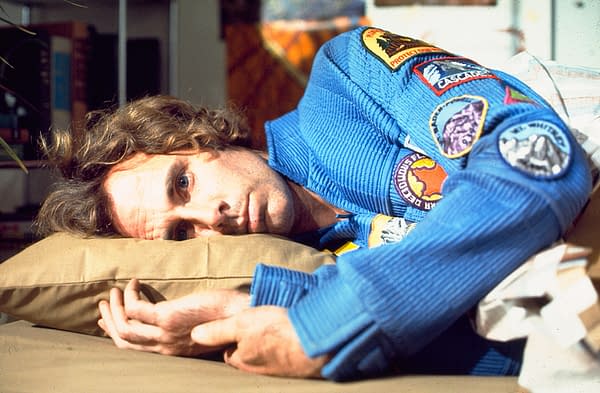 Welcome to Masters of Cinema Monthly.
As this month's column comes shortly after the previous one there's not too much MoC news. I'm therefore going to just focus on the two latest releases, the first fruits of MoC's deal with Universal – Silent Running and Touch of Evil. These are really extraordinary releases though, and there's plenty to talk about.
Before I get to my thoughts on the new discs though, how would you like to own both Touch of Evil and Silent Running, without spending a single penny? Masters of Cinema have kindly given us three copies of each release to give away to lucky readers of Masters of Cinema Monthly.
To be in with a chance of winning all you need to do is Tweet something about the column and then email me (craigskinnerfilm (at) gmail.com – with 'MoCM Competition' in the subject line) before the 9th December.
With startling special effects and a convincing portrayal of an imagined future it is easy to discuss Silent Running simply within the context of being an accomplished science fiction film, but like the best that science fiction has to offer Silent Running is far deeper than its outward appearance may suggest.
That is not to say that the special effects and so on are not important and worthy of high praise. Director and special effects supervisor Douglas Trumbull, hot on the back of 2001: A Space Odyssey and The Andromeda Strain, managed to create physical special effects that even today look entirely convincing and natural to their surroundings. The biodomes that are so important to protagonist Freeman Lowell (Bruce Dern), and in many ways the human race as a whole, look less futuristic now than they may have done in 1972 (visitors to domes such as the Eden Project in Cornwall will attest to this I'm sure) but the image of these fragile structures floating in space is a powerful science fiction image, and it is one that has all the more impact due to Trumbull's impressive use of miniatures.
But it is scriptwriters Deric Washburn, Michael Cimino & Steven Bochco's emotional story of Freeman, the domes and his robot companions that makes Silent Running such a compelling and rewarding film. Filled with post-sixties rage about the destruction of the environment, the story of Silent Running is powerful, critical and prescient but crucially it is devastatingly heartbreaking.
Freeman Lowell is a complex and conflicted character and when he commits acts that in another context may seem unthinkable we understand his motivations and sympathise with what he is doing. Almost 40 years on it is hard to think of a more cogent film that tackles direct action and environmental concerns so thoughtfully and effectively. It's also still hard to find a more emotionally affecting science fiction film.
Silent Running makes its HD début here and it's an impressive one. MoC have given the film a new lease of life with this HD transfer, which is stunning in its clarity and detail. Work has been done to restore damaged elements but this is all but impossible to see in the finished HD transfer. Grain is intact, appearing a little too heavy in the brighter scenes perhaps, and apart from a couple of slightly smoother sequences (these are very short) the transfer is consistent and superb. The 2.0 audio track is also clear and seems far more dynamically wide and representative of the original track than the previously released UK DVD.
The booklet describes the technical breakdown of the process and elements used to produce the Blu-ray is as follows:
Silent Running appears in its original aspect ratio of 1.85:1 with mono 2.0 sound. The film was transferred and graded in HD resolution from an interpositive 35mm source element made in 1996 and supplied by NBC / Universal, USA. Further restoration work was completed at Deluxe 142, London. Picture issues such as dirt, light scratches, and debris as well as warped, damaged, or unstable frames were removed or improved upon using a combination of HD-DVNR, Phoenix, and MTI systems. For this Blu-ray, we encoded in 1080 / 24p using theAVC codec.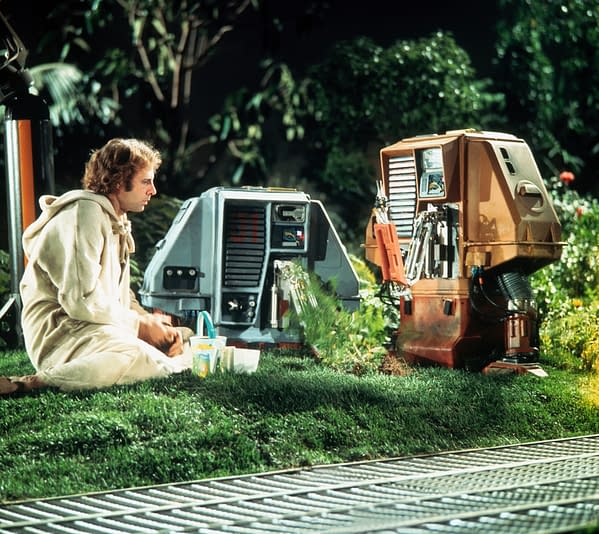 Special Features:
Full-length commentary by director Trumbull and actor Bruce Dern – Trumbull and Dern obviously still hold a lot of affection for Silent Running and this helps make for a warm and enjoyable commentary. The pair provide a lot of interesting production information and this coupled with their obvious enthusiasm for the film 28 years on (this commentary was recorded in 2000) helps make this a must listen special feature.
Isolated music and effects track – A feature I've never really found essential myself but it is a nice addition regardless, especially considering how wonderful much of the score, soundtrack and the sound effects are.
The Making of Silent Running, a 1972 on-set documentary [50:00] – A great overview of Silent Running's production with a lot of behind-the-scenes information.
Two video pieces with Douglas Trumbull [31:00 + 5:00] – The longer interview segment focuses on Silent Running's production and the shorter has Trumbull talking about his career in general. The latter, despite its short length, is fantastic and definitely one of the highlights of the extras.
A Conversation with Bruce Dern, a discussion with the actor [11:00] – More from Dern on the making of Silent Running and getting the part.
Original theatrical trailer [3:00]
A lavish 48-page full-colour booklet featuring rare photographs and artwork from Trumbull's personal collection, and recollections of the film's cinematographer, special designs coordinator, and composer. – MoC's booklets are always of a particularly high standard and the one that accompanies this disc is no exception. The photographs and artwork included are a particular treat, both contextually interesting and beautiful.
Silent Running is available to buy from the 14th of November.
Whilst Orson Welles' Citizen Kane sits atop film polls year after year and holds a prominent (and worthy) place in canonical discussions of film, Touch of Evil often takes a second place to the grandeur of Kane. But for me, Touch of Evil reigns supreme.
A crowning achievement from Welles, visual elegance combining beautifully with a hard edged but absorbingly Shakespearean tale, Touch of Evil seems like the natural succession both stylistically and thematically to Kane but it is in many ways more rewarding for being, even in spite of studio meddling, such a complete and near perfect piece of storytelling. I like Citizen Kane a great deal and consider it to be a masterpiece in many ways but I adore Touch of Evil.
Welles' twisted Hank Quinlan is one of Welles' greatest creations, a dark and troubling character played with conviction by Welles himself, and it is the moral downfall of the already low-down Quinlan that is the real story of Touch of Evil. Its strength though is that whilst this is more than enough to carry the film it is also filled with side plots and a multitude of engaging characters to add further depth and complexity to the story.
The married Vargas couple (Charlton Heston and Janet Leigh), for instance, appear at first to be the leads of the film, and in a way they are (they were certainly considered the stars by the studio), but in many ways they are supporting characters in the story of Hank Quinlan. It is through the treatment of Susie Vargas (Leigh) and the morally contrasted character of Mike Vargas (Heston) that Quinlan's true self is revealed.
This contrast is also crucial to the way in which Touch of Evil works, a film that constantly refers to crossing conflicting borders, both physical and of a more symbolic nature. The confident and highly sophisticated direction from Welles and the way in which the story is pieced together in the editing (at least in the way Welles intended it to be edited) ensures this is conveyed visually and audibly with a fine attention to detail in every area. Every composition and the subtle mix of sounds that accompany them is a carefully thought out choice, a variety of techniques all in service of a thought provoking, gripping and wholly entertaining story.
Disc One
The 1998 Reconstructed Version in 1.37:1 and 1.85:1.
Whilst the inclusion of multiple versions of the film in this release is wonderful and particularly welcome from a reference point of view it is this reconstructed version that will undoubtedly get the most plays. This version of the film was put together by producer Rick Schmidlin and editor Walter Murch in 1998 using a 58-page memo Welles wrote to Universal following a screening of a rough cut of the film. A pdf of which is available from Masters of Cinema.
Welles was unhappy with the way in which the film had been edited when he left the editing room to fly to Mexico for work on Don Quixote, and also the insertion of new scenes shot by director Harry Keller.
Universal had been concerned that some of the film was confusing and the additional scenes and attempts to simplify some of the editing were efforts to make it easier for an audience to understand. Important aspects to the film, such as the cross-cutting between Mike and Susie Vargas, were lost in the version Welles saw, and he responded with the now infamous memo, a list of ways in which these and many other problems that he saw could be fixed.
Schmidlin and Murch used this memo, and a few additional memos Welles wrote regarding the sound design, to construct this new version of the film. It's one that is closer to what Welles wanted but it's important to note that this is not a director's cut of the film, which is unfortunately an absolute impossibility, but it is probably as close as we will ever see.
There are a number of significant improvements in the 1998 Reconstruction that are particularly noticeable and noteworthy – the aforementioned inter-cutting and the textless opening for instance – but there are also a number of minor changes that have an impact. Changes to the sound mix, including experimentation with diegetic sounds that shares similarities with Kurosawa's Stray Dog or Lucas' American Graffiti, and small cuts or the lengthening of scenes restore the film to something closer to Welles' vision (going by the memo at least) and make a startling difference to the way in which key scenes work. A small trim to the sequence in which a number of people enter Susie's room, for instance, transforms the scene from coming across as somewhat humorous to being genuinely terrifying. I could go on but suffice to say the changes here are important and add greatly.
The re-edit was achieved on a budget of just $325,000, and once completed Schmidlin and co. were given an extra $40,000 to use towards a digital restoration. This was put to good use and a number of the imperfections in the print, mostly the more significant scratches, have been removed as much as possible. This has been done delicately and there are very few times when the work done is particularly noticeable, just a few instances in which the image looks a little smoother.
There is reasonably heavy grain throughout and the contrast is a little higher than on the other versions of the film. This is mostly for the better as Russell Metty's stunning black and white cinematography is at its best in its starkest moments.
I saw this reconstructed version theatrically around 1999 and this new HD transfer far exceeds the already rather worn out 35mm print that I saw projected. Seeing the film then was a revelation and watching this new HD version of the Reconstruction I felt the same. A beautiful transfer that befits such a visually stunning film.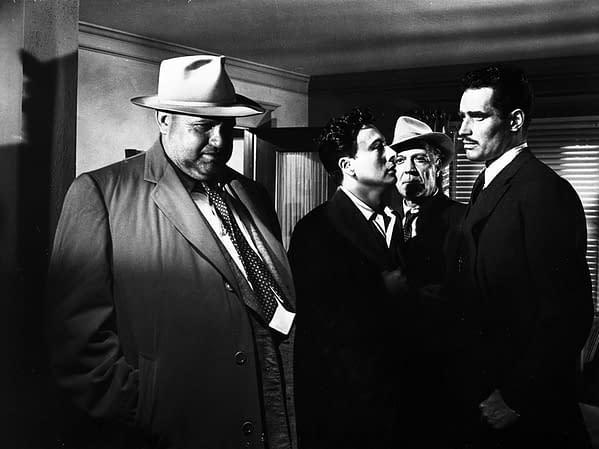 This version, and the Theatrical cut, are both presented in 1.37:1 and 1.85:1. This is a definite improvement over the 50th Anniversary Edition, which only included the film in 1.85:1, and it is a welcome opportunity to compare and contrast the two ratio choices. Welles and Metty reportedly shot the film with both ratios in mind, with television and its insistence on a 4:3 aspect ratio as an obvious consideration, and the film certainly 'works' in both aspect ratios.
The 1.85:1 ratio is actually a crop of the 1.37:1 image and whilst this would suggest that the 1.37: 1 version is the OAR this is debatable as it seems to have been the understanding that this would have always played theatrically matted to 1.85:1. Watching the film open matted in 1.37:1 there are clear benefits – the frame includes more of the famous Wellesian ceilings for instance – and the compositions contain more intricate use of shadows than is visible in the 1.85:1 image.
I personally prefer the 1.85:1 ratio over the squarer 1.37:1 as a rule and there are certainly times here when the compositions feel more suitably claustrophobic. Both choices feel like something of a compromise for a viewer so it is the perfect choice on the part of MoC to include both. It's also worth noting that it was never entirely clear which ratio Welles himself preferred, although comments from him appear to suggest he lent more towards the 1.37:1 ratio in general. This is evidenced in a rather lyrical piece he wrote, which is included in the booklet that accompanies this release.
The elements used for this version are as follows (as taken from the MoC booklet)
This version was reconstructed by Walter Murch & Bob O'Neil, referring to notes from Orson Welles's 1957 memo. This 2010 HD transfer utilised a 35mm Safety Composite Fine Grain (printed 6pts. Lite) – created at YCM Lab in 1998. The restored/reconstructed mono audio (SET188751) utilised as sources the "theatrical version" source DME (SET195468), the "preview version" print (SET107951), and an ADR line. The source for the opening scene music was taken from the body of the "theatrical version".
Special Features:
Commentary by restoration producer Rick Schmidlin (1998 Reconstructed Version – recorded in 2008) – A mixture of insightful details on the reconstruction and a few critical thoughts on the film. Schmidlin is very enthusiastic and brings some wonderful anecdotes about the film, putting together the reconstruction and the première of the reconstruction.
Commentary by Rick Schmidlin, Charlton Heston & Janet Leigh (1998 Reconstructed Version- recorded in 1999) – A little on the purely anecdotal side, this commentary track is an enjoyable listen but there's not too much insight into the film that isn't covered elsewhere. Heston and Leigh are particularly entertaining to listen to talking about the film and the affection they still held for it is obvious.
Bringing Evil to Life [21:00] – A collection of interview segments that piece together the production of the film. A good quick overview of the film's production this is certainly worth watching but most of the the information is covered elsewhere and in greater depth.
Evil Lost and Found [18:00] – Essentially an extension of the above, this focuses on the problems that Touch of Evil went through and how the 1998 Reconstruction came together.
The original theatrical trailer, which includes alternate footage.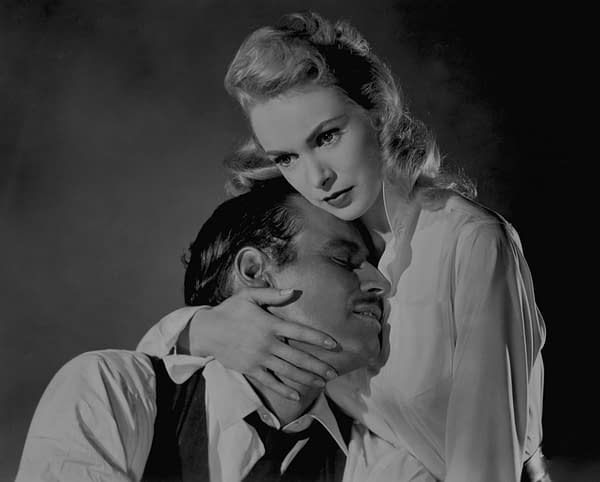 Disc Two
The 1958 Theatrical Version in both 1.37:1 and 1.85:1.
The original version of the film released in cinemas in 1958, the theatrical version of Touch of Evil is a shorter and problematic watch. Although this is the version that many who saw the film prior to 1998 (and even before the preview version was realised in 1972) will probably be most familiar with, it feels like such a significant compromise. Once you've seen the Reconstructed version and noticed the significant improvements, it's almost impossible to forget the changes when watching this version.
Beyond taking an academic approach, the theatrical cut is still very much worth checking out, and at a much leaner 1 hour 35 minute running time, and with added, clunky exposition from Keller's reshoots, the film does play more like a fun B movie thriller – as it was considered by Universal upon release.
The theatrical version is also available to watch in both 1.37:1 and 1.85:1 and although there are some areas in which the print damage clearly increases and the image gets softer (more so than the reconstructed version), the picture is still near immaculate.
The elements used for this version are as follows (as taken from the MoC booklet).
This 2010 HD transfer utilised a 35mm Safety Composite Fine Grain (#2) (w/ExtraR-7) – SET192840 – created in 1958. Reel 11 only is from a 35mm Safety CompositeFine Grain (#1) – SET192839 – also from 1958. Audio is sourced from a mono MAG– DME SET195468.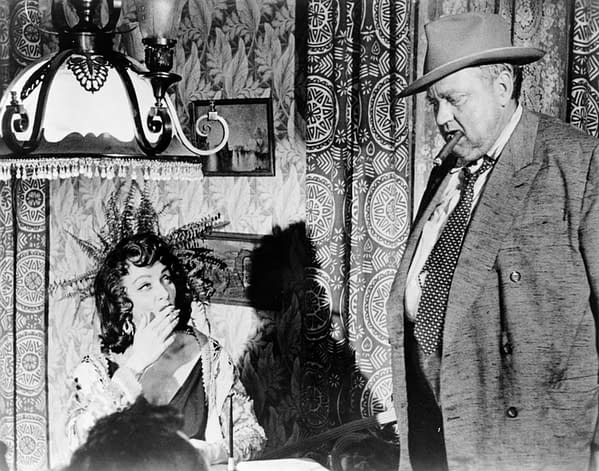 The 1958 Preview Version in 1.85:1.
Discovered in 1972, this version of the film was the halfway point between the rough cut that sent Welles to his typewriter to pen the memo, and the theatrical cut released in 1958. Sold in the 70s as the uncut version this is perhaps more compromised in many ways more than the theatrical cut, and contains even more footage from Keller's incongruous reshoots. Considering the problematic history of the film it is an interesting watch, though, and certainly a worthy inclusion.
The Preview Version image is smoother than the other two versions but the quality of the image is still very high. As a result of "insurmountable technical problems with the 1.37:1 master of the Preview version" the preview version is only available to watch in 1.85:1.
The elements used for this version are as follows (as taken from the MoC booklet).
Also formerly referred to as the "Long" or "Extended Version", it derives from an old surviving 1957/1958 preview print which was an interim version of the film during the editing and re-editing process prior to release. A 35mm Silent Dupe Negative (printed in 1972 from a composite preview print, which dates back to 1957/1958) – SET240723. Audio has been restored from a studio print – SET107951 – as the source. It is a 2008 HD transfer.
Special Features:
Commentary by Critic F. X. Feeney (1957 Theatrical Version – recorded in 2008) – An entertaining and lightly critical take on the film. Feeney was the resident film critic for Z Channel in the eighties and was at least partly responsible for kicking off the director's cut craze, so it's a little strange to hear him speaking here on the theatrical cut rather than the Reconstruction edit. Nonetheless his commentary is excellent and Feeney is as entertaining to listen to as he is to read. Whilst his commentary lacks a little in deep academic insight it is an enjoyable listen and his thoughts on the film are definitely worth a listen.
Commentary by Welles scholars James Naremore & Jonathan Rosenbaum (1958 Preview Version) – recorded in 2008) – Whilst more scholarly than Feeney's commentary, Rosenbaum and Naremore's commentary is a little on the dry side. Both very knowledgeable about Welles and Touch of Evil though they manage to bring with them some information not represented elsewhere on the disc.
A 56-page booklet featuring essays by Orson Welles, François Truffaut, André Bazin, and Terry Comito; interview excerpts with Welles; a timeline of the film's history; and extensive notes on the film's versions and ratios.
Touch of Evil is available to buy from the 14th of November.
Masters of Cinema Monthly will return in December.
Enjoyed this article? Share it!