Welcome to the first Masters of Cinema Monthly of 2012. This month's column is a rather large one with lots of news, reviews and an interview with Monte Hellman. To provide you with a bit of a guide, I begin with info on the forthcoming releases then move into more general news and some quotes from the recent 'The Future of DVD' debate at the BFI. There are then reviews of the latest dual format releases of Punishment Park and Le Silence de la mer, followed finally by a lengthy interview with director Monte Hellman.
Today saw Masters of Cinema announce their forthcoming releases for April, May and June. I had a stab at predicting the releases last month and as you will see I wasn't too far off with some of my guesses, but there are still a few very welcome surprises. Curator, Founder and Production Director of the Masters of Cinema, Nick Wrigley had the following to say regarding today's announcement,
We're very excited to finally be welcoming British legend Alfred Hitchcock into the Masters of Cinema Series. He made LIFEBOAT during WW2, his only film for Fox, and the same year he made two shorter films for the war effort – BON VOYAGE and AVENTURE MALGACHE – both collected here, in new HD restorations as a sumptuous Dual Format special edition.

Our two best selling Mizoguchi titles, the enormous Japanese masterpieces SANSHO DAYU and UGETSU MONOGATARI will receive the upgrade treatment in April when they appear in new HD restorations / Dual Format editions alongside OYU-SAMA and GION BAYASHI, also in HD.

May 2012 sees a Charles Laughton double-bill. One of England's most-loved actor/directors (his only directorial effort – THE NIGHT OF THE HUNTER – being one of the most remarkable one-offs in the history of cinema), Scarborough-born Laughton has a marvellous time in the pre-Code Universal horror classic ISLAND OF LOST SOULS. Three years later he starred in Leo McCarey's amazing RUGGLES OF RED GAP. The director of MAKE WAY FOR TOMORROW directs Laughton who plays an English valet whisked away to the American west. Banned on release by Nazi Germany because of Laughton's moving recitement of the Gettysburg Address.

In June we welcome the great Billy Wilder into the Masters of Cinema Series with two of his very greatest achievements on Blu-ray only – DOUBLE INDEMNITY (1944) starring Fred MacMurray and Barbara Stanwyck, and THE LOST WEEKEND (1945), which stars an Oscar-winning performance by Welshman Ray Milland.
And the full line up (taken from the official press release) is as follows,
Released on 23 April 2012

LIFEBOAT (Masters of Cinema) DUAL FORMAT (STEELBOOK EDITION ALSO AVAILABLE)
Alfred Hitchcock's only film for Fox, made at the height of WW2, stars a first-rate ensemble cast, led by grande dame of the stage Tallulah Bankhead, as the survivors of a Nazi attack set adrift on a lifeboat in the Atlantic Ocean, pitted against interpersonal animosities, creeping paranoia, and the captain of the Nazi sub that placed them in their current predicament…

Special Features:
New high-definition master, officially licensed from Twentieth Century Fox
New high-definition transfers of Hitchcock's little-seen French-language 1944 wartime films, Bon voyage (26 minutes) and Aventure malgache (31 minutes) officially licensed from the British Film Institute
Optional English subtitles on all three films
20-minute documentary on the making of Lifeboat
12-minute excerpt from the legendary 1962 audio interviews between Hitchcock and François Truffaut, discussing Lifeboat and the wartime shorts
PLUS: A 36-page booklet featuring archival imagery alongside new writing by critics Bill Krohn, Arthur Mas, and Martial Pisani

UGETSU MONOGATARI (Masters of Cinema) DUAL FORMAT
Mizoguchi's intensely poetic tragedy consistently features on polls of the best films ever made. This new HD restoration is the film's first appearance on Blu-ray anywhere in the world, and is accompanied by an HD presentation of Mizouguchi's 1951 classic OYÛ-SAMA.

Special Features:
Newly restored high-definition transfer of Ugetsu Monogatari
Mizoguchi's Oyū-sama (also in 1080p on the Blu-ray)
Optional English subtitles on both features
Tony Rayns video discussions of Ugetsu Monogatari [9:00] and Oyū-sama [13:00]
Original Japanese and Spanish theatrical trailers for Ugetsu Monogatari
Ugetsu Monogatari restoration demonstration
Illustrated booklet featuring rare archival imagery and award-winning translations of the 18th century Ueda Akinari stories adapted in Ugetsu Monogatari

SANSHO DAYU (Masters of Cinema) DUAL FORMAT
One of the most critically revered films in Japanese cinema history, Mizoguchi's deeply affecting classic has been newly restored in HD and appears here on Blu-ray for the first time anywhere in the world, and is accompanied by an HD presentation of Mizoguchi's 1953 classic GION BAYASHI.

Special Features:
Newly restored high-definition transfer of Sanshō Dayū
Mizoguchi's Gion Bayashi (also in 1080p on the Blu-ray)
Optional English subtitles on both features
Tony Rayns video discussion of Sanshō Dayū [29:00] and Gion Bayashi [11:00]
Original Japanese theatrical trailer for Sanshō Dayū and original Japanese theatrical teaser for Gion Bayashi
Before-and-after Sanshō Dayū restoration demonstration
Illustrated booklet featuring rare archival imagery and a full reprint of the 1915 Mori Ōgai story adapted in Sanshō Dayū

Released on 28 May 2012

ISLAND OF LOST SOULS (Masters of Cinema) DUAL FORMAT (STEELBOOK EDITION ALSO AVAILABLE)
For the first time in the UK, one of the most imaginative and nightmarish fantasies from Hollywood's golden age of horror – starring the legendary Charles Laughton. Originally rejected by the BBFC, this first and best screen adaptation of H. G. Wells' THE ISLAND OF DR MOREAU, is one of Hollywood's wildest pre-Code pictures.

Special Features:
New high-definition restoration of the uncut theatrical version, officially licensed from Universal Pictures
Newly created SDH subtitles on the feature for the deaf and hard of hearing
Uncompressed original monaural soundtrack on the Blu-ray
An exclusive video piece in which horror critic and historian Jonathan Rigby discusses the film and its source novel
Original theatrical trailer
More extras to be announced nearer the release date
A lavish booklet featuring rare production imagery, and more!

RUGGLES OF RED GAP (Masters of Cinema) DUAL FORMAT
The UK home viewing premiere of one of the finest films of Leo McCarey (MAKE WAY FOR TOMORROW, AN AFFAIR TO REMEMBER) finds Charles Laughton in one of his greatest roles as a personal valet shipped off to America in the service of the brash and wealthy Egbert Floud (played, coincidentally enough, by Charlie Ruggles); a sophisticated comedy of rude manners ensues.

Special Features:
Beautiful new high-definition master, officially licensed from Universal Pictures
Optional English subtitles for the deaf and hearing impaired
Optional music and effects track
Ruggles on the Radio: three adaptations made for radio broadcast, all featuring Charles Laughton and Charlie Ruggles in a reprisal of their famous roles
Laughton reciting Lincoln's Gettysburg Address, originally released as a 78-rpm record in 1937.
PLUS: A booklet featuring rare archival imagery, and more!

Released on 25 June 2012

DOUBLE INDEMNITY (Masters of Cinema) BLU-RAY (STEELBOOK EDITION ALSO AVAILABLE)
Billy Wilder and Raymond Chandler team up to create one of the greatest, and quintessential, films noirs of the studio era, a classic of the hard-boiled genre nominated for seven Oscars, and whose performances by Fred MacMurray, Barbara Stanwyck, and Edward G. Robinson have been leaving audiences breathless for almost 70 years. Now, exclusively restored by The Masters of Cinema Series for its first ever release on Blu-ray anywhere in the world.

Special Features:
Exclusive new high-definition restoration, officially licensed from Universal Pictures
Optional English subtitles for the deaf and hearing-impaired
1950 Lux Radio Theater adaptation starring Fred MacMurray and Barbara Stanwyck
The original theatrical trailer
More extras to be announced nearer the release date!
PLUS: A 36-page booklet featuring rare articles, images, and more!

THE LOST WEEKEND (Masters of Cinema) BLU-RAY (STEELBOOK EDITION ALSO AVAILABLE)
An Academy-Award-winning (including Best Picture) triumph from the great Billy Wilder, with Ray Milland as a writer's-block-ridden and booze-sodden author spiralling into a days'-long rock-bottom binge crafted by Wilder with expressionist fervour. This gorgeous Blu-ray edition is the first available anywhere in the world.

Special Features:
New high-definition master, officially licensed from Universal Pictures
Optional English subtitles for the deaf and hearing impaired
Exclusive new video introduction by director Alex Cox
The 1946 Screen Guild Theater radio adaptation of The Lost Weekend – starring Ray Milland, Jane Wyman, and Frankie Faylen
The original theatrical trailer
PLUS: A booklet featuring rare archival imagery, and more!
Netflix launched in the UK this month and MoC made it quite clear that you won't be seeing any of their releases popping up on there. They also restated their position regarding Lovefilm and responded to the idea of an MoC streaming service.
No MoC on LOVEFILM because no money comes back to licensor or licensee. They pocket THE LOT infinitely, and are exploiting a loophole.

— Masters of Cinema (@mastersofcinema) January 14, 2012
Same with NETFLIX. No MoC on NETFLIX for same reason. They're killing the industry at source.

— Masters of Cinema (@mastersofcinema) January 14, 2012
@ryangallagher until streaming is uncompressed 1080p, with a killer UI + superfast glitch-free, no headache – we won't be worrying about it.

— Masters of Cinema (@mastersofcinema) January 14, 2012
DVD Beaver have announced their top releases of 2011 list and Masters of Cinema's Touch of Evil Blu-ray release has come out on top. A fantastic release and a worthy winner but if pushed for my pick of MoC's top release last year the accolade would definitely go to their extraordinary Blu-ray of Coeur Fidele (no. 15 in DVD Beavers list). The release was a key example from last year of the impressive restoration work that is so important to shining a light on often unseen films and the film was something of a revelation to boot.
'Midnight Movies' will be hosting a special one-off screening of Repo Man at the ICA this week. This will be followed by further screenings at the ICA of the latest MoC releases throughout February and March.
Weds 29th 2012, London, ICA – Midnight Movies, REPO MAN (one off screening)
w/c 3 Feb, London, ICA, INSECT WOMAN
w/c 9 March, London, ICA, THE GOSPEL ACCORDING TO MATTHEW
w/c 9 March, London, ICA, ACCATTONE
In addition to the above, the new HD restorations of Touch of Evil and Two-Lane Blacktop have recently been screening at a variety of UK cinemas and the trend looks set to continue so keep you eyes peeled for them at your local indie cinema.
Whilst at the ICA last year I spotted an MoC poster for Touch of Evil, which was screening there, and immediately got in contact with Eureka! in order to try and buy one. No such luck, but MoC have recently been teasing the possibility of their posters becoming available, posting photos of their custom posters to Twitter. Eureka! are also now on Facebook (find them here) and have posted a better look at the custom MoC Quad for Two-Lane Blacktop (see below). Whilst there is still no news on whether any of these posters will become available, letting Eureka! and Masters of Cinema know via Facebook and Twitter that you're interested (if indeed you are) will, I'm sure, make the availability of the posters all the more likely.
Founding member of Siouxsie and the Banshees Steven Severin has recorded a number of new scores for silent films over the past few years and his latest project is Vampyr. For dates and the option to buy a CD of the score head over to his site. I haven't had a chance to hear his new score yet but I did see him perform alongside Cocteau's The Blood of a Poet last year. Although I felt that the score didn't work perfectly with the film it was an interesting experience and I was also left wondering if Severin's style might better suit a slightly darker, more Gothic film, in a similar way to the successful way in which KTL's re-scoring of The Phantom Carriage worked. Vampyr may therefore very well be a perfect fit. I shall endeavour to catch up with soon and report back in a later column.
Just before Christmas the BFI Southbank hosted a debate on 'The Future of DVD'. The 'master of ceremonies' was Tim Murray and he was joined on stage by Jon Robertson (Masters of Cinema), Mehelli Modi (Second Run DVD) and Sam Dunn (BFI). The debate was very interesting and I have collected a few key quotes from Jon Robertson below.
Downloads.
Jon Robertson: I mean downloads for me are, a handle full of times, a sort of last resort. On iTunes there are some films that other companies haven't brought out on a physical format and so I'll get a couple of those just to see them instead of going through the faff and time and effort of importing something. But it's just an inferior delivery system. It's heavily compressed, there are no real extras… and so it just doesn't hold much allure, you don't seem to get your money's worth even at a cheap rental price. There are various rental shops where I can just go, certainly in London there is The Film Shop and other places, and rent out the full package.
The future of DVD/Blu-ray collecting and cloud storage.
JR: I can't imagine homes of the future that are sort of just bare white walls with an iPad in the middle and that's everything. I don't think objects are going to go out of fashion anytime, tactile things to have and line up. I think that's still very very desirable. I mean there is a collector mentality. We put spine numbers on. It's fairly shameless…
Preserving film history and the future of preservation.
JR: I'm always surprised when we're getting titles on our radar for a long time, like Ruggles of Red Gap, Burmese Harp or the Imamuras, and you go to the BBFC website and they've never had any kind of release in the UK. And this is even stuff that is fairly well known in sort of film circles. So the kind of things that you guys release [Second Run and BFI] which are very much off the radar, what kind of chance do they have if they haven't got you guys around, it's absolutely consigned to nothing. Even with Lubitsch and everything else it hasn't been given any kind of VHS release, maybe an original theatrical release fifty years ago when it was cut by the BBFC, maybe a TV screening here or there, but that's for the majors. Bringing back something like – oh God I love the Flipside – Party's Over or whatever else, which is just this extraordinary thing that I'm sure would be completely lost or if not lost then as good as lost, just sitting in a vault unseen, un-digitised.
Region coding.
JR: It's another barrier. How European machines now cannot often play NTSC but NTSC machines can almost never play PAL. Even now on Blu-ray it's very risky doing something at 25fps, you need to do a 50fps interlaced encode because many American machines cannot even play that even if it is a completely region free disc. So it is frustating and so it's either don't bring them out at all or you've just got to do it and put a fairly irritable screen on our discs when it turn out that you've put it into the wrong region machine. It's just something we've kind of had to grit our teeth and just kind of get on with simply to get the films out there in some form. But no we don't like it at all, it's an endless frustration.
The BBFC and extras.
JR: There are fewer extras on a lot of our releases because of the certification costs.
Now onto this month's releases,
Peter Watkins once described Punishment Park as taking place "tomorrow, yesterday or five years from now" and it is a statement that applies as well now as it did when he first said it in 1971. Punishment Park is a faux-documentary that focuses on a number of 'political prisoners', who are given the choice between serving out a prison term for their perceived crimes or three days in 'Punishment Park'.
If they choose Punishment Park, before an unjust jury, they must travel on foot across an area of desolate American land in an effort to reach their goal, an American flag. They are promised that halfway along their journey they will find water and if they reach the flag they will be set free. Chasing them throughout their ordeal is a group of law enforcement officers who are assigned to Punishment Park as a training exercise.
The film begins by cross-cutting between a group of prisoners making their way across Punishment Park, the officers who are about to follow them training with lethal weapons and a trial of a group of new prisoners. The stories come to a head, the officers and the prisoners clash and the end, much like the film in general, is an incendiary indictment of a dominant system that is completely out of control.
Characterised, following its première, as something of a hysterical left-wing masochistic fantasy Punishment Park could so easily have been just that but the film is far from it and in the intervening years it has become more and more apparent that the film is far from hysterical but actually coldly reflective of the society in which we live.
Whilst the US government is not quite in the same situation as we see in Punishment Park there are certainly parallels that can be drawn between the film's core conceptual conceit and situations in America and around the world. The temptation is of course to applaud Watkins for prescience, the Guantanamo Bay Detention Camp being a possibly obvious reference point, but significantly Watkins is tapping into something far more disturbingly general about the way in which human beings can behave to one another and the abuse that often occurs when a powerful entity crosses a line. Bringing to mind the work of psychologist Philip Zimbardo, Punishment Park is disturbing and affecting not because it comes across as simply savage satire but because what occurs feels all too real.
Shot on 16mm, with the conceit that it is a real documentary skilfully executed by Watkins and his crew, the film has somewhat lo-fi origins but looks remarkably good on Blu-ray. This new release is an HD transfer of a new 35mm print struck from a 35mm blow-up negative, and upgrade on the previous DVD release from MoC (also included here). The film looks exactly as it should with good grain retention and a well balanced and consistent transfer throughout. The disc comes with a loaded and very informative booklet, a video introduction from Peter Watkins and an insightful commentary from Dr. Joseph A. Gomez.
Punishment Park is available to buy on dual format now and is region free.
Adapted from the novel of the same name by Jean Bruller (written under the pseudonym 'Vercours'), Jean-Pierre Melville's debut film, Le Silence de la mer, receives the blu-ray upgrade treatment from MoC this month following their already superb DVD release. Henri Decae's exquisite cinematography, particularly in his use of shadows, is very well represented in the new HD presentation and aside from some print damage, mostly on the left-hand side of the frame, the film looks excellent in this new release.
The film itself is also a real treat, both as a standalone experience and also particularly for anyone familiar with and interested in Melville's body of work. Le Silence de la mer was a film that so easily could have never been seen, with Melville taking a huge gamble in making the film without the consent of Bruller and agreeing only to release it if it gained the approval of a specially selected jury of resistance members. The film thankfully passed the test and Bruller gave Melville his blessing to release it in 1949.
Telling the story of a German officer (Howard Vernon) who is thrust upon a French unnamed man (Jean-Marie Robain) and his niece (Nicole Stéphane), and uses their home as his home, Le Silence de la mer is a difficult balancing act and one that must have been even trickier and all the more sensitive just a few years after the end of World War Two. Whilst the German officer, Werner von Ebrennac, talks at length throughout the film, the French uncle and niece remain completely silent, their opinions and thoughts only relayed through the voiceover from Jean-Marie Robain, the niece significantly having no such platform.
Von Ebrennac is cultured and intelligent, sympathetic and idealistic and during his many monologues he reveals his dreams of uniting France and Germany, and indeed all of Europe, believing that this is the war that he is fighting for. The ugly truth of the Nazi agenda is revealed to him though, in a rather heartbreaking scene, and the film ends with the French man finally communicating to von Ebrennac, albeit not verbally, that accepting the truth of the Nazi occupation and continuing to follow orders should not be his future. The silent and stubborn integrity that von Ebrennac witnesses in the French home clearly has an impact on him and the film is all the more emotionally resonant due to the complex journey that von Ebrennac goes on throughout the film. Not quite the raw cry of angry resistence that Punishment Park is, Le Silence de la mer is no less powerful. Melville presents a complex and intelligent argument about war and resistance in a film that is both icily still and intellectual but also quietly very emotional.
The new Blu-ray in this dual format set comes with the added bonus of the French made documentary 'Melville Out of Shadows' in addition to an interview with Ginette Vincendeau, which also appeared on the DVD. The two extras cover some of the same ground, although they disagree on the facts ever so slightly, and are both very informative and worth viewing for both Melville fanatics and those even just casually interested in the film and Melville.
Le Silence de la mer is available to buy on dual format now and is region free.
Two-Lane Blacktop is widely regarded as something of a seventies classic and with good reason. Monte Hellman's existential road movie is sparse, beautiful and wholly intriguing. Returning to feature filmmaking after an absence of over twenty years Monte Hellman is back with a new film entitled Road to Nowhere, a title that would also aptly fit Two-Lane Blacktop and many of his other fascinatingly philosophical films. To coincide with MoC's release of Two-lane Blacktop I recently spoke to director Monte Hellman about the film, his other work and also his return to filmmaking.
Bleeding Cool: At the time the casting of Two-Lane Blacktop was somewhat unconvential. Could you talk a little about how you came to choose the particular actors you used, specifically James Taylor and Laurie Bird.
Monte Hellman: Well, I think that James was probably the first one to be cast and I had been intervieweing just about every young actor in Hollywood and I didn't find anyone that really struck me. I saw James' photo on a billboard on the Sunset Strip and I was interested in his face and I asked our casting director Fred Roos if it would be possible to meet with him. He came in and that was it. I was convinced but we actually had to convince the studio at the time, which was not the studio that ultimately made the movie, and so we shot a screen test and everybody was thrilled with that and he was cast.
And then Laurie Bird was someone I had met when I went to New York and met with Rudy Wurlitzer and we were struck by some qualities that she had as a person that we thought were simiilar to the character that we were developing in the script. And so we spent two or three hours doing an audio interview with her and that was the basis for a lot of what went into the script for the character. Later on when I couldn't find anyone to play the part someone had the bright idea to consider the girl that was the prototype, and that's what happened.
BC: Their screen tests are on the new Blu-ray and they're quite intriguing to watch. Were they shot mostly just for the studio?
MH: Yes, they were shot for the purpose of convincing the studio.
BC: In Road to Nowhere the fictional director comments that casting is 90% of directing. Is that something you believe in?
MH: Yeah, I would probably make it 95. [Laughs]
I think it's something that I actually teach my students. I was looking at some scenes from students yesterday and somebody had a very successful scene because of the fact that they had found just the right actor. Also, it's something I use to include not just the actors but the locations, they're are part of the casting process.
BC: You've had many strong female leads in your films, including Millie Perkins in your westerns and Cockfighter and Jenny Agutter in China 9, Liberty 37. How did you come to work with those actresses?
MH: Millie Perkins was my next door neighbour and Jenny Agutter, I'm not quite sure how we came to her but when you go through a casting process on a picture that's ready to be made you sometimes don't have quite as much time as if you have a few more months to plan. People start throwing out ideas and one of them clicks and that's what happens. You wind up with that terrific actor.
BC: China 9, Liberty 37 to me feels more romantic than your other films. Is that something you would agree with?
MH: Yes, I think it is more romantic than some of my other movies but I think that I tend to have a romantic outlook. I tend to like romantic movies. I think that may be more overtly romantic but I think some of the others are too, I think Two-Lane Blacktop is very romantic too.
BC: I think so too but where specifically do you see the romance in Two-Lane Blacktop?
MH: For me Two-Lane Blacktop was my way to do a version of Shoot the Piano Player and it's really a story about a character whose tragic flaw is the inability to communicate and it's all about his inability to communicate his romantic feelings that I think leads to his disappointment in the movie.
BC: Do you yourself see the ending as a downbeat ending?
MH: No, I think the ending is a way to stop the movie as opposed to a way to end it because unless you end with marriage or death [chuckles] there are no other endings in movies. So we just stooped the movie, we don't end it.
BC: I'm a big fan of the two movies you made in the Phillipines. There are a couple of lines in them that I particularly like, "Death is a punctuation" in Flight to Fury and there's one in Back Door to Hell about how we're all going to "die anyway, today, tomorrow, thirty years from now".
MH: [Laughs] I didn't write either of those so I guess they're the sentiments of Jack Nicholson and John Hackett.
BC: Is that something that you liked about the scripts though. There's a sense of fatalism to them, is that something that appealed?
MH: I enjoy, y'know, a slight diversion towards philosophical discussion just as I do in life but I don't really concentrate on that in my movies. It's just part of the characters.
BC: I think there's a real end of era feeling to Two-Lane Blacktop. Do you feel that about it and did you get that sense at the time at all?
MH: When you're in any given time frame I don't think we think 'oh, this is 1989 the end of decade', it's just another year and more accurately it's just another day, that's all.
BC: Do you see it looking back though?
MH: I don't really. I mean it's easy to say that the sixties had a certain personality or something. I think there's a certain truth to it though, London in the sixties was, using a term we would use in my classes in Stanford, a dynamic place to be at that time. And at other times Los Angeles has been the most dynamic place, at least in America, perhaps in the world. Things happen faster in certain places and at certain times but to say, okay this is a ten year period that happens to match the passing of a decade is possibly stretching it.
BC: In a more general sense I suppose I'm getting at, was there a sense of a change coming or change happening?
MH: Again something you're not aware of at the time but looking back I would say that the time we made Two Lane Blacktop was certainly a stimulating time to be making movies, at least in Hollywood. We may never have that much freedom to make such unusual movies as we did at that time. BC: I spoke recently with Douglas Trumbull and he echoed those sentiments but also talked about recent changes in technology. I understand that's something that you're also interested in. Road to Nowhere was shot on Canon 5Ds, for instance. Do you find digital filmmaking liberating?
MH: I'm an early adopter and I took to digital still photography very early on. I was appreciative of not having to breathe all those chemicals in the dark-room and I also appreciated the greater control you have, it's much easier to manipulate the image than to have to kind of wave your hand in a funny way [laughs]. I like it a lot and I feel the same way about digital movies, it's much greater control, you have greater control over the colour, it's a more permanent control. In the lab you may have one batch that comes out good and then the next batch might be a slightly different part of the process in terms of the first film that goes through a new batch of chemicals being different from the last batch that went through before they changed the chemicals. There are so many variables in that system and it's much more specific in the digital world.
BC: I did used to love the dark-room though for the tactile nature of it though, is there anything about that which you miss?
MH: I don't miss that but I do miss handling the film. I used to work with an upright moviola and I do miss that, that was a very tactile experience and a much more physically active than just pushing buttons on a computer.
BC: You've obviously had a lot of work as an editor on your own projects and other peoples. Is there one part that you prefer, the editing, the directing or the writing?
MH: Having come originally from the theatre where part of the director's job is not only coaxing a performance out of the players but also controlling the timing and so on, that's two things and the editing is the equivalent of the second part, so I consider it a continuation of the directing.
BC: Some directors and editors often say that the film is really made in the editing room. Do you feel that that's the case or that a lot of it is on the page?
MH: There's no easy answer to that. Yes, there are some films that you've edited in your head and they just go together and other films become completely different in the process. I would say that Road to Nowhere was film that was drastically altered in the editing process.
BC: Do you tend to storyboard beforehand?
MH: I only storyboard when I'm forced to, which is when I'm doing special effects. So when I was doing all the miniatures for Avalanche Express, all the avalanche itself and the minature trains and so forth, that all needed to be storyboarded but if I don't need to do it I don't do it.
BC: You made a diagram for Two-Lane Blacktop to proof a point too, is that correct?
MH: Yeah, I did an overhead view looking down on the car and showing all the different positions the camera could have. It would give us that many perspectives and I used that when I went to MGM to try to convince them to finance the movie.
BC: Do you still have the diagram?
MH: No, I don't. I wish I did [laughs].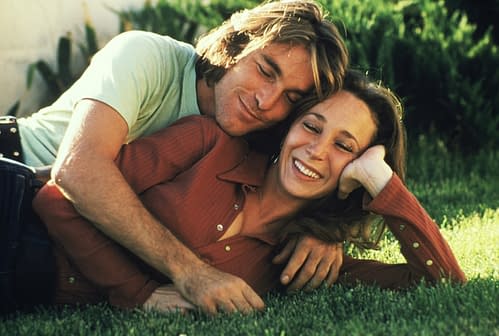 BC: Me too, I'd love to see it as I'm sure a lot of film fans would. You shot second unit on a few films too including Robocop. Did you need to do storyboards for that?
MH: I didn't do storyboards but Paul Verhoeven did storyboards. He didn't like the idea of having a second unit director, I must say I don't either if it happens to me, so he wanted to maintain his control over it as much as he could so he would give me storyboards everyday to dictate how I would shoot the scenes.
BC: I've read that you shot second unit on The Big Red One too, is that true?
MH: No, that's one of those strange IMDB fantasies I guess, they have me down for a number of things that I had nothing to do with.
BC: As a teacher is there one thing that you think is most important to teach your students or is there one thing that you think that you're imparting to them that is the most use?
MH: I basically, as much as I can, teach philosophy of filmmaking as much as any of the technique. I do a little bit of each. The rules, the grammar of filmmaking are so simple that you can teach them in about twenty minutes but it takes a lot longer to learn so sometimes we have to reinforce those lessons over and over again to get them across. It's pretty simple stuff. I teach a basic philosophy though that's based on a kind of mentor of mine, not someone I actually met but someone whose books I read, and that's Artur Hopkins. It's really again quite simple stuff, that we are at the service of the material that we are doing and that the job of the director is primarily to convince everyone of that. To make everyone part of this team working together and not to try and call attention to ourselves individually. It's a little bit about being selfless and essentially the idea that anything that calls attention to a person or a technique is detrimental. That if you notice the music or if you notice the cinematography or if you notice the direction then you can be sure that it's bad.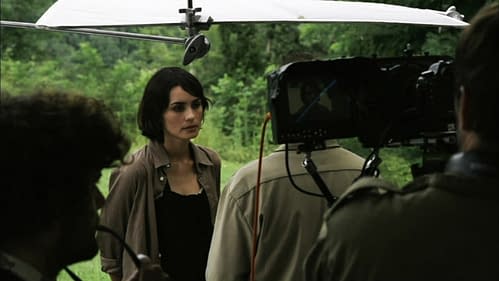 BC: How do you feel generally about 'breaking the forth wall', so to speak, because in Road to Nowhere there's an interesting game played with that?
MH: Well it's against everything I was ever taught, against everything I believe and what was amazing to me was how quickly the audience begins to believe again. We shake them up and knock them out of the movie and they come back within seconds and I think it has to do with our wanting to believe, when we go into that theatre, into that dark room, we want to suspend our disbelief and we want to be wrapped up in this story that we're asked to participate in. It's so powerful and I think that's one of the big revelations for me and I think seeing how quickly the audience came back.
BC: Just to return briefly to Two-Lane Blacktop, I understand there were scenes that were cut that no longer exist. Could you talk a little about these?
MH: Well, the script turned out to be a very long screenplay. We shot most of it and we wound up with a three and a half hour first cut and we were contractually obligated to deliver a movie under two hours. We wound up with a movie that was actually an hour and three quarters. So we threw away half the movie [laughs] and yes there were some wonderful scenes. There was one scene in particular where they're evading a cop car that's trying to catch them and they pull into a residential neighbourhood and pull into the driveway and the cop car never shows up. They get out of their car and they look through the window at this house and they see a family of a man and a woman and their two children having dinner. There's nothing said but there's a kind of nostalgia about their sense of what they've left behind and the life they're living now.
BC: Is there any sense do you think that they want to recapture that kind of a family unit?
MH: I don't know, whenever you move on to another stage of your life there's always a possibility that you'll feel nostalgia for what you've left behind but at the same time that doesn't mean that you'd necessarily like to go back to it. BC: The road as well is a powerful symbol of abandoning something, a lot of films have used it as symbol in this way. Do you see the road as having a potential for giving up on a a past life? What do you see as the symbolic potential of the road?
MH: I think the road is what you perceive it is or what you wish it to be. It can be many things. To me the road is really a way to ground a movie in real life. One of my other mentors was Siegfried Kracauer who wrote a book called 'Theory of Film' in which he basically says that if you shoot a movie in a room without windows then it's not really a movie because it doesn't have any connection to the street or to life itself. But if you have a window and you see out into the world… and one of the trademarks of Darryl Zanuck is that he would have just that, he would have a window or an open doorway in every scene in his movies, even though he wasn't the director, and there would be all this teeming life going on outside in the world and that made it a much more powerful movie.
BC: In Road to Nowhere Mitchell Haven sees the world through the prism of films, his window into the world seems to be through film, Lady Eve and The Seventh Seal for instance. That seems to shape how he perceives the world. As something of a cine-nut myself I could empathise with that. Do you see the world through films, do they open your mind in that way?
MH: I don't know if I see the world through films but I think in Road to Nowhere he uses film as a way to connect to his love. He wants her to experience the emotions that he felt with these movies and in that way bond more closely with her. I think that he equally sees film through the real world, in other words he tries to represent reality with his cinema and that's his attraction to a real life crime story that he becomes so in love.
BC: I really enjoyed Road to Nowhere and am so happy to see you making films again. Is there anything next on the horizon?
MH: We've got three projects now, two that Steve Gaydos has, one is a script that he's already written called Rattlesnake Shakedown and another is a book that he's just optioned by Herbert Gold called The Man Who Was Not With It and there's a third project that I've had for a number of years called Love or Die which may be my next one. Whichever one comes together faster is the one that we'll do, the one that we raise the money for.
Two-Lane Blacktop is available to buy on Blu-ray now and is locked to Region B.
Although currently without a UK distributor Monte Hellman's latest film, Road to Nowhere, is available to buy on Blu-ray in the US.
Next month in Masters of Cinema Monthly: Alex Cox, Repo Man and more Imamura.
Enjoyed this article? Share it!