Masters of Cinema Monthly March 2012 – Insect Woman, Nishi Ginza Station, More Monte Hellman And An Interview With Alex Cox Welcome to Masters of Cinema Monthly.
Last month I brought you news of all the latest announcements from MoC, click back here to find them all. Due to the timing of my column going up though there was one announcement that came just that little bit too late to make it in. In case you didn't see it on the MoC Twitter page, it is…
drum roll……

— Masters of Cinema (@mastersofcinema) January 24, 2012
Carl Theodor Dreyer's LA PASSION DE JEANNE D'ARC / Jeanne d'Arcs lidelse og død / The Passion of Joan of Arc (1928)

— Masters of Cinema (@mastersofcinema) January 24, 2012
Just to clarify. We'll be working on Dreyer's LA PASSION DE JEANNE D'ARC all year. It will *not* be released this Spring. Looking like 2013.

— Masters of Cinema (@mastersofcinema) January 24, 2012
This is rather exciting news as although the Criterion release (Spine #62) is very good and probably the best home entertainment release to date, it was released some time ago and the chance to see this film on Blu-ray with a new restoration, taking advantage of recent technological advancements, is surely going to be a real treat.
For those living in or near London, the BFI is having a season of Dreyer in March (from the 1st to the 23rd) and the list of films screening is really quite extraordinary, including past MoC releases such as Michael and Vampyr, an extended run of Ordet and a number of little seen features and short films. Head here to take a look at the complete programme and to book tickets.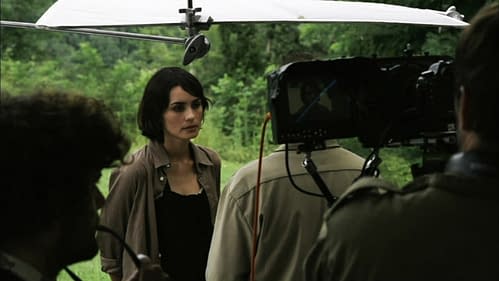 Although not officially announced by MoC, one film that is almost certainly heading towards the Series is Monte Hellman's Road to Nowhere. The film's screenwriter Steven Gaydos mentioned to me on Twitter that the film is getting a UK theatrical release in June [most likely through Eureka] and then an MoC Blu-ray later this year. I reached out to Eureka and MoC for comment and although I did not get an official confirmation from them they commented that, "we do indeed hope to be releasing this title!".
This is still technically a rumour but I think we can safely say that more Hellman is on its way into the Series.
I really rather liked Road to Nowhere, despite a few minor reservations about the some of the dialogue and performances, and am very much looking forward to seeing it again. There is also a lot of potential for some interesting special features on the release, as the film has a wonderfully puzzle-like structure and coupled with the Hollwood-dissecting script from Gaydos there is certainly a lot to discuss from a thematic point of view. The film was also shot on Canon 5Ds and on a rather restrained budget so there is also the potential for some interesting an nerdy features on the making of the film, particularly considering Hellman's concurrent job as a teacher.
When I spoke to Mr. Hellman last month he talked about three projects that might be his next but it looks as if this may have been wittled down to one, and that film is Rattlesnake Shakedown. The film will again be based on a script by Steven Gaydos and this time it's based on a story that's even further down the Hollywood rabbit hole.
The synopsis is as follows:
On one hot June weekend in 1975, the former hottest director in Hollywood turned unhireable, Galt, seeks money to save his Malibu beach house by flying off to London with BRENNER, a legendary director, hustler, raconteur who's offered him a deal.

Galt's seeking a job that could dig him out of the financial hole that cocaine, alcohol, girlfriends and excessive bad behavior have gotten the 50-year-old maverick-madman into.

He's trying to save his house, but more importantly his marriage to FRANCESA and their two-year-old daughter, JASMINE.

But his London excursion turns into an Alice in Wonderland worthy adventure, an epic journey of deception and increasing desperation.
Judging by MoC's affection for Monte Hellman it's not outside of the realm of the possibility that this may one day end up in the Series too, especially considering it features two bona fide masters of cinema, Sam and Orson… I mean Galt and Brenner. A number of MoC release have received the dual format treatment this month. Aside from changes to the packaging, mostly to accommodate the format, the releases are the same as previous ones, with the exception of The World and La Planete Sauvage. In the former's case no DVD originally existed so one has been created for this release and in the latter's case MoC have re-authored the DVD (previously titled Fantastic Planet) so it now matches the Blu-ray. The complete list of new dual formats with links to purchase them can be found below.
Mad Detective
The World
Tokyo Sonata
Une femme mariee
La Planete Sauvage
Vengeance Is Mine
Will Success Spoil Rock Hunter
The Burmese Harp INSECT WOMAN/NISHI GINZA STATION
Born into the Japanese rural peasant life of 1918, Tome, played by the magnetic Hidari Sachiko, is the daughter of a promiscuous woman and a mentally challenged father, although her father may of course be any number of men. The situation she is born into is ugly and vulgar and so is set the tone of her life. She herself gives birth to a daughter, following an unpleasant situation that results in her being offered up to and impregnated by the landlord's son, and it is only through her own tenacity that this baby survives, ignoring the suggestions of elders that she should terminate it. Moving to the city and leaving her daughter with her father, Tome begins work in a factory and then as a maid, until an unfortunate accident leads to the death of the child she is caring for.
There is a depressing inevitably in her next career move, her almost passive acceptance of it makes it even more so, as Tome begins working at a local brothel. Tome adapts and survives though and raises above the other women, ultimately working as a madam, securing customers for prostitutes and taking a substantial cut in the process. Resilient and resourceful she is a classic Imamuran woman, but the harsh treatment she so often receives, the ugly view of human life and the stark inevitability of the story is evidence that this is also classic Imamura in many other ways.
The sense that all this has happened before and will of course happen again pushes down on the story, a story already crushed from all sides by the claustrophobia of a character trapped in her circumstances. The tight, on location cinematography adds to this oppression, with Imamura often shooting inside with low ceilings and close walls closing in from all sides.
The film deals with issues beyond Tome's confined life though and it is undoubtedly no coincidence that her life moves from pre-war Japan, skipping quickly through World War II and then onto the post-war period. The repetition common through all of Insect Woman, most notable in a repeated shot from inside a barn, and the sense that nothing is really changing reflects a bleak outlook that was not perhaps an uncommon one in post-war Japan. There is a glimmer of something approaching hope though in the film's final moments, as Tome injures her foot on a rock only to continue on. As this moment and in a way, the rest of the film suggests, obstacles will constantly be placed in the way but it is through an almost animalistic resilience and will to survive that these can be moved past.
This new Blu-ray from Masters of Cinema is not quite up to the extremely high standard of previous Imamura releases, such as Profound Desire of the Gods and there is a minor amount of damage that is obviously inherent to the source but for the most part the transfer is spot on. Much like MoC's release of Imamura's Pigs and Battleships, which included his first feature Stolen Desire, this release comes complete with Imamura's second feature, the delightfully whimsical Nishi Ginza Station. Designed as something of a vehicle for lounge singer Frank Nagai, Nishi Ginza Station is just over 60 minutes and very much a lightweight B picture but a very enjoyable one. Clearly riffing on The Seven Year Itch, the number of similarities are almost too numerous to list, the film concerns a henpecked husband who runs a pharmacy, has two children and a reasonably stable family life but dreams of escaping to a tropical island and the delights of Sally, a grass skirted native who lives there – cue some pretty unfortunate but entirely of the time attitudes to race. In a way he gets his fantasy, or at least something close to it, but the film ends on a reconciliation and a re-establishment of conservative family values, albeit with a sense that nothing has really changed. This latter point may be the closest the film gets to the kind material Imamura dealt with in his later career. But casting aside the desire to see the film framed within Imamura's filmography one finds a rather frothy but entirely enjoyable comedy with just a little bite. Not exactly a revelation, Nishi Ginza Station is nonetheless a rare treat and a wonderful sweet one after the rather difficult and heady 'pleasures' of Insect Woman.
The image quality of Nishi Ginza Station is nowhere near the standard of Insect Woman but the film is very well presented and any issues are those of print damage rather than issues introduced in the transfer. The audio is not quite as clear and defined as on Insect Woman either but there are no issues that go so far as to make anything difficult to comprehend.
The disc also features an interview with Imamura, conducted by film critic Tadao Sato and a 36 page booklet. The interview is interesting but features more anecdotes than insight. The booklet includes two pieces by Tony Rayns on the films included in the release. Rayns is as informative as ever but I found him to be a little too dismissive of Nishi Ginza Station, simply discussing it as something of a minor Imamura footnote and little more.
The Dual Format release of Insect Woman is available to buy now. REPO MAN
Repo Man is a film that, despite its obvious influences, Robert Aldrich's deliriously seedy and startling Kiss Me Deadly being the most obvious, is a real original and by far Cox's best film to date. Punk Otto (Emilio Eztevez) provides our window into the world of repo men and our introduction to Bud, an iconic performance by Harry Dean Stanton. Add into this world science fiction elements aplenty, the hardcore punk scene of the early eighties, grimy philosophising and a fresh independent approach from Cox and you have a film that truly deserves its reputation as a cult classic.
To coincide with this month's excellent release of Repo Man on Blu-ray I was lucky enough to be given the opportunity to fire off a few questions to director Alex Cox via email and you can find his responses in full below.
Bleeding Cool: In the booklet for Repo Man you comment that you can write ten to twenty pages in a good day. What sort of writing habit do you have? Do you ever get 'writer's block' and if so how do you cope with it?
Alex Cox: I haven't experienced writers block. Not that everything I write is any good, or that those 10-20 pages won't end up in the bin. But I've no problem spewing. BC: You both write films and write about films, which comes easier to you and is there one that you prefer more? If so, why?
AC: Screenwriting is much more fun. It is a wonderful art form in itself and for many years I wrote scripts for the pleasure of it. But film-related writing is recompensed, which helps pay for the dog food.
BC: What was the experience of actually filming Repo Man like, what particular challenges did you face and was there anything in particular that you learnt in the process?
AC: It was a hot experience since it took place over six weeks in July and August, all in downtown Los Angeles which in those days was highly polluted. Tiring, too, since there were so many night shoots. So I learned to write fewer night exterior scenes! Dealing with most of the actors was a breeze since they were for the most part very professional and willing. Harry Dean Stanton was less of a pleasure – fighting with the other actors, trying to direct them, demanding salary increases – but also a very, very good actor, which made the experience worthwhile. BC: I understand that you originally intended to include animated sequences and flashbacks in Repo Man. Can you talk a little about these and why they did not end up in the film?
AC: I don't remember any flashbacks. One of the car chases was meant to turn into a cartoon along the lines of the one I drew. But in those days these things weren't farmed out to slaves in China and Korea. Animation was much more expensive and we didn't pursue the cartoon angle.
BC: What do you think is the key to keeping costs down in feature filmmaking and how did you achieve it with Repo Man?
AC: We didn't. Most of the $1.8 million budget of REPO MAN was wasted, on Studio overheads, producer overheads, huge trucks, honey wagons, the exec producer's trailer and other giant, slow-moving frivolities. The film should have cost $100,000, and been shot in four weeks, starring Sy Richardson and Dick Rude.
BC: Where do you see the future of film production moving, particularly when considering current trends towards extremely expensive special effects heavy blockbusters and super cheap indies shot using easily available digital equipment?
AC: Philippe Dauman, head of Viacom (which owns MTV and Paramount) announced that the huge returns on TRANSFORMERS 3 "affirmed our strategy of a reduced release slate and a focus on franchises." In other words, the studios have given up on lower-budget films and want to make as few pictures as possible – toy- and superhero-based children's films – with beef slaughterhouse and game tie-ins. Low budget and independent films will continue to be made – but how do they reach an audience? How do they make a profit when theatrical distribution and online sales are locked up by massive corporations?
BC: As a teacher what do you think the most important lesson you teach your students is?
AC: That they should make allies among their colleagues and continue to do creative projects with them after they leave school. This worked for me and the producers of REPO MAN (all ex-UCLA), and for Trey Parker and the SOUTH PARK guys, after they exited the University of Colorado.
BC: I always thought the 'generic products' in Repo Man to be something of a deliberate satirical swipe at consumerism in the eighties but I read recently that this wasn't the original intention. Can you talk a little about how you decided on the labelling and why?
AC: Originally we wanted to get product placement – free beer and such – but after we drew a blank (only the Car-Freshener Corp. would give us any product!) I thought fine! Generic it shall be! Ralphs' supermarket gave us a lot of generic goods; the DRINK and FOOD cans we made ourselves.
BC: What can you tell me about Repo Pup? [Cox's introduction to Repo Man on the Blu-ray ends with "Coming soon…" and then an image of two dogs superimposed on a picture of space and the text "REPO PUP. Coming soon to a media device in your galaxy."]
AC: The dogs are in their spacesuits and raring to go. But I'm waiting for a 'cease and desist' letter to arrive from Universal's head of litigation. That's what gives me energy to pursue the REPO brand.
Repo Man is available to buy on Blu-ray now in either regular or steelbook editions.
Next month in Masters of Cinema Monthly: A Pasolini doublebill.