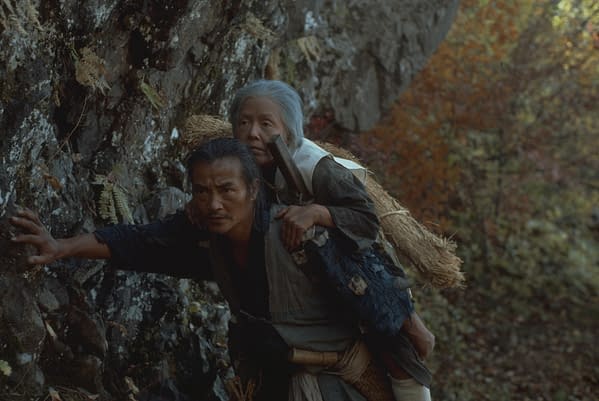 Craig Skinner writes for Bleeding Cool.
Welcome to Masters of Cinema Monthly, a regular column here at Bleeding Cool dedicated to The Masters of Cinema Series. Every month I shall be writing about the latest Masters of Cinema news and taking a look at their latest titles.
Below you can find news on forthcoming releases and reviews of the latest two discs to entire the series, A Man Vanishes and The Ballad of Narayama.
This month's column arrives a little later than intended as I have been been basking in all that the London Film Festival has had to offer. Two films from the festival's excellent archive strand stand out as having potential relevance to this column.
The first is Shin-heike Monogatari, Mizoguchi's penultimate film and one of only two films that he made in colour. Masters of Cinema have previously released eight of Mizoguchi's films on DVD, all collected in a highly recommended box-set ,but not yet any on Blu-ray.
At the time of the screening Shin-heike Monogatari was without a UK distributor so it is entirely possible that MoC could pick this film up. The 2K digital presentation that played at the London Film Festival, a restoration by Tokyo's National Film Centre, was excellent, a good quality print sensitively restored. The audio had quite a few noticeable issues but these were not too distracting.
The film itself is excellent, an engrossing and stylish period piece, and far better than Mizoguchi's other colour feature, the somewhat lacklustre Yôkihi. The other film that could be a potential pick up for MoC is Roberto Rossellini's The Machine That Kills People, a surprisingly fun and sprightly film from this director that engages with moral questions about good and evil and punishing the wicked.
The film focuses on a photographer who is introduced to a way of punishing (i.e. killing) bad people and gets a little carried away with his new found ability. Rossellini actively breaks the forth wall at the beginning and end of the film and between this and the wealth of comedic moments the film is far from his earlier so-called neo-realist films such as Rome, Open City or Paisan.
This new restoration is the work of Bologna's L'Immagine Ritrovata laboratory and Cinecitta Luce and whilst a little on the soft side the film mostly looked and sounded fantastic. Rossellini currently has one film in the MoC Series (Francesco Giullare di Dio) but will soon also have a short, with the release of RO.GO.PA.G, wherein RO = Rossellini, late next year. MoC have hinted that they are focusing on Italy somewhat in 2012 and The Machine That Kills People would be a fine addition to the series.
As part of this focus on Italy, the Masters of Cinema Twitter account confirmed that there will be more Pasolini releases in 2012, in addition to those already announced – The Gospel According to Matthew & Accattone/Comizi d'amore.
[blackbirdpie url="https://twitter.com/#!/mastersofcinema/status/121368923630338048"]
This month and the next will see the release of a number or dual format versions of existing titles. Dual format releases replacing Blu-rays soon include Sunrise, City Girl, Profound Desires of the Gods, Vengeance Is Mine, The Burmese Harp, Will Success Spoil Rock Hunter?, La Planète sauvage (aka Fantastic Planet), For All Mankind, Tokyo Sonata, Mad Detective, Une femme mariée, The World, Make Way for Tomorrow, M.
I support the move to Blu-ray in home entertainment completely and generally purchase very few DVDs now (when I do it is for specific reasons – such as a Blu-ray being unavailable or the specific HD transfer being undesirable) but I can also see that some are either unconvinced or not ready to make the leap yet.
The decision to go dual format with all their releases is possibly very wise on the part of MoC as it affords buyers the opportunity to future-proof their purchases for when they do decide to make the change. If you're still very much a DVD buyer and need a bit of persuasion to make the jump to Blu-ray, MoC have included a response to the question 'Why Blu-ray?' in their most recent catalogue.
A small update to the announcement made last month about the forthcoming Repo Man Blu-ray.
[blackbirdpie url="http://twitter.com/#!/mastersofcinema/status/127068617505386496"]
Remember when Amazon listed Silent Running as available for pre-order for only £3.99? Well it seems they made a mistake.
Dear Customer

We are writing to inform you that the price for the item

Silent Running (1971) (Masters of Cinema) [Blu-ray]   – Asin: B005DE1G2Y

was displayed incorrectly at the time  you placed the above referenced order.

Despite our best efforts, with the millions of items available on our website, pricing errors can occasionally occur.

In our Pricing and Availability Policy (see http://www.amazon.co.uk/gp/help/customer/display.html?ie=UTF8&nodeId=1040614), we state that where an item's correct price is higher than our stated price, we contact the customer before dispatching.

All affected orders have now been cancelled. If you still wish to purchase this item, please place a new order online as from tomorrow, which will be charged at the correct price, when we dispatch it to you.

Please accept our sincere apologies for the inconvenience caused by this error, and rest assured that we will continue to make every effort to maintain the accuracy of all prices on our site.

We look forward to serving you again in the future.

Warmest regards,

Customer Service Department
Amazon.co.uk
It's been three weeks since they listed Silent Running at that price and it was listed at that price for a number of days. Someone at Amazon really dragged their heels on this one.
Interestingly if you pre-ordered it before the price drop they still seem to be honouring the £3.99 price.
[blackbirdpie url="http://twitter.com/#!/_AKA_/status/129894384022990848"]
Surely it's only a matter of time before they 'correct' that too. If they don't, anyone who ordered at the £3.99 price will have very good cause to complain.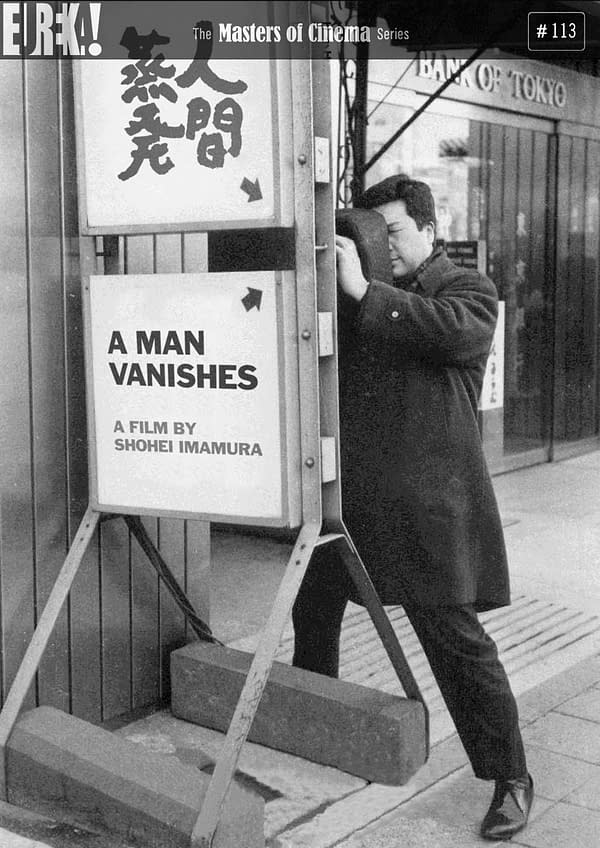 A Man Vanishes
In 1965 Shohei Imamura set out to make a documentary about Tadashi Oshima, a man who had gone missing, dropped out of the lives of everyone he knew, left no word on where he had gone, and simply vanished. What drove him to do this? Could he have actually been murdered? What do his friends and family really know about what happened to him? All these questions and more come to the surface as Imamura slowly peels back the layers of his life and uncovers new information. Significantly though, none of these questions are ever actually answered.
Furthermore, the veracity of what we are seeing on screen is always in question. This isn't strictly a documentary, this is obvious from the beginning, but there do appear to be facts behind and within the film but these are constantly mixed with liberal additions of fiction and fabrication.
Throughout the first half of the film we are introduced to everyone in Oshima's life, the details of his and their lives slowly uncovered through interviews. The interviews focus mainly on relatively mundane details and despite the cumulative result being somewhat effective in building a picture this part of the film does drag considerably. Also, as one is very quickly more than aware that all may not be as it seems there is certainly an issue inherent in telling an audience a series of not particularly interesting facts over the course of an hour that are almost certainly not facts. It's hard to invest too much in what is being said when you are constantly wondering if the some of what you are being told is simply a lie. The film picks up pace and comes alive somewhat in the second half as Oshima's girlfriend takes centre stage and the fabrication, the defining characteristic of this film, becomes more and more apparent. The film also has a wonderful ending in which tension builds and builds during a heated argument until Imamura pulls a wonderful cinematic trick and events spin off towards a reasonably logical conclusion.
The film was co-produced by the Art Theatre Guild (the first film that they funded) but released by the major studio Nikkatsu in 1967. The original intention was to investigate the disappearance of 26 men (or 24 – depending on the source) and possibly to even turn this into a multi-part television series. Given this wider scope it is easy to see how this could have built into a rather fascinating project. As it stands though A Man Vanishes is an oddity, an interesting experiment built on a fascinating idea but it is a conceptual work that is far more interesting to consider or discuss with others than it is to watch.
Released on DVD only A Man Vanishes is of reasonably high quality. Despite being sourced from a somewhat damaged print the transfer itself is excellent and up to the standard we have come to expect from MoC. The audio is of a similarly high standard but due to the unavailability of modern (at the time) equipment, little of the dialogue is synced to the picture. This is certainly distracting but entirely inherent to the source.
Extras for this disc are as follows:
Exclusive new 18-minute video interview with scholar Tony Rayns – An engaging and reasonably informative talking head piece with Tony Rayns providing background information on the making of the film and the wider context in which the film rests.
9-minute video interview with Imamura conducted by his son, filmmaker Daisuke Tengan – Unsurprisingly Tengan doesn't press his father too hard on some of the trickier aspects of A Man Vanishes but Imamura does recount some interesting stories surrounding the film and even despite this video being only nine minutes they manage to cover the key talking points surrounding the film.
Original theatrical trailer for the film.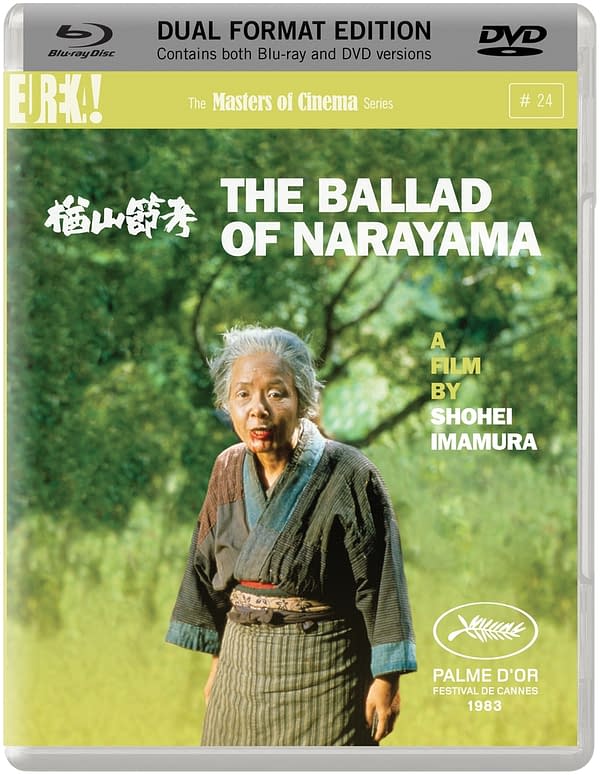 The Ballad of Narayama
Winner of the Grand Prix in Cannes in 1983 Imamura's The Ballad of Narayama, an adaptation of two stories by Shichiro Fukawa, must been quite a shock to an audience unprepared for its dark and often sexual subject matter.
The film primarily focuses on the elderly Orin, a 69 year-old woman living in a village that has for a long time dealt with famine and hardship through a chilling mixture of infanticide and geronticide. As Orin approaches 70 it is clear that she will soon become 'too old' to be supported by the village and must make the journey up Narayama Mountain to die. Before doing so she decides to put her affairs in order but it just so happens that this mostly involves the sexual lives of her offspring.
The Ballad of Narayama is filled with black comedy and some really funny moments of bawdy humour as a result of all the sexual adventures (and misadventures) that the villagers get up to but there is never the sense that any of this is being treated flippantly. Cutaways to the ugly side of nature, a snake slowly swallowing a rat for instance, in the middle of a sex scene or an act of bestiality from one of the more simple-minded villagers quickly reveals the tact that Imamura is taking.
At times playing much like a bleak and cynical nature documentary in which humans are the subjects, The Ballad of Narayama is a searing and savage portrait of humanity and the fine line between civilised behaviour and base violent animal instincts. This is not just simple condemnation, there is also empathy for these often engaging and humorous characters. The blend of humour with more upsetting scenes really carries a punch and makes the film both entertaining and challenging.
Ending with a long sequence in which Orin makes her way up the Narayama mountain to die, carried on another's back, the film takes a tonal turn and this final section is far more lyrical and sombre than what has gone before. This shift is adeptly handled and as the film reaches its beautiful and sad climax it is perhaps quite surprising, following some of the earlier broader scenes, just how moving and powerful it ultimately is.
The HD transfer of Ballad of Narayma is superb in most respects, with a a sharp image without any signs of edge enhancement and bright and suitably saturated colours that make the film look fresh and new. The only issue with the Blu-ray is a very strange one.
At certain points throughout the film there are semi-transparent, thick vertical lines visible. These are only really noticeable in the darker night scenes, but if you adjust the brightness of your television (setting it higher than optimum calibration would dictate) they become very visible in almost every scene. Of course, this is not the way in which you should watch films on your television but be aware that these lines will be visible on some sets.
Extras for the disc are as follows:
Exclusive new 20-minute video interview with scholar Tony Rayns – Rayns again fills us in on some interesting behind the scenes facts about the film in question and the wider context. A deeper critical look at the film could have made this feature absolutely essential but it is a very welcome addition nonetheless.
Four original Japanese theatrical trailers, including behind-the-scenes footage.
In next months Masters of Cinema column: Douglas Trumbull's Silent Running, Orson Welles' Touch of Evil and much more.
Enjoyed this article? Share it!