Craig Skinner writes for Bleeding Cool.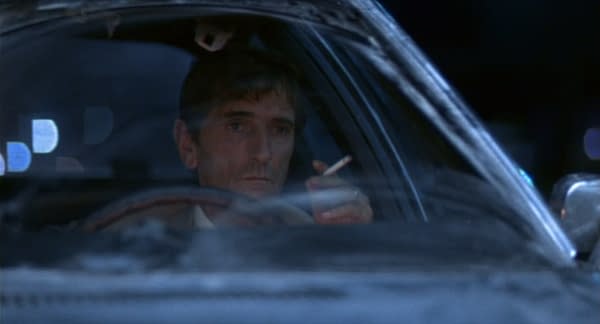 Welcome to the first of what will be a monthly column here at Bleeding Cool dedicated to The Masters of Cinema Series. Every month I shall be writing about the latest Masters of Cinema news and taking a look at their latest releases. Below you can find news on the forthcoming releases, information on titles going out of print, competitions and reviews of the latest two releases (Harakiri and The Iron Horse).
Particularly as this is the first Masters of Cinema Monthly I'd love to hear feedback from you about the column so please feel free to leave comments about what you like or don't like or contact me on Twitter @cskinner. Although the column will be monthly, the dates it will go up each month will vary a little to so keep your eyes here on Bleeding Cool, @BleedingCool or @cskinner.
So, without any further delay, on with the column…
Masters of Cinema have just announced their forthcoming releases for the first quarter of 2012, full list below, and there's a lot to get excited about. There are new entries into the series as well a few releases getting the dual format upgrade but most significantly all of the films with confirmed release dates are coming to Blu-ray for the first time in the UK. MoC appear to have made a firm commitment to the HD format and it's good to see this continuing.
MoC recently made a deal with Universal and next month sees them release the first two Universal titles, Touch of Evil and Silent Running. The next two Universal titles announced are Two-Lane Blacktop and Repo Man, neither of which have been released on Blu-ray previously. Also coming soon to MoC is Shohei Imamura's The Insect Woman, which joins a number of Imamura titles in the series.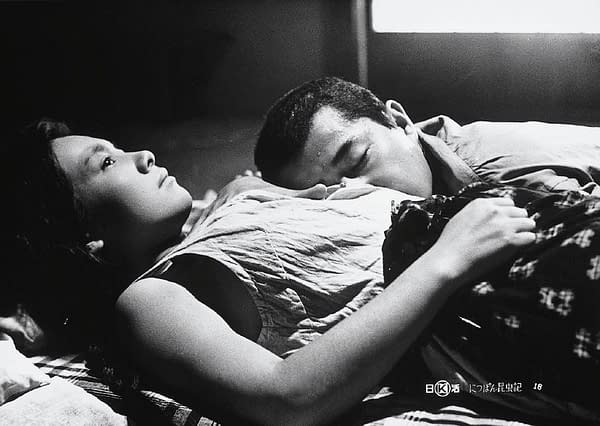 The full list of announcements are as follows,
January
PUNISHMENT PARK (DVD & BLU-RAY DUAL FORMAT)
LE SILENCE DE LA MER (DVD & BLU-RAY DUAL FORMAT)
TWO-LANE BLACKTOP (LTD EDITION BLU-RAY STEELBOOK)
TWO-LANE BLACKTOP (BLU-RAY)
February
REPO MAN (LTD EDITION BLU-RAY STEELBOOK)
REPO MAN (BLU-RAY)
THE INSECT WOMAN/ NISHI-GINZA STATION (DVD & BLU-RAY DUAL FORMAT)
March
THE GOSPEL ACCORDING TO ST. MATTHEW (DVD & BLU-RAY DUAL FORMAT)
ACCATTONE (DVD & BLU-RAY DUAL FORMAT)
Late 2012
RUGGLES OF RED GAP
ROGOPAG
We've also been sent a list of the special features for Repo Man and Two-Lane Blacktop and you can find these detailed in full below,
SPECIAL DIRECTOR-APPROVED BLU-RAY FEATURES:
• New high-definition master in the original aspect ratio – 1.85:1
• Original mono soundtrack and 5.1 remix, both in DTS-HD Master Audio
• English SDH subtitles on the main feature
• Isolated music and effects track
• Audio commentary with Cox and executive producer Michael Nesmith, casting director Victoria Thomas, and actors Sy Richardson, Zander Schloss, and Del Zamora
• All-new 2012 video piece by Cox offering further thoughts on the film
• Repo Man (entire TV version) – this legendary variant, prepared by Cox for network television, incorporates deleted material and surreal overdubs in place of profanity
• Repossessed – a retrospective video piece on the making of the film, featuring Cox, producers Peter McCarthy and Jonathan Wacks, and actors Del Zamora, Sy Richardson, and Dick Rude
• The Missing Scenes – a roundtable viewing of deleted scenes from the film with Cox, executive producer Michael Nesmith, real-life neutron bomb inventor Sam Cohen, and character "J. Frank Parnell"
• Up Close with Harry Dean Stanton – an extended interview with the legendary actor
• Original theatrical trailer
• A 48-page full colour booklet specially created by Cox, entitled The Repo Code and incorporating all manner of Repo ephemera
The "TV version" on the Repo Man disc is actually something that Alex Cox was involved in when it was first produced for television and the differences between it and the theatrical cut go beyond the simple removal of swearing (including an infamous overdub of the phrase 'melon farmers'), and this version actually includes the insertion of two scenes which Alex Cox describes as
…the one with Jac MacInally shaving (where Harry Dean says his name is "I.G.Farben") and the the one where Harry Dean smashes the phone booth with his baseball bat.
SPECIAL DIRECTOR-APPROVED BLU-RAY FEATURES:
• New restored high-definition master, supervised and approved by Monte Hellman
• Original mono soundtrack and optional newly remastered 5.1 mix
• Optional English subtitles for the deaf and hearing-impaired
• Audio commentary by Monte Hellman and associate producer Gary Kurtz
• On The Road Again: Two-Lane Blacktop Revisited, a 43-minute video piece in which Monte Hellman revisits the film's locations
• Somewhere Near Salinas, a 28-minute interview by Monte Hellman with singer-songwriter Kris Kristofferson
• Sure Did Talk To You, a 24-minute video piece by Monte Hellman, interviewing producer Michael Laughlin, production manager Walter Coblenz, and the director's son Jared Hellman
• Rare archival screen-test footage of James Taylor and Laurie Bird
• Original theatrical trailer
• Optional music and effects track
• A lavish 36-page booklet featuring rare production imagery, the words of Monte Hellman, and more!
Due to the recent fire at the Sony DADC and PIAS warehouse and distribution centre, a number of MoC's plans regarding upgrades, dual format releases and titles going out-of-print have been accelerated. The biggest effect of this is that a large number of single format DVD and Blu-ray titles will soon be dual format only. Some titles are disappearing from MoC's catalogue completely, though, or facing uncertain futures.
Titles definitely going OOP include Soul Power (Blu-ray), Tabu (DVD), Muriel (DVD), Toni (DVD), General Idi Amin (DVD), and the Naruse and Lubitsch DVD box-sets, so if you see any copies make sure you nab them as I've already seen them going for pretty exorbitant prices online.
Competition – Masters of Cinema have kindly given us three copies of each of their latest releases, Harakiri and The Iron Horse, to give away to readers of Masters of Cinema Monthly.
To be in with a chance of winning them all you have to do is tweet something about the column and then send me an email (with 'MoCM COMPETITION OCTOBER' in the subject line).
Winners will be randomly selected before the end of the month.
Alternatively, both discs are available to buy now and you can find Harakiri here and The Iron Horse here (Please note, the Harakiri Blu-ray is locked to Region B and The Iron Horse DVD is locked to Region 2).
Both are highly recommended purchases and you can read my full thoughts on both releases below.
The Film
Early seventeenth century Japan (the beginning of the Edo period) and the Tokugawa Shogunate now rule the country, bringing a period of relative peace to the previously war torn country. Masterless samurai struggle to stay alive and with no wars to fight or retainers to pay them, they turn to everyday jobs or worse, they drink, gamble and fight amongst themselves.
One such masterlass samurai, Hanshiro Tsugumo (Tatsuya Nakadai), arrives at the house of the Iyi Clan's requesting that they let him commit seppuku there. An official of the clan, Kageyu Saito (Rentaro Mikuni), is suspicious though believing that this may be a ruse intended to extract money from the clan, a common occurrence at the time. He therefore tells Hanshiro the story of Motome Chijiiwa (Akira Ishihama), a samurai who arrived on their doorstep also requesting a place to commit seppuku but who was actually seeking a hand-out from the clan. The clan humiliated Chijiiwa and made him go through the ritual disembowelment with his bamboo sword, a replacement for the real sword he sold in desperation.
So begins the first of multiple stories told by Saito and then later Hanshiro, a structural choice that helps make Harakiri stand out amongst a large number of similarly set period films made in the 60s in Japan. The unravelling screenplay (from frequent Kurosawa collaborator Shinobo Hashimoto) upon which director Masaki Kobayashi crafts a thoroughly engrossing film is one of the film's many strengths, but it is the accumulation of so many perfectly attuned individual elements (the score, the editing, the cinematography, the performances etc) that makes the film really quite special.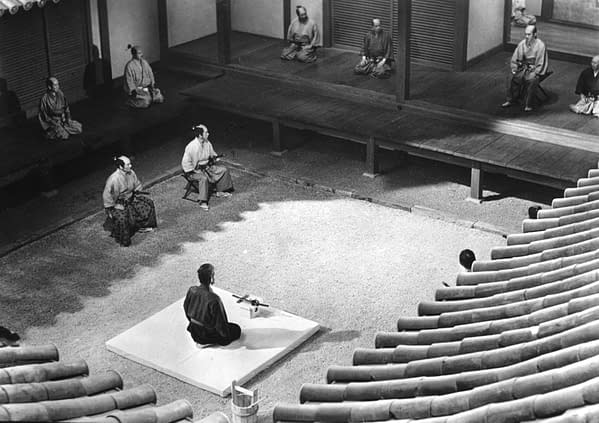 Kobayashi and cinematographer Yoshio Miyajima's attention to detail in the framing of scenes subtly conveys information to the viewer, the way in which the camera moves around and towards the characters, dodgy but very of-the-time zooms aside, and the razor-sharp editing all add satisfyingly to an already thrilling story.
Toru Takemitsu's score is also sublime, with his customary approach to traditional instrumentation and modern experimentation finding a perfect fit within Kobayashi's sixties infused period chanbara.
The film was made in the sixties, also a post-war period for Japan, and this appeared to inform the approach to the themes explored greatly and the film's damning indictment of the public perception obsessed ruling classes in post-war 1630 Japan was clearly something pacifist and left wing Kobayashi found modern parallels in.
The Disc
The picture quality on this Blu-ray release is superb with no signs of blemishes, fine grain throughout and no obvious signs of digital manipulation. The black and white is also not too stark with a wide range of greys. Shadows don't look quite as black as they perhaps could, but the more muted blacks could very well be a fairer representation of the original print. The detail visible in this transfer is also quite extraordinary, so much so that there are a number of moments when joins in hairpieces and make-up are particularly obvious.
The DTS 2.0 Japanese audio track is excellent with clear definition, especially evident in some of the more audibly sparse sequences. The innovative score from Toru Takemitsu sounds beautiful and the clarity in the track makes the more expressionistic stabs of score all the more impactful.
This new HD release is a vast improvement upon earlier releases but it does have competition from another Blu-ray, released by Criterion later this month.
Whilst I haven't had the opportunity to get my hands on that release, screengrabs from various sources suggest that the two releases are of a similar high grade, with the Criterion appearing to be a slightly darker transfer with higher contrast. The differences between the transfers on the two actually seem very reminiscent of those between the companies' releases of Pigs and Battleships earlier this year.
The differences appear to be minor though, and the consensus seems to be that the two discs are both highly recommended. Both discs feature a video interview with Kobayashi, but the Criterion disc also features interviews with Tatsuya Nakadi and Shinobu Hashimoto and a video introduction by Donald Richie.
The MoC disc includes one of their excellent booklets featuring an essay, an interview and a number of beautiful stills. There's not a lot between the two and your choice will mostly likely be determined by whichever your local Blu-ray region restriction is (both discs are region locked).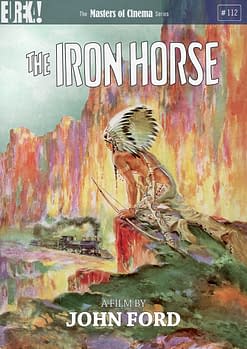 The Film
"Accurate and faithful in every particular of fact and atmosphere is this pictorial history of the first transcontinental railroad." So opens John Ford's 1924 silent epic The Iron Horse, a tale of the building of the first transcontinental railroad. Not quite as historically accurate as the opening title card may suggest, Ford's film is a grand tale of the mythic West that he spent so much of his professional career exploring.
The Iron Horse tells both a small and a large story over its more than two-hour runtime, focusing both on the story of the building of the actual railroad and the smaller romantic story of Davy Brandon (George O'Brien) and Miriam Marsh (Madge Bellamy).
The Iron Horse was a film that really helped make O'Brien a star and his pairing here with Ford was the first of many successful films directed by Ford and starring O'Brien (he also starred in Murnau's Sunrise in 1927 – MoC Blu-ray #1).
With charisma and a commanding physical presence it's easy to see why he was an appealing choice for leading man and his background in stunt work made him the ideal choice for more action heavy roles such as this. Bellamy, despite a much lesser role, shines in The Horse Horse too with wonderfully mischievous glances that really suit scenes such as the one in which she manipulates the railroad workers into doing something they previously said they weren't willing to do.
Ford directs these kind of scenes, those that communicate subtlety in human interactions, with real skill, making good use of edits and changes in the framing to convey visually what is being underlined by the dialogue in the intertitles. The action scenes are equally assured with clear sequences in which motivations and actions are accurately communicated to the audience. The Iron Horse could actually quite easily play without intertitles and an audience would find it incredibly easy to follow.
Ford's fingerprints, his love for Lincoln and the mythologising of 'The West' for instance, are all over this early silent offering but also evident are Ford's talents in effectively telling a compelling story on film.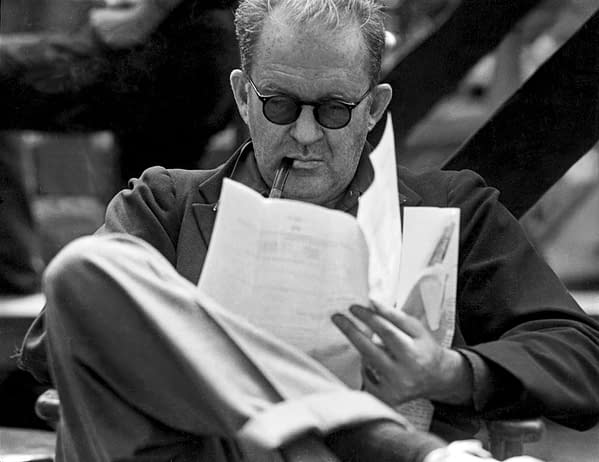 The Disc
With a release that is more similar to the recent Ford at Fox US DVD, rather than the previous and somewhat lacking UK release from BFI, this package includes both the domestic and international cuts of the film. The two cuts are incredibly different, with different shots used in each as well as scenes that feature in one but not the other. Perhaps most amusingly the dedications in the two cuts also differ with the US cut dedicated to Abraham Lincoln and the International (read British) cut dedicated to George Stephenson.
The Domestic cut image is very rough with a lot of damage in the print visible but it's not consistently bad and still clear and obviously watchable. The print used was clearly of a somewhat low grade but the inclusion of this cut is vital and the transfer is respectful of the source. The source for the International cut is of a much higher quality and the transfer is equally respectful of the source material, although I did notice some very minor interlacing issues at times.
The decision to release The Iron Horse on DVD and not Blu-ray is one that seems to have been influenced by the quality of these prints and the lack of a full HD restoration from Fox (these are new MoC encodes from the Fox masters) and without any sign of a HD restoration this standard definition release looks to be the best release the UK is going to see for some time. Whilst the transfers show some wear and tear in places, this release is an excellent one and an essential purchase for Ford fans.
The special features included on DVDs are excellent with the informative Robert S. Birchard commentary ported from the US disc and an exclusive new twenty minute video essay on the film from Tag Gallagher. The only complaint I could make is that I wish there was more from Gallagher. His piece is wonderful and crams a lot of information into the all to brief twenty minutes. Gallagher is an authority on Ford and if any more early Ford films make their way into the MoC series then hopefully they will be able to coax him back again.
Enjoyed this article? Share it!