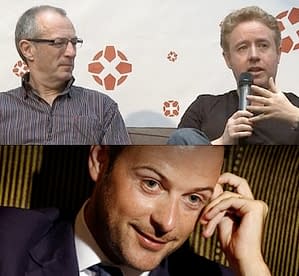 We don't yet know the name of the Matthew Vaughn–Mark Millar–Dave Gibbons super spy project, an undertaking that is already underway as a comic and later set to become a film. This is apparently because some kind of legal clearance needs to be attained, but this was expected to be resolved weeks ago. I wonder why it's taking so long?
Matthew Vaughn does know the title that Millar has come up with, however. Chatting with me on Sunday he said:
I don't like the name. I don't know where he came up with that shitty name.
But what shitty name?
Millar did, once upon a time, talk about Matthew Vaughn as the "director" of this project, acknowledging the intention that it become a feature film. More recently, he just referred to "the director" as an anonymous individual, definitely without naming Vaughn, so I was curious as to whether or not he was still involved. As he told me, he was more than involved, he was deeply invested in the project:
I rang up Mark and said I've got this idea, what we did for Kick-Ass, why don't we do this for spy movies? I co-created it with them [Millar and Gibbons]. We're writing that at the moment.

We came up with a great plot and great characters and it's weird, because I'm telling it to my kids every night as a story to see what they react to or not.

But I've got to make a decision… We both came up with these characters, which are cool, but the problem is, I cannot decide which way to go. I could make it a really great kids film, but I don't want to be Spy Kids, or I could make it really hardcore. You know how Kick-Ass did sort of fall between 'Is this a kids movie or is it an adult's film?' and it's sort of neither, that's the problem I'm having with the super spy thing because the plot is great and the characters are great but I haven't worked out the tone.
It seems that Vaughn is in this one all the way up to the waist.
Gibbons is already at work illustrating the comic book version, so the tone there must be pretty set already. Is it possible that Vaughn might take the movie off in a different direction, with a different mood and dramatic bent to what we'll be seeing on the page?
I was speaking to Vaughn on the occasion of X-Men: First Class being completed. The film is in UK cinemas from 1st July, and across the US from the 3rd. It's really very good. See it.
Enjoyed this article? Share it!