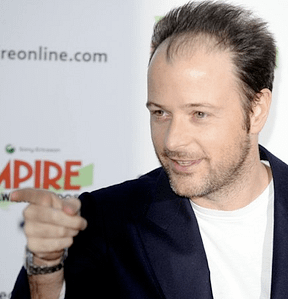 While Matthew Vaughn is literally recovering from the stresses and strains of making X-Men: First Class, a massive, complex and ambitious film that he delivered in amazing time before succumbing to some nasty, exhaustion-abetted tonsillitis, he's also being gracious enough to speak to the press. Chatting with him on Sunday yielded a wonderful amount of information and interesting discourse, and I'm going to parse it out for you over the next few hours or so.
I thought we'd start with the big, headline stuff – something about the (pretty much inevitable) sequel because there's nothing like a movie blogger jumping the gun for cheap thrills, eh?
I was speaking to Vaughn about the portrayal of 60s sexism in First Class, and then swerving the topic from gender issues, to representation of race. This is how he responded:
We talked about race issues because they say X-Men was based on Martin Luther King and Malcolm X, but I think I had enough political subtext in this movie. We've already discussed in the next one, does the civil rights movement become part of…. But that's a real hot potato as well, still, so we decided to stay clear. You can only put so much in one film, so, the sequel…

I don't know. I don't like talking about sequels because the film could tank and then there won't be one.
It's encouraging to know that discussions about a follow up are being centred on social and political ideas, subtext and subject matter and not just which new mutants could be brought into the fray. Of course, having seen First Class, I wasn't surprised at all that Vaughn was thinking like this.
Meanwhile, Vaughn has also told Drew McWeeny today that he's got an idea for how the next film might start:
I've got some ideas for the opening for the next film.  I thought it would be fun to open with the Kennedy Assassination, and we reveal that the magic bullet was controlled by Magneto.  That would explain the physics of it, and we see that he's pissed off because Kennedy took all the credit for saving the world and mutants weren't even mentioned.  And we could go from there, and I've got some fun ideas about what other mutants to bring in.
Note that he says mutants, plural, because that would appear, on the surface, to be at odds with another interview given to Movieweb:
We will only have one more new character. I won't say who he…I won't say who he or she is. But we will only be bringing one more new character in. Because, I think, as Professor X is in a wheelchair, Magneto needs to have a nemesis he can fight with. Someone that will be his equal. I know who it is. It would be nice if I could say something, but I can't, mate.
I'm calling it now. He means Wolverine. I'm pretty well convinced of it. But forget the possibility of big claws versus the militant magnet for a moment, it's the promise of the civil rights struggle that intrigues me the most.
Let's see how this all pans out as First Class goes on to be a smash and Fox, and audiences, start waiting for a follow up.
Enjoyed this article? Share it!