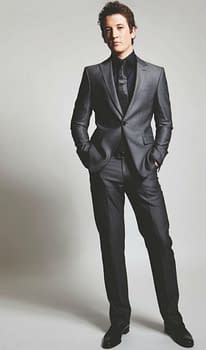 Is Miles Teller playing Reed Richards, aka Mr. Fantastic, in Josh Trank's Fantastic Four reboot? News has been slow on that film's front, but with shooting scheduled to begin within the next few months, it looks like there's a lot going on behind the scenes that hasn't been publicized yet.
But now, thanks to an interview with Punch Drunk Critics at Sundance, where he's promoting Whiplash, Teller may have just revealed his involvement with the role he's long been rumored to be a favorite for.
The reporter says he asked Teller point blank if we'll be seeing him as Mr. Fantastic in the film, and Teller all but confirms it with:
Yeah, that should be coming up in the next few weeks.
So, hopefully we'll get an officially official confirmation soon. In the meantime, I'm pretty sure Teller and Michael B. Jordan are safe bets. I have my suspicions about why Kate Mara has slowly gone blonde over the past couple of months, but of course that one is shakier. Saoirse Ronan and Margot Robbie are also up for Sue Storm, after all, and that's some tough competition.
BRENDON'S UPDATE: I just checked with Travis, my friend who asked the question, and he said his exact wording was:
So Fantastic Four. Can we expect to see you as Reed Richards?
Teller's response pretty much locks him in, wouldn't you say?
Enjoyed this article? Share it!