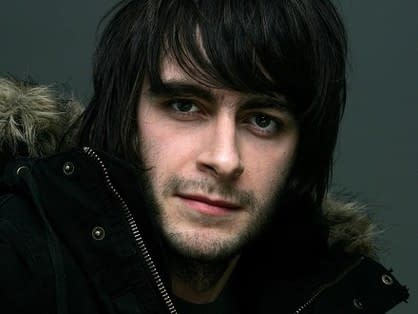 Bleeding Cool told you that Robert Sheehan would not appear in Series 3 of Misfits, his exit being shown in an upcoming online-only mini-episode.
Taking his place in the sixpack of young offenders that make up the hit superfiction drama, starring unempowered underclass given superpowers who use them in no way like superheroes, Rudy is a new young man given community service, played by Joe Gilgun, off of Emmerdale, Harry Brown and This Is England.
And with everybody's powers changing thanks to power dealer Seth (and the walking reset button power of Curtis being taken off the table permanently, given to someone trying and failing to kill Hitler), the shape of series three, starting filming now, is up in the air.
Channel 4 tells us;
New kid on the block Rudy gets a rude awakening in his first few days of community service, learning that with the keys to the infamous locker comes a great deal of running and screaming and, in some instances, bloodletting. But that really is the least of his worries. More pressing is just how to keep his secret superpower, well, secret. And is it super? As in from the A- List?
Oh and there are zombies.
The eight episode series will air later this year. I've called "Trainspotting meets X-Men" and the best portrayal of the superpower on screen to date. My opinion hasn't changed yet. Pick up the first two series here.
UPDATE: Matt Strevens, producer for Misfits has just tweeted;  Just broken for lunch on first day's filming with our fabulous new Misfitter – the wonderful Joe Gilgun. He looks great in orange.
Enjoyed this article? Share it!