A hot, sweltering day in London. Donald Trump is here somewhere. My mission, should I choose to accept it, is to review Mission: Impossible – Fallout without mentioning the political situation. Look, if they don't, I won't.
There are lots of reasons to watch and enjoy the Mission: Impossible films, but I confess that mine have now revolves around Simon Pegg. If I mention Pegg more than Cruise, this is why. If this annoys you, stop now.
So, Mission: Impossible – Fallout, starring Simon Pegg with regular co-stars Tom Cruise, Luther Stickell, and more returning. They are generally a bickering lot but bonded as a team. I do hope they don't fall out too much, even though it's in the title. And the lights go down.
Ba ba ba ba ba ba ba ba diddle doo diddle doo…
You should know what you get from an M:I film by now. Chases that go on forever, shootouts where the important people survive somehow, dazzling feats over death-defying heights, plenty of banter, and a final race against a clock. But there is betrayal, subterfuge, deceit — some which the audience is let in on, some in which they are meant to be as surprised as the characters. And that's probably what Fallout does best — it knows its audience now, and the audience knows it. So it gives you twists that you guess and see coming and you are patting your back when the twist is revealed. And then you realise you were wrong all along.
And so everyone aside from the core team of Ethan, Billy, and Luther has a different and competing agenda. And even that is brought into doubt. And we get a cast of CIA, MI5, The Apostles — a new terrorist group that sound like supervillains — and the starting-to-get-tired trope of the altruistic supervillain who just wants to give the human race such a shock that it stops fighting itself. These days everyone is an Ozymandias.
And yes, you get your masks, you get your trackers, you get your devices, but there is less of a lean on them. It's not dropping them all together, but it goes a little more Bourne this time out. And it culminates in a scene which reprises one of the classic Mission: Impossible scenes of all, and it got applause from the audience I was with, in Leicester Square tonight.
And a London audience especially appreciated the race down the South Bank, famed as one of London's best walks along the Thames, transformed into something very different. But Paris gets a similar treatment.
New member Henry Cavill is quite a standout, and I understand the shipping between his character and Ethan Hunt has already begun. The film itself will fuel it. And I can guarantee that his moustache was well worth ruining Justice League for. And we have a White Widow from Vanessa Kirby to give the Black Widow quite the run for her money — and a promise to return in Mission: Impossibles to come.
Because not everybody dies. But some do. Even, possibly, one of the Mission: Impossible team themselves? The film does, after all, contain fallout….
At its heart, this is a film about sacrifice, and how some sacrifices are not worth it, even to save the world. The needs of the one outweighing the needs of the many. And that's what really makes this Mission: Impossible a superhero film, above the fights, the explosions, and the running around. The lack of compromise, always finding a way, even at the last second. Snatching victory, not from the jaws of defeat but half way down its intestine. But there's always a price.
Also, as I mentioned up top, don't cycle through a city full of landmarks after watching this film. Because even though you went in it for Simon Pegg, you come out as Tom Cruise. After all, for some reason, Cruise looks a lot younger than Pegg, even though that is mathematically impossible. And you cycle faster, take that corner tighter, squeeze throughout barriers you shouldn't and, as I just did, go arse over tit going over Vauxhall Bridge in the cycle lane, just in front of MI5. Comedy basic…
As for Trump? Well, there are competing special services missions, motivations and superiorities. All the president's men do seem to not exactly be singing from the same song sheet. But wasn't that ever the way? Definitely no collusion…
And yeah, go on, see it in IMAX if you can. Those cliff edges won't look the same without it.
Mission: Impossible – Fallout is released on July 25th in the UK and the 27th in the US.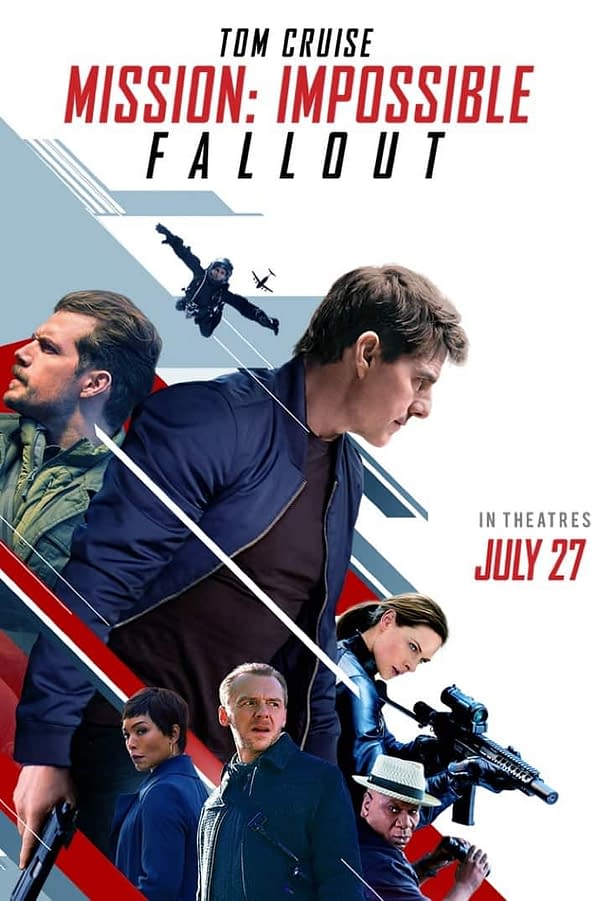 Enjoyed this article? Share it!