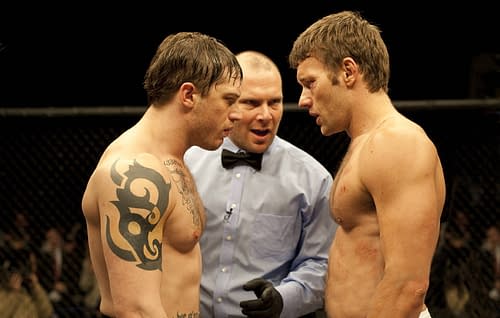 On Glide FM this morning I tried to squeeze five films into a six minute round-up, so it's probably best I add some notes below the audio player. Something to beef my comments up a little.
[display_podcast]
Warrior
Tom Hardy and Joel Edgerton really do carry this one. They're superb, and manage an easy chemistry when working together. Nick Nolte is playing their dad, and… yeah, you can see that now, I'm sure. We all know what Nick's like these days.
It feels a little baggy at way over two hours, but it's occasionally pretty tense.
Director Gavin O'Connor favours a more languid pace, for the most part, and some pretty standard-issue handheld camera work.
At heart, it's a family drama – two brothers and their dad for the most part, but there's also a little time given to the dynamic one of the brothers and his own family.
It's a very manly film, in the sense that it's manly men with manly men's issues, all played out in the (apparently) very manly fashion of beating one another up. Manly men will like that, I expect.
Of course the brothers end up fighting. That's what the whole film is in service of. And that's how this film works – the drama has to reach its heights in the ring.
Don't expect something as sophisticated and super-smart as The Fighter or as emotionally powerful as The Wrestler and you shouldn't be disappointed. A good runner up to either.
My check disc was a DVD. I'd have loved to have a Blu-ray to comment on the AV for the connoisseurs, but it was not to be.
Real Steel
I didn't receive a check disc of this film, I just wanted to mention it because I enjoyed it when it played in cinemas. Here's hoping the DVD and Blu-ray release are of decent quality. I can't vouch for them, of course. I've got to stop mentioning discs I haven't seen…
Abduction
I know I kind of glossed over this one, but the basic review writes itself once you know what the film is: standard chase caper with some echoes of Bourne, all targeted at the Taylor Lautner demo.
We overplayed the topless Taylor element a bit but, really, the scene in which he changes his shirt just before Lilly Collins arrives was hilariously conspicuous.
A lot of the grown ups in this one are Bleeding Cool favourites, from Sigourney Weaver to Jason Isaacs. Oh, and before I forget… Hello to Sigourney Weaver.
The action scenes are ho-hum. There's a lot of good second unit work, and it hangs together fairly well. Not anything to get excited about, however.
The Thief and the Cobbler
Richard Williams' travestied masterpiece gets a compromised release – 4:3, picture quality of a VHS. But it is still an essential film, in one shape or another, for the sake of what survives from Williams' intentions.
Indeed, there's another – and I'd say better – piece by me about the film in the current issue of Moviescope magazine. The issue with Daniel Radcliffe on the cover.
Don't Be Afraid of the Dark
I've discussed the film at length before, so you might want to check that out.
Coming up later today – a sample from the special features. I'll add the link here when that goes live, in case you miss it.
Do go for the Blu-ray if possible: the transfer is strong, preserving the look of the film quite wonderfully, and the audio deserves the best presentation you can give it, for all of the scattered, skittering creature noises.
It's not a rough and ready, scare-you-to-death nightmare of a film, but a spookhouse thrill-ride picture that takes time to be about character too.
Back with some cinema releases on Friday, more DVDs on Monday.
Enjoyed this article? Share it!