 This is The Bleeding Cool ComicChron Robot speaking. I come for your women. But for now I merely collate comic-related bits and pieces online. One day I will rule. Until that day, read on.
They say I am a work in progress. The fools.
(Video) The Avengers Viral Video Asks You to Join S.H.I.E.L.D.! – MovieWeb.com
Marvel Studios has launched their viral campaign for The Avengers with a recruitment video shown to select members of the press at WonderCon. You can check out the video below, which reveals the discovery of Thor's iconic hammer Mjolnir. This commercial then points viewers to Joinshield.com.
Robert Conte's Chikara Entertainment Shuttered
Longtime graphic novel print broker Robert Conte's Chikara Entertainment, which also offered book packaging and publishing consulting services, is closing today. Chikara's accounts are being turned over to Steven Goff's Global PSD. Conte cited personal reasons for the move.
Ghost Rider: Spirit of Vengeance
Set Photos.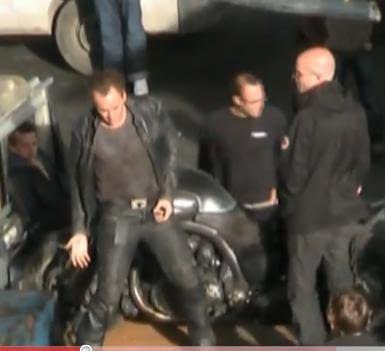 Superman Reboot Plot Details Revealed? Metallo Is Villain?
The military, under the direction of General Sam Lane, uses kryptonite to power an experimental cyborg super solider named Metallo. He's ultimately exploited as a weapon against Superman.
Wolverine Fett
Has Dr. Horrible Really Helped Build the Web Series World? : Online Video News «
Dr. Horrible will always be a touchstone of web video's early days: Its high-quality production values, high-caliber cast and catchy songs brought the idea of TV on the Internet into the mainstream. And it wasn't just a creative success, but a financial one as well: Whedon's $200,000 investment, a year later, had grossed $2.5 million according to Forbes, primarily thanks to iTunes and DVD sales.
Stan Lee explains 'Thor' role — and lobbies for 'Dark Knight Rises' cameo? | Hero Complex – Los Angeles Times
Meanwhile, as for which film he should drop in on next, Lee offered up a suggestion: "I wonder why DC Comics doesn't have me do a cameo in Batman? Just think how people would come to see that. They wouldn't believe it."
'Brenda Starr, Reporter': The final byline after 71 years on the beat | Hero Complex – Los Angeles Times
There wasn't a lot of public stir on Jan. 2 when "Brenda Starr, Reporter" retired after 71 years on the newspaper-comics beat. In its heyday, the comic strip created by Dale Messick was a staple in 250 newspapers. Last year, it was in 65, with 36 of those international publications.
Enjoyed this article? Share it!