Monday Runaround – Librarian Hordes
ScheduleWatch: Making what was unofficial, official, CLiNT magazine has moved to a nine-issues-a-year frequency.
LibraryWatch: Announced at the American Library Association's annual conference in New Orleans, the Shreve Memorial Library in Shreveport, LA, has won a $20,000 graphic novel collection, over nine hundred graphic novels selected for all age ranges, as well as accompanying fixtures and furnishings.
Accompanying the award, Diamond Book Distributors has created the Diamond Book Shelf website for libraries and educators.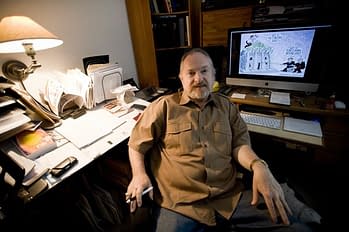 PoliticsWatch: Monte Wolverton, political cartoonist and son of Basil Wolverton, gets profiled by The Columbian.
In the '90s, while working for the Worldwide Church of God, Wolverton began to feel a need to express his more leftist political opinions. Earning his master's degree through a low-residency program at the liberal Goddard College in Vermont strengthened that desire.

After he completed his advanced degree, Wolverton wanted to take a break from academic rigor and flex his creative muscles. So, he started drawing humor cartoons for MAD magazine.
ToyWatch: David Wanner, Hasbro developer of Thor, Captain America: The First Avenger and The Avengers dolls has been chosen as one of Providence (Rhode Island) Business News' 2011 40 Under Forty honorees. He will be feted during an event July 28 at the International Tennis Hall of Fame in Newport, R.I.
LicenseWatch: Vandor has signed up Marvel characters to appear alongside DC in their range of ceramic mugs to stainless steel water bottles, tin totes, boxes, and signs, and stationery from dual image lenticular notebooks to card sets and sticky notes.
X-Watch: Eddie Campbell blogs on the X-Men, media and superheroes;
My local paper had an article about the long running Uncanny X-MEN being put to rest. It was very salutational. The press pays so little interest to comic books that it doesn't realize how these things work. They're just closing down the one X-men comic so they can start up again with two. It will be a pincer tactic. One goes downwind of the readers with the bucket of shit, while the other creeps up behind and holds their mouths open for the first one to drop it all in. They could just have handed out knives and forks.
This is Computo the Comic Link Conqueror speaking. I come for your women. But for now I merely collate comic-related bits and pieces online. One day I will rule. Until that day, read on.
They say I am a work in progress. The fools.
Soft-Pedal Captain America Overseas? Hollywood Says No – NYTimes.com
Marvel and Paramount Pictures, which is distributing "Captain America: The First Avenger," figured they would simply release the film as the truncated "The First Avenger" in foreign countries. But in a surprise, Paramount's overseas operation objected, arguing that Captain America had too much brand value, even in spots like France that are leery of embracing Team America too readily.
New Captain America Stills and Score Clips | Superhero Hype
new photos from the "Captain America: Official Movie Special" which you can view below!