RecordWatch: The Guinness Book of World Record attempt to create the Fastest comic book. Here's a top shot of one of the tables working feverishly.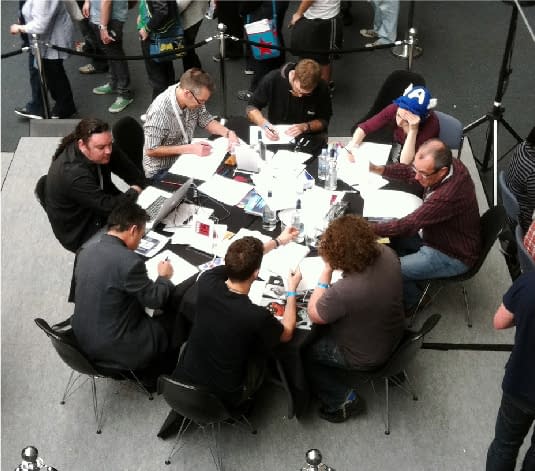 Including Jim Campbell, Steve Yeowell, Brendan McCarthy and Dave Gibbons.
MenschWatch: Al Weisner on creating Jewish superhero Shaloman.
Wiesner wanted Shaloman to make his appearance when someone was in distress, with some Jewish meaning; "I thought, if my superhero could come on a call," recalls Weisner, "what call would it be? I thought, he's there to stop people from being in trouble, from being hurt. Jewish people, over the years, when they're in trouble, yell out, 'Oy, vey.' So I decided, when someone's in trouble, and they yell 'Oy, vey,' it travels through the air, to the top of Mount Israel, and at the top of Mount Israel is carved a stone shape of the letter shin, the first letter of Shaloman," and Shaloman would come to life.
LGBTWatch: The Complete Wendel by Howard Cruse, an incredibly important book in the history of comics in America is finally completed and published.

This is Computo the Comic Link Conqueror speaking. I come for your women. But for now I merely collate comic-related bits and pieces online. One day I will rule. Until that day, read on.
Roberto Clemente's 3,000th Hit, In Glorious Graphic-Novel Form
The following is excerpted from Santiago's 21: The Story of Roberto Clemente, a gorgeous graphic-novel biography of the martyred baseball great. Clemente got his 3,000th hit on Sept. 30, 1972, three months before he died in a plane crash. You can watch video of No. 3,000 here; Santiago's rendering below is infinitely more exciting.
Original Art: New Mutants Promo Piece, 1984
Initially used for a promotional poster when Sienkiewicz started his now legendary run on New Mutants, the shot below is of the ORIGINAL piece, a part of David Mandel's very impressive collection of original art. And he notes, "…yes that is real circuit board that Bill just stuck on there." F'awesome.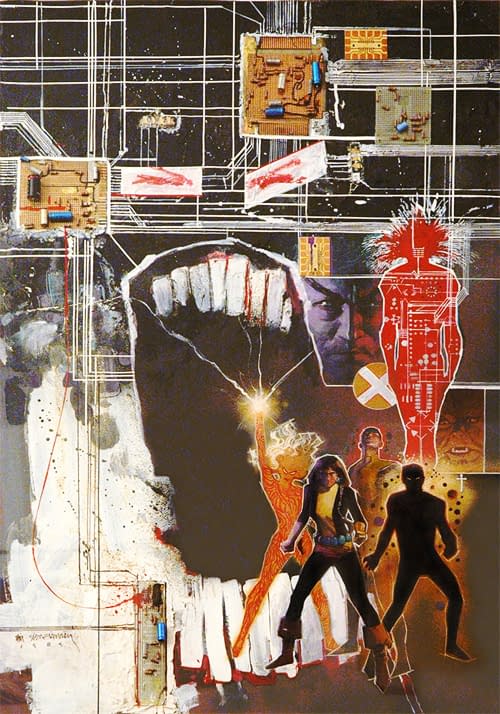 X-23 vs. Lady Deathstrike by Ben Templesmith…. | Agent M Loves Tacos
X-23 vs. Lady Deathstrike by Ben Templesmith. Righteous!
Episode 18 — WonderCon, Fear Itself | Comic News | News | Marvel.com
In this episode of Marvel's The Watcher, host Grace Randolph recruits you to join S.H.I.E.L.D. as they get ready for their biggest summer yet with the "Captain America: The First Avenger" and "Thor" movies! Then get the top headlines from WonderCon 2011 featuring Red Skull, Hulk vs Dracula, Secret Avengers and more
2000 AD to Release SLÁINE: THE HORNED GOD HC to US Markets in May 2011 | Hypergeek
For the longest time, it was only possible to buy 2000 AD collections as expensive imports from the UK. Thankfully, last year, 2000 AD struck a US distribution deal for their trades and GNs. The latest collection to make it to US shores is the hardcover of Sláine: The Horned God, by Pat Mills and Simon Bisley.
This file is posted for new products scheduled to ship to comic shops on 4/13/2011 which include Turok Son of Stone #2, Area 10 TP, Infamous #3, Superman #710, Spike #7, John Byrne's Next Men #5, Butcher Baker The Righteous Maker #2, Carbon Grey #2, Carnage #4, and more.
The Blade Runner scene where Deckard uses his home TV/computer system to analyse a replicant's photograph, updated for the modern computer age
Enjoyed this article? Share it!