IndiaWatch: The Hindustan Times covers Comic Con India.
"The turnout has been amazing. The ticketing office of Dilli Haat places it in thousands, and most stalls were sold out and had to restock for the second day," said Jatin Verma, the orgainser.

"I didn't know there was so much going on in this scene," said Gayatri Dutta, 26.
ChinaWatch: My royal wedding comic has now hit Chinese media…
Rich Johnston, Comic Writer, said, "I hope if they come across a copy they'll be amused. I'm sure they'll enjoy seeing all the things that I got wrong and assume are totally incorrect. "

It's better than seeing themselves on a plate, Johnson jokes, referring to the many commemorative china items on sale to mark the wedding.
IndiaWatch2: The best comic collection in India? And cats…
And, behind the door, away from prying eyes, is where Aalok stashes the real loot. "Actually, that's the place I would like to raid. It's where he keeps his ultimate treasure: The old issues from DC Comics and Indrajal," says Anniset Pareira, a comic book collector who has known Aalok for a few years and believes he has one of the best collections in the country.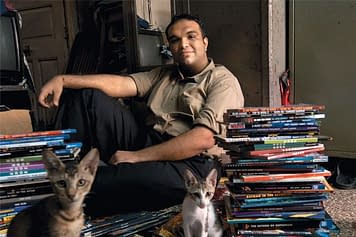 KidWatch: Ten year old wins a massive Nemesis The Warlock drawing by Clint Langley at SFX Weekender. That'll give his parents nightmares. Leigh Gallagher has a good photo;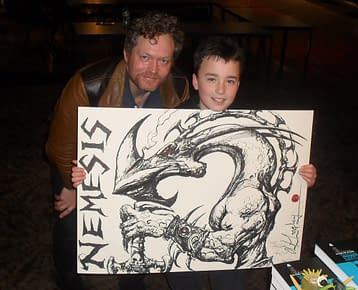 CartoonWatch: I think I wrote and drew a fair-to-middling cartoon for Guido Fawkes last night. Won't make sense to non Brits , but still…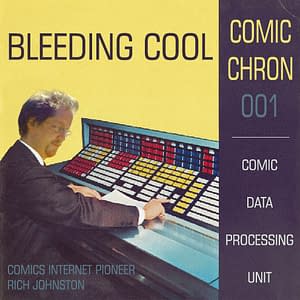 This is The Bleeding Cool ComicChron Robot speaking. I come for your women. But for now I merely collate comic-related bits and pieces online. One day I will rule. Until that day, read on.
Marvel Intern Memories: Tom Brevoort Pt. 1
Tom Brevoort: Speaking completely immodestly, I worked as a terrific intern, and so editors called upon me to do much more substantive work that would typically be assigned. So I wound up doing a lot of mechanical paste-up—all done by hand on actual boards back in those days—for full volumes of Marvel Masterworks as well as balloon paste-up for assorted comics, including the short-lived FREDDY KRUEGER'S NIGHTMARE ON ELM STREET magazine. I did a few art corrections as well; there's an issue of AVENGERS SPOTLIGHT, one of the lead-in chapters to the "Acts of Vengeance" crossover, in which I penciled a small shot of a character phasing through a wall.
Imagine FX Pre-Color by *AdamHughes on deviantART
Client: Imagine FX magazine  Media: Media: Pencil, PITT Pen and COPIC marker on Strathmore Drawing paper. This is what I produced on my drawing table, before going into Photoshop and coloring it. YouTube – Black Widow Gone Wild
And what if Black Widow was War Machine?
[youtube]http://www.youtube.com/watch?v=DUNIss3PPag[/youtube]
The Guardian Project Graphic Novel
The Guardian Project, a colabration between Stan Lee and The NHl continues to roll on with the release of The Guardian Project Graphic Novel – 30 NHL Guardian Hero Stories.
"Captain America: The First Avenger" teaser trailer (2:24 in length) likely to hit this coming week, possibly attached to "Drive Angry 3D"
Biking Superheroes – Funnier Than It Sounds
These hilarious prints from Line Draw feature some of the most famous pop-culture characters on two-wheelers. Some familiar faces such as Darth Vader and Captain America are depicted enjoying a brisk ride in the great outdoors. Sadly, for Ghost Rider, his ass-kicking motorcycle has been downgraded.
A Few Thoughts On The 2011 ComicsPRO Annual Meeting
"Adams' speech strikes me as worth processing primarily for its knot-splitting characteristic, its ability to see the forest and the trees. For instance, of course a national retailers' organization is vital for companies that want to do national sales campaigns, and companies should want to do national sales campaigns. Of course with interest from other media in a wide variety of projects that germinated in comics shops the comics shops might consider policies and practices that encourage that range of projects. Adams also makes a case for the broader, less quantifiable advantages that a national organization and national action might entail, a stance that serves as a refreshing tonic to the tendency to process every ostensibly worthwhile action in comics solely in terms of how it advances very focused, very individual agendas. I want to visit the system of comics shops that Adams asserts could exist in his keynote address, and if I met someone as upbeat as Brian Hibbs while I was there, all the better."
Room for Hope: The Art of G.B. Trudeau's Doonesbury | Picture This | Big Think
"What you condemn should reveal what you value, what you stand for. That's why I don't like categoric, 360-degree attacks. Scorched-earth artists leave no room for hope." Since its debut on October 26, 1970, Doonesbury has attracted devotees as well as devoted critics with Trudeau's heart-on-his-sleeve liberalism. Walker walks through the evolution of the Doonesbury, which began in 28 newspapers and now boasts 100 million daily readers, and gives not a biography of Trudeau but rather a biography of the life of the strip itself. Despite all the wars—cultural and shooting—of the past four decades, Trudeau never forgot to leave room for hope, and Walker's affectionate tribute reminds us of that crowning achievement of his art.
Enjoyed this article? Share it!