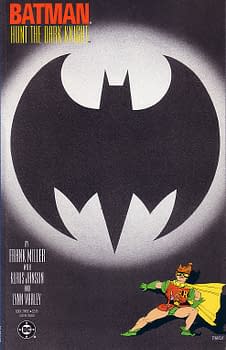 San Diego Comic Con is over, but its announcements live on. Today we have some of the later-breaking news items from the show bubbling up to the top.
Looking forward to seeing Frank Miller's The Dark Knight Returns animated. Warner Bros Animation is on a roll.
Most-Read Comic Stories Today:
Lots Of Art From DC's Designing The New DCU 52 Panel
Some fascinating behind-the-scenes stuff here:
Trending Topics Special: Who Won San Diego? The Top 50 Stories Of San Diego Comic Con
Marvel has gotten into the habit of saying they "won" major cons in recent times, and of course… that's marketing bravado and all in good fun, but it does make me wonder if they really did.
Supervillain Spoilers From Sunday's DC Comics New 52 Panel
Event fatigue seems to be setting for Dan DiDio who is reaching manic levels on the podium right now, but he thinks people on the flor are feeling better and better about the DC Relaunch.
Most-Read TV/Film Stories Today:
Visualizing The Avengers: Full Width, All Character Poster Is Completed With The Hulk
Michael Moran has just put this beauty in my inbox. Nice to see Marvel working that "Assemble!" angle right down to the bone.
More Judge Dredd Images – Including First Look At Judge Anderson
Or at least, that's how the cover looks on the copies mailed to subscribers. Any non-sub covers have yet to appear, so there's a chance that those will feature another Dredd picture too. Or there's a rumour that there will be several variant covers, each featuring a hero of 2012 – so one of them would be Andrew Garfield's Spider-Man, etc.
Animated Version Of Dark Knight Returns Heads Up DC Toon Movies For 2012
At a Warner Animation panel at Comic-Con, timed to coincide with the premiere of Year One, it was announced that the first film on next year's DC toon roster will be Justice League: Doom. This will be derived from Mark Waid's Tower of Babel story in JLA. I don't know the comics at all, and I just tried to defer to expert assistance but… erm… it didn't elicit much of a response.
Most-Clicked Pics Today: Enjoyed this article? Share it!