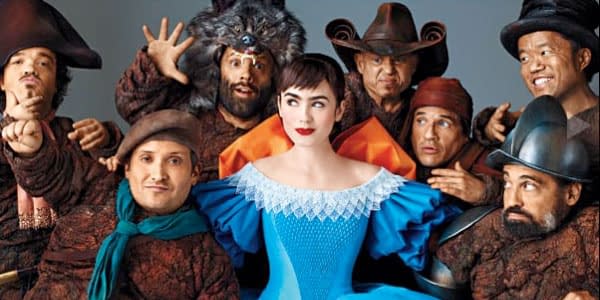 Tarsem Singh's Untitled Snow White has been in the news mainly because of the unfortunate race that it's started up against Rupert Sanders' Snow White and the Huntsman, with both Relativity Media and Universal pushing their release dates forward in an effort to get their film in cinemas first. So it seems only fair, with the latest batch of photos from Singh's Snow White, to do a compare and contrast between the two pictures.
First up … the heroines!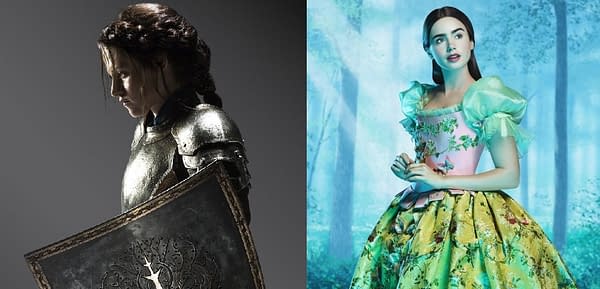 Tarsem Singh has openly admitted that he picked Lily Collins because of her eyebrows, and I believe it. The dress is nice, even if it does look like it was made out of curtain fabric, and is definitely a lot more sensible than the outfit in this photo. But I have to say that I prefer the look of Sanders' Snow White, if only because she looks like a stronger and more determined character, and a lot better equipped to deal with poisoned apples and overtight corsets. Maybe I'm just desperate to see Kristen Stewart playing a character that isn't bland and ineffectual, though.
Let's take a look at our heroes!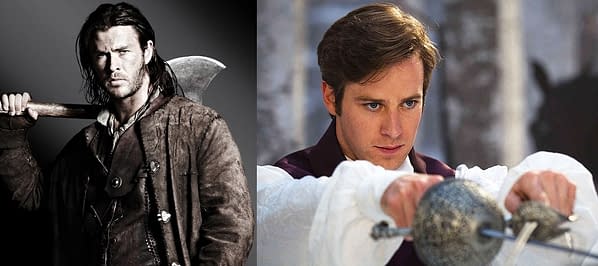 Oh my. We really need a writer with a Y chromosome to help out here but Brendon is still out of action until tomorrow. On the one hand, Chris Hemsworth looks so intense and manly and unwashed with his oversized axe and his stubble and greasy hair, yet with the hand-stitched clothing suggesting he's still in touch with his feminine side. But then there's Armie Hammer with his baby blue eyes, clean-cut good looks and puffy white sleeves. It's the bad boy versus the pretty boy. Add some swooning and lots of purple prose and this is a Mills and Boon novel. Allow me to spend a lot more time with these photos and get back to you.
And finally, the Queen Bitch.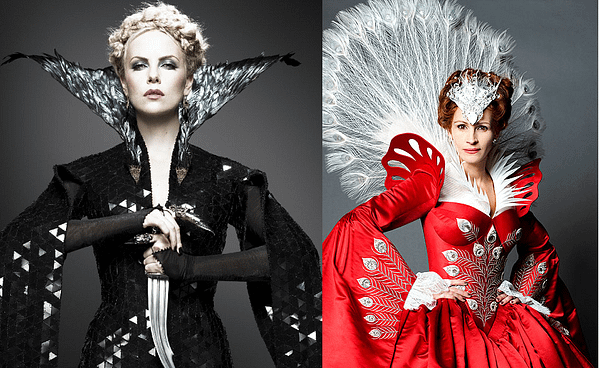 I don't know. They both look like Lady Gaga to me.
Some of you might remember that I've taken exception to the art (and particularly costume) design in Tarsem Singh's movies in the past…
"Half the cast look like they should be serving drinks in a Las Vegas gay bar, and the shot of the angels battling in the skies looks less like the ceiling of the Sistine Chapel and more like some particularly awful wallpaper you'd find in Elton John's house."
Untitled Snow White (please think of a title, this is getting silly) doesn't hold back on the slightly eccentric costumes either, but for a film like this I think it might actually work. Alright, so no one will ever look dignified with a papier-maché swan on their head, but at least it's a lot more visually interesting than looking at a bunch of characters who seem to have a grey filter thrown over them.
Having said that, while Rupert Sanders' film looks a bit miserable and angsty, it's important to remember that the fairy tale it's based on is – like pretty much all fairy tales before they got whitewashed by the publishing industry – dark, twisted, and really inappropriate for children. And lord knows we've seem the cutesy, colourful version of this story enough times already, so perhaps Sanders is doing the right thing by shaking it up a bit.
Could it be possible that the competition has brought out the best in both creative teams? Could it be that both versions of Snow White will be not only passable but also … good? Will Stewart and Collins become the new Kirk and Picard? Well … probably not. But it's fun to dream. Here's the rest of the new stills, courtesy of Entertainment Weekly and People.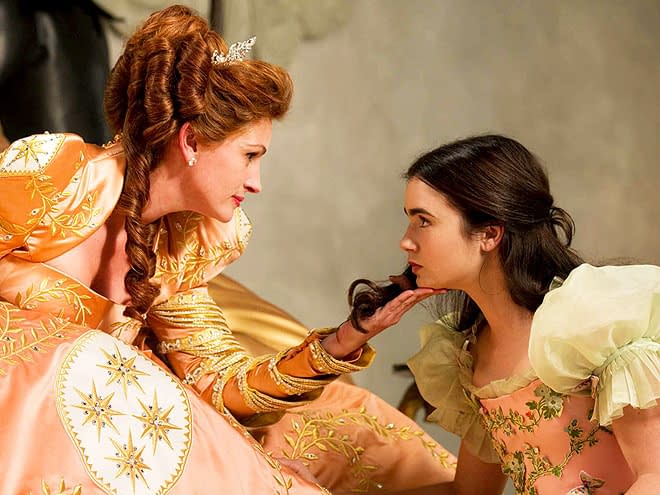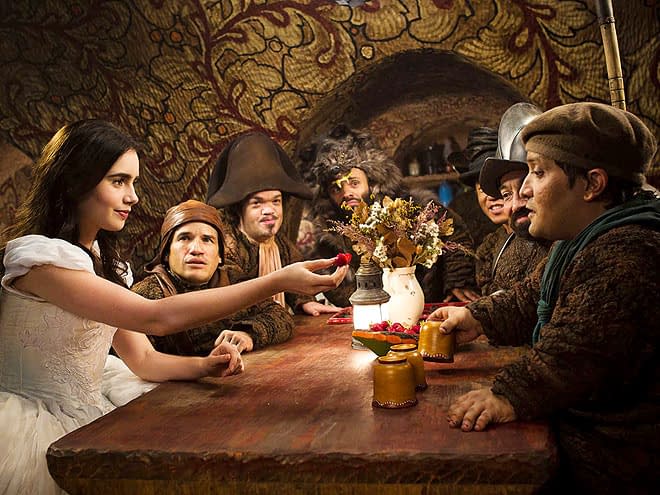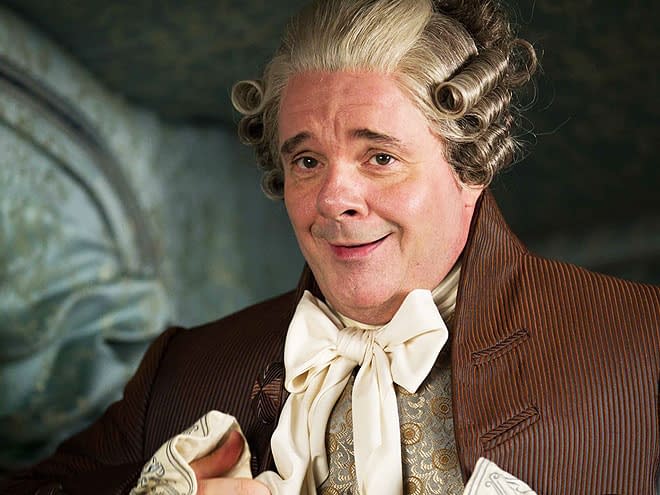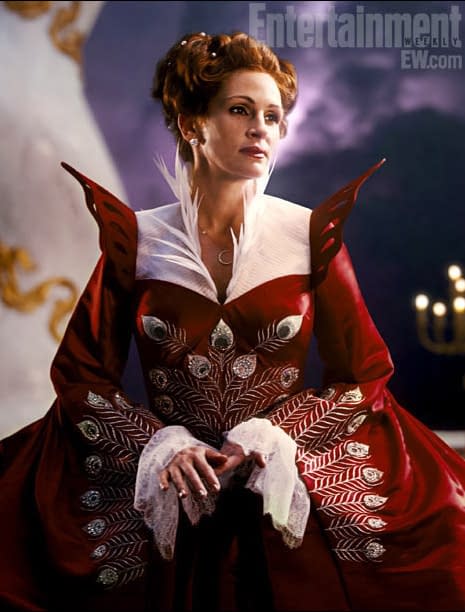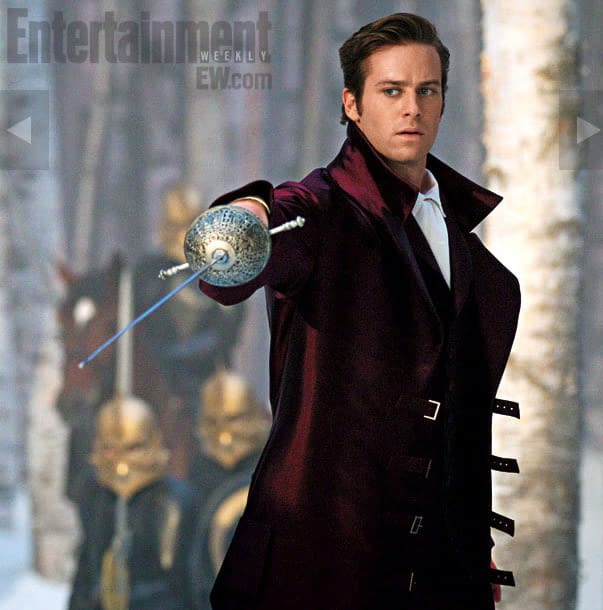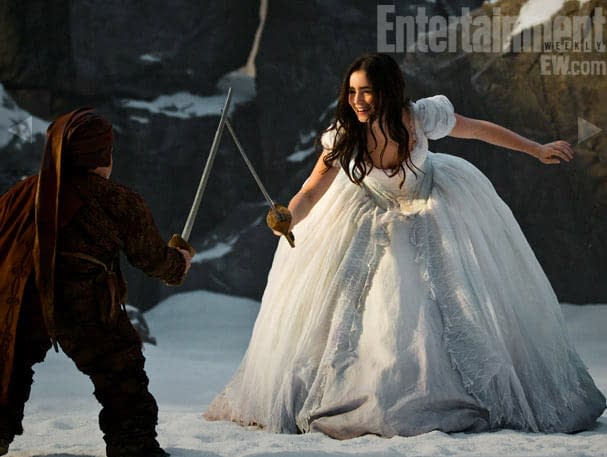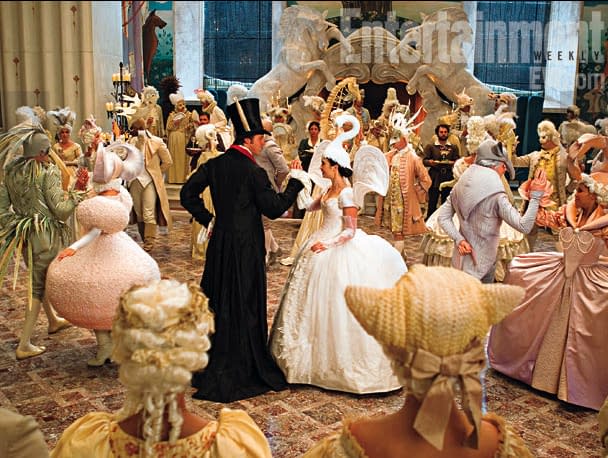 Enjoyed this article? Share it!