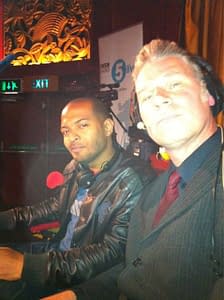 This afternoon, Noel Clarke appeared as a guest on Simon Mayo and Mark Kermode's Radio 5 film show, today coming live from the Phoenix Cinema in East Finchley. Clarke, Mayo and Kermode: there's a cocktail for you. Sweet and sour, and with salt around the rim (though not necessarily in that order).
Clarke spoke, for the first time, about his new project as director:
I've written a sci-fi horror which is supposed to start shooting a few weeks time… I can't tell you the name. You can suggest titles because the title we've got is hmmm. But the people we're asking permission [from] wouldn't less us use the name of their establishment. If it definitely goes and it gets announced and then you kind of know what it's about about a bit, start sending names in and hopefully we'll get a better name… it's got to convey being contained or being stored or something like that.
Okay, so what do we think? A prisoner is cryogenically frozen and is haunted by his guilty dreams when his life support computer malfunctions a little bit? That's my ludicrous stab in the dark. And is this his collaboration with Tony Lee? I guess we'll find out soon enough.
Enjoyed this article? Share it!