Northampton Council Reverses Decision To Cut Library Funding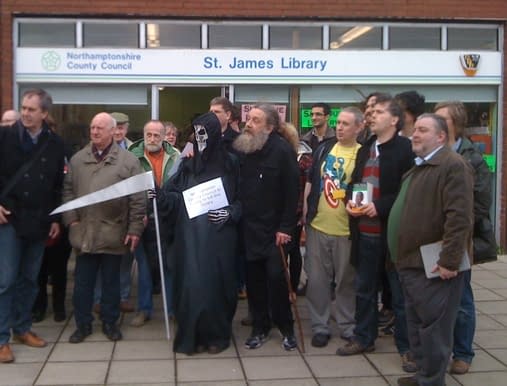 Earlier this month, Bleeding Cool reported on Alan Moore's attendance as part of the Save Our Library Day, at his local library, St James in Northampton, threatened with closure. His appearance and his reading of a short story from Dodgem Logic packed the place out and was one of the highlights of the national day of action.
But did he do any good?
Yes, quite possibly.
Northamptonshire County Council has reported that it is no longer proposing to close any libraries as part of the current budget proposals published today (Tuesday 15th February).
And that this is as a result to feedback received in the past few weeks from almost 10,000 responders.
Instead they will be looking to volunteers groups and donations to help reduce running costs, and create new investment. And that £40,000 has already been raised by certain communities to help fund future library investment in the count.
Although there is a proviso. Councillor Andre Gonzalez de Savag is quoted as saying;
"It could also mean that some libraries may still be identified for eventual closure but this review will allow time for us to work with local Friends of the Library groups and parish councils and other local people to develop these innovative ideas and make these community-led new arrangements a reality."
Developing, I think…
Some video from that day.
[youtube]http://www.youtube.com/watch?v=1lEmKrvN7AA[/youtube]
[youtube]http://www.youtube.com/watch?v=-ultXoiosBg[/youtube]
[youtube]http://www.youtube.com/watch?v=KcWQLBRqit8[/youtube]
[youtube]http://www.youtube.com/watch?v=CuaWu2uhmRQ[/youtube]
[youtube]http://www.youtube.com/watch?v=OQ8pAGuq2WM[/youtube]
[youtube]http://www.youtube.com/watch?v=DXEsFh_TVKY[/youtube]