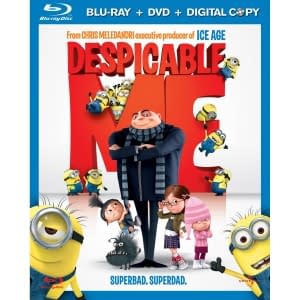 Despicable Me is released on UK DVD this Monday, February 21st. As part of his promotions for the film, John Cohen had a chat with me about this and other films from Illumination Entertainment.
1. Producer Me
I was one of the producers of this movie, working with Chris Meledandri and Janet Healey. I was involved from very early on as we started to work on the story development with the writers Cinco Paul and Ken Dario. The idea for the movie actually came from an animator in Spain who had worked at Disney for years called Sergio Pablos. He had come to Chris Meledandri with the core idea of the movie and some wonderful illustrations which really had the central concept of a supervillain who ends up having to adopt three little girls.

From there we worked with Cinco Paul and Ken Daurio, the writers I mentioned before, to develop that idea and many other ideas for scenes and moments that Sergio had come up with in his original concept. They turned it into a story in three acts.

My duties vary quite a bit from movie to movie, even month to month. I was very involved in the story and script development of Despicable Me.

I feel a great deal of ownership. I fell in love with it from the very beginning, when I first heard the story concept and saw the artwork that Sergio Pablos had created. I think we all fell in love with in the same way. If after two years of working on it you still love characters, still like the scenes and still find it genuinely funny, that's a very good sign.
2. Developing the characters and story
Chris Meledandri was looking for some animation companies who could work on this film. He ended up going to London and Paris on a trip to look at a number of small studios. He went to six, seven or eight on his trip, and ended up going into this company McGuff in Paris and saw some samples of their work, most of which was really short form. There was work that he saw by one of our directors, Piere Coffin, that even in short form, Chris got a great sense of this guy's talent and his ability to bring our nuanced character performances in animation. That was one of the driving forces behind Chris' decision to go to this studio. Janet Healey and Chris helped to grow the studio and we moved about fifteen people over from the US to help manage things, and also help from a creative perspective.

It is a long, long process making animated films but there's a great upside to that. As you spend a good amount of time working on a film that has a series of sequences and characters you continue to make them better and better. When you commit to make one of these movies, you do so because you love the idea. The great thing about the experience we had on Despicable Me is that everyone in our core creative team had a shared vision for what the movie should be. There's so many times when you make a movie, and I think we've all heard these stories, that lots of people in the core creative team have a different vision of what the movie should be.

We really did develop Gru as more of a Bond-type villain which was part of the direction that Chris Renaud, one of our directors, with Pierre Coffin, our other director, wanted to head in. They were huge fans of the Bond movies, as was Chris Meledandri. We though that this would be an expression of a villain that we hadn't yet really seen explored in animation, and could make for a fun type of character that has fun gadgets and technology.

Bryan Lynch is a fantastic writer. There's a great comedic edge to the movie which will, of course, be rated PG. We set out with all of our movies, whether they're live action or animated, to have a level of sophistication, and comedic sophistication, that plays to adults just as much as it plays to kids. We make these movies for the widest possible audience, and for a global audience, with a real desire to have them play to parents, to non-parents, to people who speak English, to people who speak other languages.
3. Casting
In the casting process it was always important to me that we find great, emerging actors and actresses who can bring something more to the role. When you're alone in studio and you don't have the other actors to work opposite, it's great to have that extra ability for improvisation and spontaneity which gives the performances a freshness so the casting is a big part, all the way through.

Universal and their different territory offices have done a great job on Despicable Me with the local casting and are doing the same great job on Hop. It's about looking for the right irreverence and comedic sensibility. A voice that has distinction in it, and someone who can bring the comedy. The great thing about having someone like, say, Russell Brand, who is so gifted in improvisation, is he really does help to create some great material that can then be used in other territories, in other languages, just in translation.
4. Marketing Me
I get very involved in the marketing of the movies. You can spend years of your life making a movie and then it all comes down to the marketing to make sure people go to see it.

With Despicable Me we teased that opening scene of that movie with the pyramid theft and then introduced the audience just in silhouette to Gru. In the next trailer we introduced Gru and the minions. It also gives us a chance to do something that's very important to us – to introduce the characters and connect the audience to them and their personality. I think this is a big part of why people come to see these types of movies.
5. The future for Illumination
We are working on a number of projects. Hop is the next one, and The Addams Family is in development. It's being written by Scott Alexander and Larry Karazewski who did Ed Wood with Tim Burton. The next project for Illumination after Hop is going to be our next Dr. Seuss movie, The Lorax. It's just a fantastic story and it will be the first time a Dr. Seuss movie is done in 3D. With a great cast, with Danny DeVito and Ed Helms, Zac Efron and Betty White – some great comedic voices.
Okay… that probably wasn't the most open and candid interview we've ever had, but Mr. Cohen has certain responsibilities as a producer, and he seems to be able to keep them in focus at all times.
Despicable Me will be available on UK Blu-ray and DVD from Monday. The US DVD and Blu-ray are already available. Here's the trailer.
[youtube]http://www.youtube.com/watch?v=tAXy4U6i2Wk[/youtube]
Enjoyed this article? Share it!