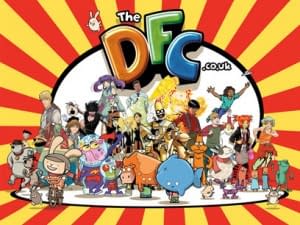 At a party this afternoon, here in my native Oxford, the next incarnation of kid-friendly comic The DFC was announced. With the continued collaboration of Phillip Pullman, Tony Lee, Dan Boultwood, Paul Duffield, Emma Vicelli and other creators from the comic's first iteration, this new publication will continue the DFC mission of quality, non-licensed strips for younger readers.
Appropriately enough, this new comic is to be called Phoenix. Triv: there's a Phoenix cinema in Oxford, literally just a few minutes walk from where this comic will have its homebase. That too was born out of the ashes of an earlier, less successful endeavor. Great Oxfordians think alike?
The new comic will be edited by Ben Sharpe. Unlike The DFC, David Fickling will be publishing Phoenix all by himself, with no corporate partners, no assistance, no training wheels. There's confidence for you.
Enjoyed this article? Share it!