James Armstrong has been chained to his desk for the past few weeks, spending a ridiculous amount of time in the office staring at a computer screen. Armstrong is the one of the main cogs in the machine that handles the booking for Toronto-based FanExpo, the third largest comic convention in North America. The convention has been growing over the past few years, to the point where attendance has soared past 100,000 attendees who come back year after year. The Fan Expo brand has also grown and expanded to other markets including shows in Vancouver, Dallas, and Regina.
This year's Fan Expo takes place on September 3rd through the 6th at the Metro Toronto Convention Center and bolster's one of the most impressive line-ups yet. Confirmed guests for this year include Jason Momoa (Games of Thrones), Norman Reedus (Walking Dead), Robin Lord Taylor (Gotham), George A. Romero, Danny Trejo (Machete), and Mike Tyson. All-star comic talent like Neil Adams, John Cassaday, David Finch, and Jae Lee will also be represented at the show with panels, sketching duels, and signings.
Armstrong took thirty minutes out of his hectic schedule to speak with BleedingCool.com about this year's Fan Expo, the selection process for guests, and other issues that arise when planning a convention of this magnitude.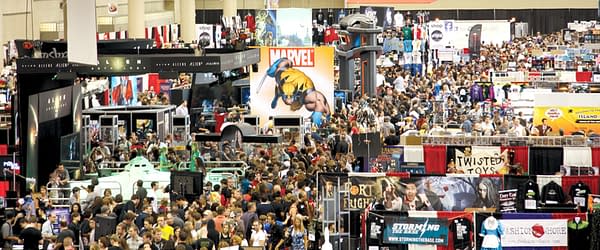 William Wright: You got your start in the pop-culture world, writing and contributing to a Star Trek fanzine in the early '90s. How do you go from part-time journalist to heading up one of the largest conventions in North America?
James Armstrong: Well when I was writing for Star Trek Magazine that wasn't a full-time gig (chuckles), but it was the beginning of something that I could never fathom. When FanExpo was originally conceived in the early '90s, it was strictly a comic book show, so all we had to offer was a handful of comic book creators and some retailers on the floor. It grew out of that quite quickly and we realized that there were all different facets of the hobby that weren't being serviced. At the time, there were fans coming out and sharing their passions for science-fiction and anime at the show. When we originally added Anime to the line-up for the first time we thought that it would be a one-time thing, but it was big in the mid '90s, so we decided we would offer it as a featured event for just that year. We couldn't have imagined that it would grow into the worldwide phenomenon that it is now. To this day, it still remains a large part of Fan Expo each and every year.
WW: This year's the line-up seems bigger than ever with guests like Jason Momoa (Games of Thrones), Robin Lord Taylor (Gotham) and Mike Tyson.
JA: Like all years we have a couple things that we need to address and one of them is the fan's expectations. We have a huge fan base that comes back year after year, and they have a certain level of expectation on the level guest they will get to see. The challenge with a lot of guests is always their schedule and aligning that with ours, because we don't change the weekend of the event. We noticed along the way if we don't have any bases covered for any particular genre, so we take a look at the big picture and there has to be something there for everybody. No matter what you're interests are, we want fans to be able to walk through the door and enjoy the day or the full 4-days.
WW: Do you have someone that works each specific genre, be it pop-culture or comic books, to make it appealing to those particular fans within Fan Expo?
JA: Absolutely. We're very much a team and we have to work together when planning it and when it comes time to execute it. The genre part of it, comes down to knowing what horror fans or comic book fans want to see. We do have our team of experts that sound off on their experience and they are constantly searching for properties that are on the rise within that genre. It's become a lot easier to get feedback from fans with the rise of social media, and if something is an overnight success we can see that right away on our social networks. When we hear or see a property like that we jump on it, like the cast of Dark Matter is coming in this year, a show that everyone is watching.
WW: How much do you pay attention to trends within pop and geek culture?
JA: Every chance we get; it's become part of our lives. Social networking is just becoming a part of everyone's lives no matter what you do for a living. Often you will hear about properties or trends even if you're not aware of it, just because people are talking about it.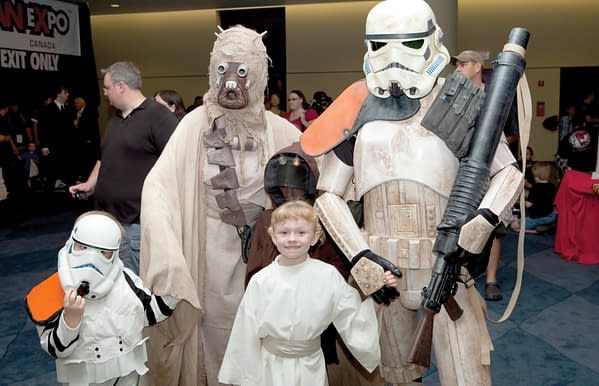 WW: One of the shows that I think FanExpo helped launched was Arrow, as the con featured a panel with the entire cast and screened the first episode months before it actually aired on television. I think that reaction from the fans helped them generate a buzz about the series within Canada.
JA: We wish we could do that sort of thing more often. We screened the first episode of 'Arrow' months before it aired, we had the whole cast there on the panel, but nobody had seen an episode of the show yet! It didn't have an established fan base at that point, but it definitely does now with massive success and a couple spin off shows. Any time we get offered the chance to be involved with a comic book property being turned into a television series, we're always going to take a look at that pretty quickly!
WW: I recently heard an interview with Patrick Stewart where he recounted his very first experience at a convention and it blew away all his expectations. What sort of advice do you give first time guests that have never had the experience before on the convention circuit?
JA: I think most of our guests have some sort of idea what they are getting into and they are prepared for it. For example you mentioned 'Arrow' and all the spin of shows that it has generated and from the very start they seem to be very aware of fan conventions and they get into it pretty quickly. I think as long as that guest is a part of a genre property, then they know that it sort of comes with the business and that it is great promotion. I'm not sure what era Patrick Stewart would have done his first convention, it could have been twenty years ago, but things have definitely changed on that front.
WW: This year you have Mike Tyson as a featured guest and he doesn't originally come from that pop culture world. How do you prepare someone like him for comic con?
JA: That was an opportunity where the timing worked for everyone. We've had guests like Alice Cooper and even Buzz Aldrin at the show before, so if we have a celebrity that falls outside our typical genres we're definitely going to have a look at them. Just because you're into Star Trek, doesn't mean that you wouldn't want to meet Buzz Aldrin! This was a scenario where Mike has a new animated series out that's entertaining a whole new audience, and I'm sure there are people that are fans of his new show that are not even boxing fans.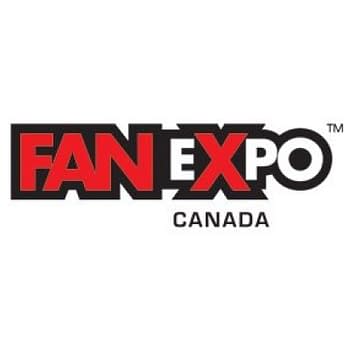 WW: The interaction that FanExpo has with fans is pretty amazing, you're always online talking about each different genre with fans and actively engaging them.
JA: Well certainly and when we re-branded this event from the Canadian National Comic Expo, which was the original name, we wanted to have every genre under one roof. When we were bouncing around ideas on what to call it we kept coming back to the word 'fan' and we knew that had to be there. We were developing a product where the fans were helping us build it, by telling us what they wanted to see. The other side of the side media aspect is just that it's so much a part of everyone's daily life now. Everything has sort of evolved from those early days and technology has definitely played a part in that.
WW: How do you deal with some of the issues that have been problematic for most conventions, such as long wait times in lines?
JA: Well, it's difficult to answer that especially with one example. With a line as long, as it continues to move and make progress it doesn't seem so bad. We've made plans over the years, and took a look at extending the hours of show to compensate for that. A large part of the reason why our show is now four days is because we looked at how long it took people just to get into the building from buying their ticket and merchandise. That is also why we developed a new ticket system that was more efficient and faster. All these things might only shave off a minute or two, but when you times that by thousands and thousands of people, it can have a huge impact on the overall show. We do everything in can to keep that line moving, because we realize that nobody likes to stand in a long line. When you do an event in the same facility year after year, you can really start to look at how you can improve the event by making minor adjustments.
WW: Another major issue that has come up on the convention circuit is the sexual harassment of cosplayers at conventions. In response that that you have things to empower costume enthusiasts like the "Cosplay is NOT consent" campaign to spread awareness through the community. How do you deal with that when it arises?
JA: Well first of all sexual harassment is against the law and cosplay is not consent is absolutely right. This is a criminal act and should be treated as such. We do take it very seriously and we put a very clear policy in place to hopefully prevent it or deal with it if it does happen. It seems like common sense to me that this is an illegal activity and should not happen, but I guess it gets magnified by the sheer size of the crowds involved. We haven't had any reports of it happening and we certainly hope it never happens at Fan Expo or anywhere else, but we have a very clear policy in place where anyone that engages in any type of sexual harassment is a criminal; regardless of what building they are in.
WW: Is there any one guest in particular that you have this year that you're particularly looking forward to seeing at Fan Expo?
JA: Well this year is definitely going to be different for me, because we have a lot of new guests that I've never worked with before. I think there is a little bit for everyone with our Star Trek reunion, we have Walking Dead cast members, as well as people like Hayley Atwell and Robin Lord Taylor. I'm just excited to see what they can do!
William Wright (aka BigJ) has been working as a freelance writer since the days when magazines were actually physically printed. William actively writes about comics for Bleeding Cool, Bloody-Disgusting, and is a huge fan of all things horror.
Enjoyed this article? Share it!